Disclosure: As an Amazon Associate EssentialPicks earn from qualifying purchases.
---
Ever since Apple introduced Apple Pencil for iPads, artists have been wondering whether iPads can finally replace their big-bulky traditional drawing tablets.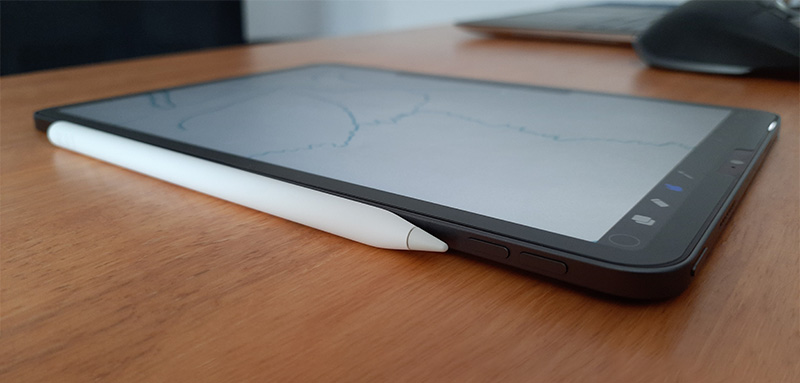 After the introduction of the Apple Pencil, iPads seemed like a perfect drawing device.
The freedom to carry them in your backpack – anywhere you go. Or work from the comfort of your couch instead of a fixed desk setup.
These promises garnered a lot of attention. But in reality, the early iPads were nothing more than glorified iPhones with a bigger screen.
Lack of quality drawing and creative application is what was holding them back. So most professional artists and designers stayed away.
Fast forward to now, the story is different.
At present when we look at the iPads, here is what we see.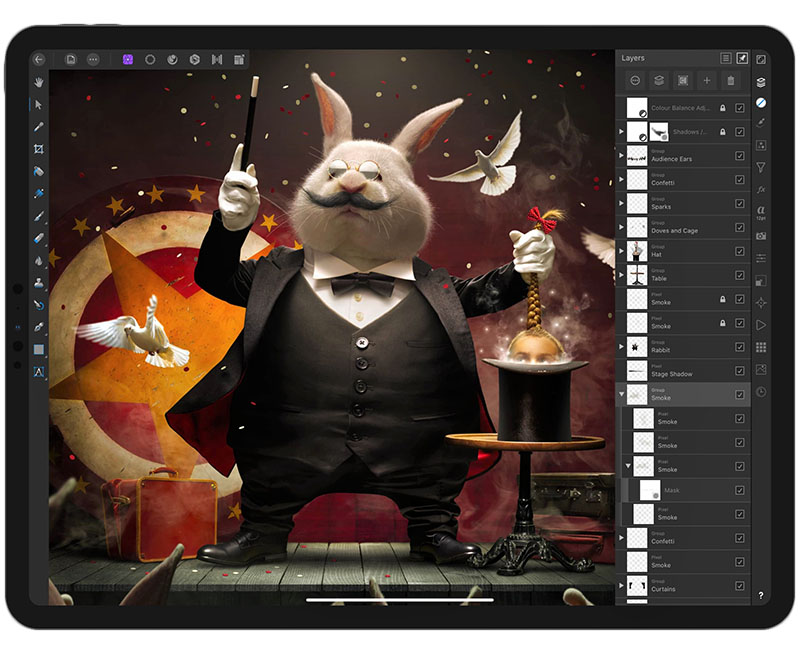 With the availability of drawing apps such as Procreate and being powered by Apple Silicon and Apple Pencil, iPads have become a go-to choice for Digital Artists.
On public groups and online forums, you will often see people saying – "iPad has become good enough to finally replace traditional drawing tablets and become your only drawing device".
On the other hand, you will find people pointing out obvious limitations and how the iPad can be a bottleneck in your creative workflow. So which one is it?
For this article, we will discuss both sides of the argument and have an unbiased look at the advantages and disadvantages of using an iPad vs a traditional drawing tablet.
iPad – Available models and variants

iPads are available in 4 models with multiple variants and configurations. No matter whether you are a beginner, professional, or a casual hobbyist – there is an iPad for you.
The iPad and the iPad mini are geared towards beginners who want a capable drawing device at pocket-friendly prices.
The mini supports 2nd gen Apple Pencil and the iPad comes with support for the first-generation Apple Pencil.
On the other hand, the iPad Air and iPad Pro are recommended for professionals who want power and flexibility. It supports the second-generation Apple Pencil, which is the most advanced stylus in the market.
Can iPads be used for Drawing? (Digital Art, Illustration, and Animation)
In the beginning, the iPad use to be quite a restricted platform – both in terms of software as well as hardware.
It came with a lightning port instead of a standard USB-c and did not allow users to plug in any external devices or accessories.
They did not even support an external mouse or a touchpad. Even if you somehow manage to connect a mouse to an iPad, you still had no software support for them.
Luckily, that is not the case anymore. Gradually, the iPads have opened up.
They now come with a USB-C port instead of lightning. They allow users to plug in external storage devices, cameras, and even monitors to the iPad.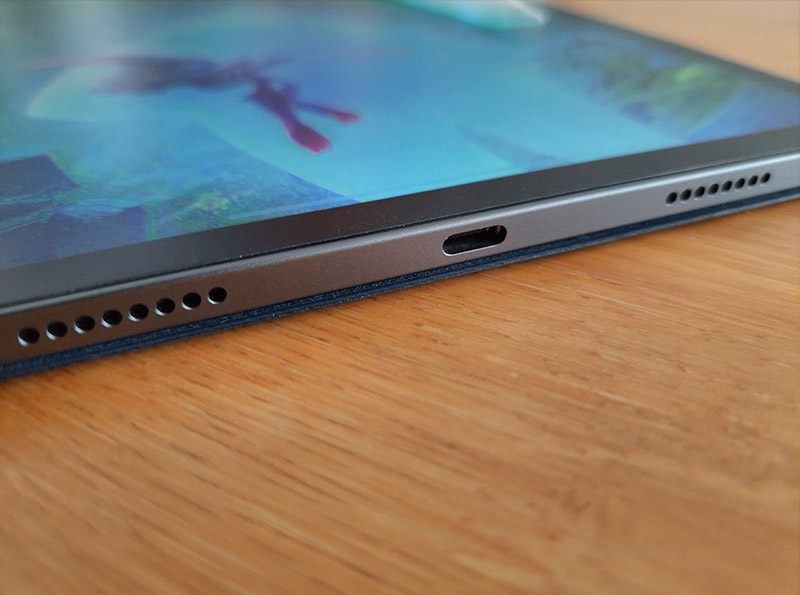 You can even get a USB-Hub (Amazon) for your iPad to extend your connectivity ports. Here is the list of all the essential iPad accessories that we recommend for iPad Artists.
With all these connectivity options, you could now import your project files, brushes, texture sets, and much more – just like you can on a desktop platform.
But good hardware and connectivity options alone are not enough for a drawing tablet – you also need to look into software side of things.
Cornerstones of a good drawing tablet
Stylus
Tablet
Drawing software/ Application
When it comes to stylus and tablet, Apple Pencil and iPad duo complement each other's capabilities very well.
Apple Pencil
The stylus is the most important part of a drawing setup as your drawing experience heavily depends on it.
There are plenty of styluses in the market today, but only a handful of them that are actually really good.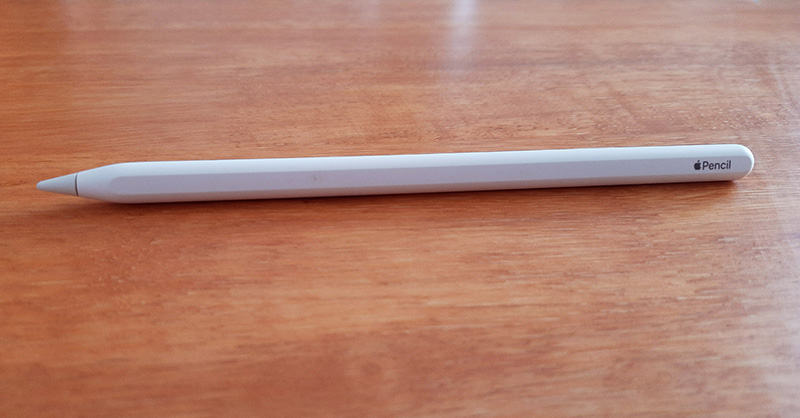 Apple Pencil is one of the leading styluses in the market and considered by many "the best stylus you can get".
Its speed and precision, especially how well it responds to light touches, variation in pressure, and pen tilt – it feels as natural as drawing with a pencil.
It is superior to Wacom Pro Pen 2, Microsoft Surface Stylus, Samsung S Pen, or any other stylus in the market.
Simply put, there is no other stylus that matches the raw capability of the Apple Pencil.
iPad – the tablet
On the tablet side of things, you have an iPad with its highly color-accurate screen and great resolution. Perfect for any kind of color-sensitive work.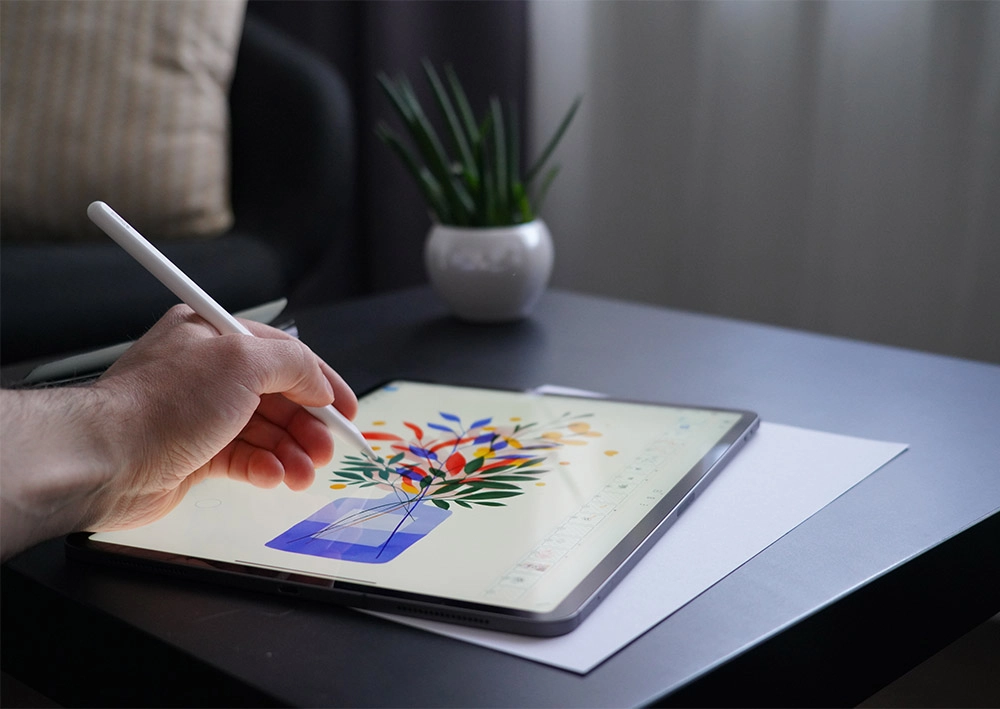 The Pro model of iPad comes with a "ProMotion display" where the screen refresh is ramped up to 120Hz when using Apple Pencil to give you an insane 9ms of stylus latency.
This results in a buttery smooth stylus experience where the drawing feels as natural as drawing with a real pencil.
In comparison, the traditional drawing tablets max out at only 60Hz (Hertz).
The aspect ratio of the iPads also plays a big role.
The screens of iPads are more of a squarish-rectangle in shape which is better for drawing than the 16:9 aspect ratio screen that you find in most other tablets.
iPad also trumps other similar devices in terms of its power. The Pro model comes with Apple Silicon which is as powerful as a laptop.
This allows iPads to effortlessly work on high resolution files with hundreds of layers.
Operating System (iPadOS) and the state of drawing applications on iPad
The final piece of the puzzle is the Operating system and drawing apps available on iPads.
As the processors became more powerful and the operating system evolved, it allowed drawing apps on iPad to pack in advance resource-intensive features and tools that require a lot of processing power.
Those basic early drawing apps slowly evolved and got a number of upgrades over the years which made them as good as any desktop-based drawing apps.
All these improvements made many artists switch from their traditional drawing apps to iPads.
At present, iPadOS specific drawing apps like Procreate, Artstudio Pro, Affinity photo, Vectornator are dominating on iPads.
Looking at it, even software giants such as Adobe are feeling the heat and desperately trying to roll out iPad versions of their desktop apps.
At present when you look at drawing apps on iPads you find – a well-put-together tool – that is ready to cater to all your artistic needs.
These iPads apps give you all the basic as well as advanced settings and options that you find in desktop drawing applications.
Just have a look at the brush customization feature on Procreate, even many desktop-based drawing softwares doesn't give you this level of customization.
One of the great things about these iPad drawing apps is how well they have designed their user interface.
The tools windows appear and disappear as and when needed, plus all the unnecessary menus and buttons are tugged away under submenus for maximizing the working area.
This results in a modern and clean-looking drawing canvas (user interface) that feels super comfortable and inviting to work on.
Size and portability
This is one of the biggest advantages of iPads.
The Apple Pencil, the power and performance, its massive battery life – they all fit together in a small and compact form factor.

Unlike those traditional tablets where you need a fixed desk setup. With iPads, you are free to work from anywhere you desire.
They literally take no space in your backpack and they are incredibly lightweight and portable.
You can even use them in small spaces like airplane seats and work on your projects unrestricted.
Their battery lasts incredibly long.
On a full charge, your iPad can easily last a whole day of casual usage. Plus you can get a portable battery charger (new tab) to give yourself an added battery boost.
Pen and Touch combo (Gesture shortcuts)
One of the most understated features of the iPad and Apple Pencil combo is their ability to decipher between pen and touch input.
This results in some interesting workflow. You can use your Apple Pencil to draw at the same time move, rotate, and zoom the canvas using your fingers.
Plus you also get advanced gesture-based shortcuts such as two-finger tap to undo, three fingers tap for redo – that makes the drawing experience on iPads very interactive.
This pen and touch interface combo are almost absent from traditional drawing tablets.
And even when you get a traditional tablet with touch support the palm rejection is not that great on those devices.
Missing out on Keyboard Shortcuts
The keyboard shortcuts are one of the areas where the iPads kind of fall short.
Even if you connect a keyboard to an iPad, you still don't get even a fraction of the key combination shortcuts that you get on Mac/Windows-based drawing applications.
With that said, drawing apps on iPad kind of make-up for the lack of keyboard shortcuts with the help of their great user interface.
But still, more keyboard shortcuts on iPads apps would have been nicer for advanced users.
iPad and Apple Pencil for Drawing
Advantages
Cleaner user interface for the maximum drawing area
Compact size
Superior stylus
120Hz screen refresh rate
Higher resolution and superior colors
Powerful enough to easily handle heavy projects
Softwares are tailor-made for iPad and Apple Pencil
Supports screen mirroring for Mac and Windows (allowing you to use desktop apps on iPad)
Can be used as a reference monitor for casual color-sensitive tasks
Easy to carry
Standalone operation
Premium Build quality and everything works as expected
Disadvantages
Ideal for drawing and design (not for 3d, video editing)
A limited selection of apps
Pro versions can get really Expensive
Stylus (Apple Pencil) needs to be purchased separately
Comes with a glossy screen (but you can apply a matte textured film)
Traditional drawing devices (graphics tablet)
Advantages
Larger screen/ drawing area
Affordable (Available in multiple price ranges)
Multiple brands/ options to choose from
Comes with or without a screen
Has physical buttons and dials
Can be used for any creative task
Wider option of creative apps
Generally comes with a matte/ textured screen
Comes with good styluses with better ergonomics
Comes with multiple drawing accessories
Disadvantages
*Bulky (needs to be connected to a computer, no wireless connectivity option yet for display tablets)
Requires a fixed setup
No 120Hz refresh rate (so latency will be higher than iPad-Apple Pencil)
Random errors and troubleshoots are more frequent
Power and performance depends on your laptop/ computer
*Some traditional drawing tables are standalone ex. Wacom Mobile Studio Pro, Huion Kamvas Studio, Microsoft Surface Studio
Screen Mirroring – Using Mac and Windows apps on iPad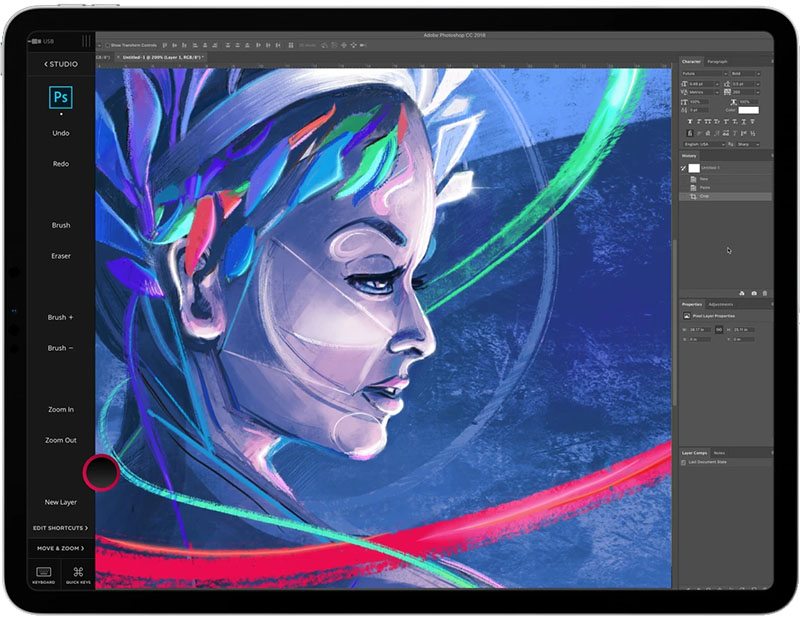 As good as the iPads app ecosystem is, there are still some popular drawing and design software such as Krita, Corel that are not available on iPads.
But what if we say there is a solution that lets you use desktop applications on your iPad.
A while ago, Apple introduced a feature called Apple sidecar that allows you to project your Mac screen onto the iPad.
The projected application supports touch input a well as the input from Apple Pencil – essentially allowing you to use desktop applications on iPad.
As good as it sounds, the Apple Sidecar is relatively new and lacks a number of features. Most artists use third-party applications such as "Astropad" to project their Mac screens on the iPad.
Astropad even allows you to set digital custom shortcut buttons for easy access just like you find in traditional drawing tablets.
This feature is not only limited to just Mac computers, Astropad's side app called "Project Blue" works with Windows computers.
Latency and image quality on screen mirroring
When you use screen mirroring, there is a lot of back and forth communication happening in the background between the iPad and your computer.
The pen and touch input is transmitted to the laptop from your iPad, which is processed by the computer and then displayed back on your iPad screen.
Compared to using native iPad apps, screen mirroring does introduce some latency. But in real-life usage, the difference is minimal.
Most artists are okay with this slight increase in latency and it does not hamper their drawing experience.
Conclusion – Are iPads good for drawing? Can they replace traditional drawing tablets used by Professionals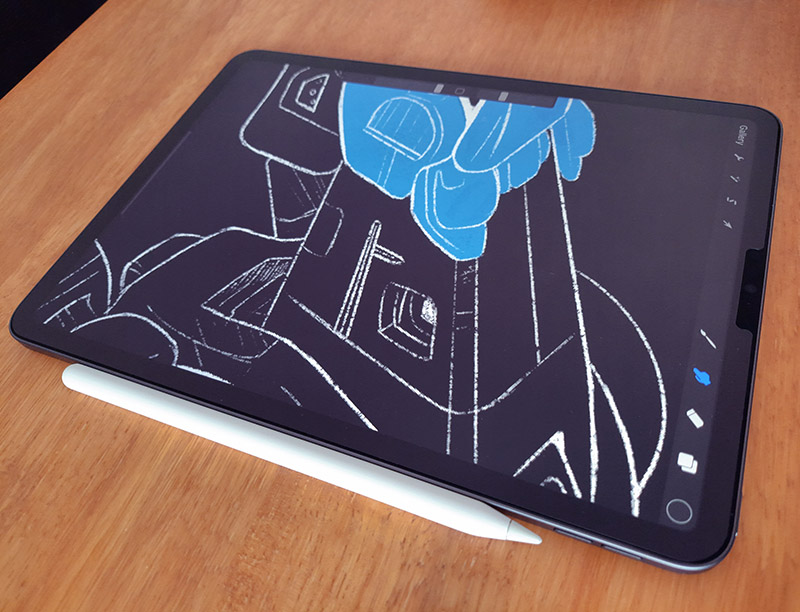 As far as the design of the iPad is concerned, There is no doubt this is the best tablet you can get in terms of power, features, camera, as well as build and portability.
It has one of the most color accurate and high resolution screen. Plus the Promotion technology with 120Hz screen refresh rate feels really great to draw on.
The onboard camera is of top quality – allowing you to take high quality images to inspire your art.
Apple Pencil on the other hand is in league of its own when it comes to styluses.
The responsiveness, calibration as well as how fluidly it performs, even styluses of so called professional drawing tabels can't compete with it.
The software limitation and availability of drawing apps were the two reasons why it was not widely adopted by digital artists.
But they are not the problem anymore. The software limitations are long gone and the drawing applications on iPads are better than any other platform.
Looking at these improvements as well as the benefits that come with a powerful yet compact drawing device – a huge number of professional artist have already made the iPad the drawing device of their choice.
No matter where you look, you will find artist using iPad for daring and enjoying every bit of it.
With that said, everyone getting iPad does not mean you should too… without doing your own due dilligence.
To start with, iPads are expensive on its own and to add insult to the injury, the Apple Pencil is not included with the box and have to be purchased saperailty. And boy they are expensive.
You can get a similar drawing experinace (minus the portability) at the fraction of the cost with traditional graphics tablets.
These days, even cheaper graphics tablets (new tab) are amazing good.
Second category of people who should think twice are artist who do a lot of back and forth, flip between 2d, 3d, desing, animation stuff.
If you are someone whos work and workflow requires you to use a combination of 2D, and 3d tool, iPad is not ready yet for that kind of workflow.
With that said, you can still use it as your secondary drawing/creativity device.
Which size iPad should i get for drawing?
If portability is your priority, the 10.9 inch iPad Air or the 11 inch iPad Air is the god choice.
But if you do not plan on taking your iPad outdoors or mostly work from home – the 12.9 inches iPad Pro would be a better choice.
It gives you a larger screen area and a more immersive drawing experience, but you also compromise a bit of portability as it is bigger and havier.
Recommended reads:
Which is the best iPad for Procreate?
iPad Pro vs Wacom Cintiq