Disclosure: As an Amazon Associate EssentialPicks earn from qualifying purchases.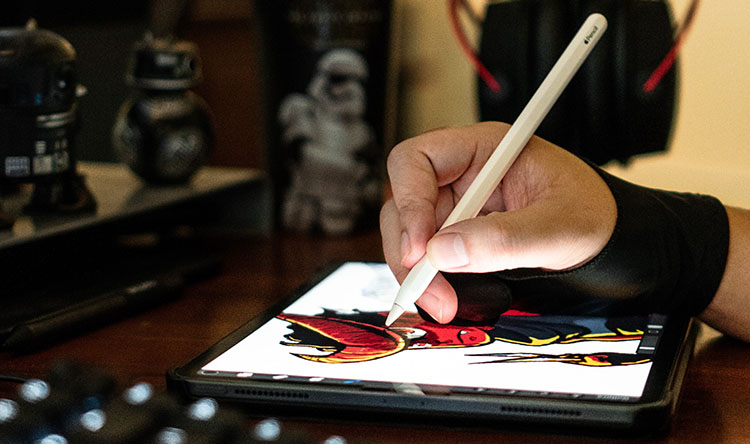 If you are searching for a digital drawing/writing device you must have come across Apple Pencil and Samsung S-Pen.
Both of them are some of the best stylus in the market in terms of speed, accuracy and reliability. But the question is – which is a better stylus and which one should you pick as your next drawing and writing device.
To be honest both the stylus have a lot of similarities and there is no clear "Black and White" answer to – which stylus is Better. There are certain areas where the Apple pencil excels whereas Samsung S Pen shines in other places.

In order to find the perfect Stylus for you, we have done a detailed comparison of Apple Pencil and Samsung S Pen. By the end of this article, you will be ready to pick the right stylus for your specific needs.
The apple pencil has two versions –  1st generation Apple Pencil and Apple Pencil 2.
Apple Pencil 2 is Supported by the latest iPad Pro whereas all the older models of iPads support the 1st generation Apple Pencil.
Samsung, on the other hand, has a number of different S Pens. You usually get a thin and small S Pen with Samsung Smartphones and a bigger S Pen with Samsung tablets.
Shape and design

Apple pencil resembles a real pencil with its long cylindrical body with a flat side. The flat side helps with magnetically sticking at the top edge of the iPad Pro.
The latest generation S Pen that comes with Galaxy Tab S6 – is slightly shorter in length but wider than the Apple Pencil. It comes with 2 flat sides that help with magnetically sticking to the back of the tablet.
Holding the S Pen in hand, it is much lighter than the apple pencil but provides better grips due to its shape.

The S Pen is also available in other sizes. In the image above you can see the black S Pen on the top comes with the last generation of Samsung Tablet (Galaxy Tab S4 – Amazon) and the golden S Pen comes with Samsung smartphones.
Feel in hand
So which stylus will feel more comfortable depends on your personal preference. If you get a chance, it is better to go and try out these stylus in your nearest Apple and Samsung Stores.
But in case you can't make it to stores, think of Apple Pencil as a regular pencil and S Pen as a generic ballpoint pen in shape, size, and overall feel.
Pressure and tilt sensitivity
The increase in the thickness of the strokes depending on the applied pressure on the stylus is called pressure sensitivity.
It makes your handwriting and sketches look more natural and true to life. Both Apple Pencil and S Pen have equally good pressure sensitivity.
Tilt sensitivity is primarily used for shading by tilting the stylus. The Apple Pencil, as well as the S Pen, has tilt recognition enabled and works equally good.
But a lot of drawing applications on both the Android and iPadOS does not support this feature. And even if apps support this tilt feature, only few brushes can use it.
Shortcut Buttons
Shortcut Buttons allow you to quickly switch between pen and eraser. Some apps also allow you to customize the button to the shortcut of your choice.
The Apple Pencil has a touch-based shortcut button whereas the Samsung S Pen comes with a physical shortcut button.
Latency and Response time
This is one of the most important features of the tablet. When we draw or write stuff with a stylus, a lot of calculations take place behind the scenes.
The tablet captures the location data and the stylus records the pressure and tilt levels. This data is sent to the processors and the processors orders the drawing application to display the strokes on the screen. This process repeats over and over again.

Here is the side by side comparison between Apple Pencil and S Pen, you have the slow-motion video on the left and real-time video on the right.
In the slow-motion video you can see that the Samsung S Pen has a slight delay between the stylus and the line appearing on the screen.
The Apple Pencil, on the other hand, has no delay due to its super-fast 9ms response time and a fast 120hz display refresh rate.
The S Pen may not be as quick as Apple Pencil, but on the right side, you can see that in real-life usage, this small delay in response time on Samsung S Pen does not have that big of an effect in the actual drawing experience.
Pointed tip of S Pen vs Blunt tip of Apple Pencil

If you observe the drawing tip of both the stylus you will see that the Apple pencil has a blunt tip. S Pen, on the other hand, has a pointed tip. Further, the S Pen comes with a hard tip and a soft-rubbery pen tip. With Apple Pencil, you get a single hard tip.
Due to the pointed tip, the strokes made by S Pen feels more accurate although both the stylus are equally good in terms of accuracy.
Performance
The Apple Pencil takes a slight edge in terms of performance as it has the fastest response time and a totally lag-free drawing experience. Writing and drawing with Apple Pencil feels as natural as using an actual pencil.
S Pen is not too far behind and probably the best writing device after Apple Pencil. In normal day to day uses the difference is not too obvious.
Palm Rejection
Both the stylus come to form very mature brands that have a lot of experience in making drawing and writing devices. The palm rejection has more to do with the tablet than the stylus itself.
Both Apple Ipad and Samsung Galaxy Tab come with good palm rejection and you will not face issues with either of them.
Parallax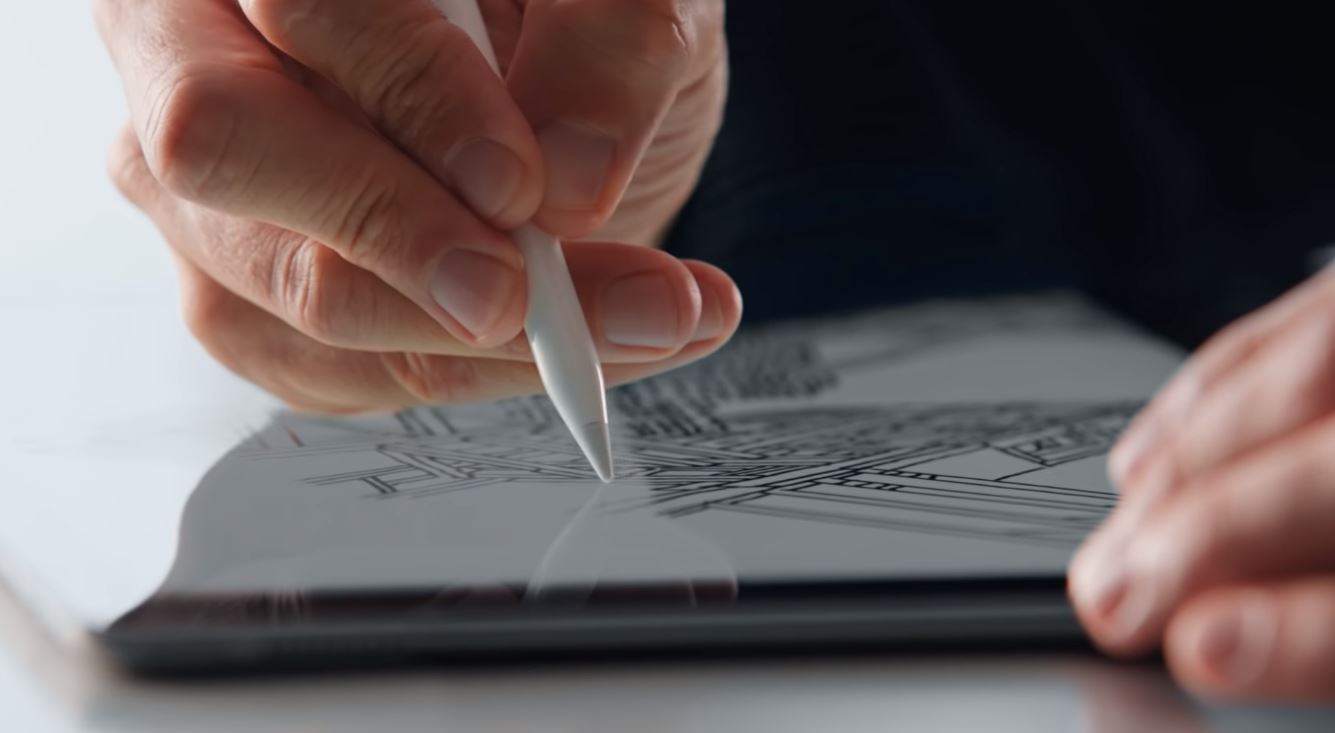 Parallax is when the strokes appear a few millimeters away from where the stylus tip is actually touching the surface. It mostly happens in cheap devices that uses non-laminated screens.
Although parallax may not be a big deal-breaker, this issue can be found in cheaper old generation of iPads (iPad mini) as well as older models of Samsung tablets. I newer tablets this issue has been completely eradicated.
Price – Apple Pencil vs Samsung S Pen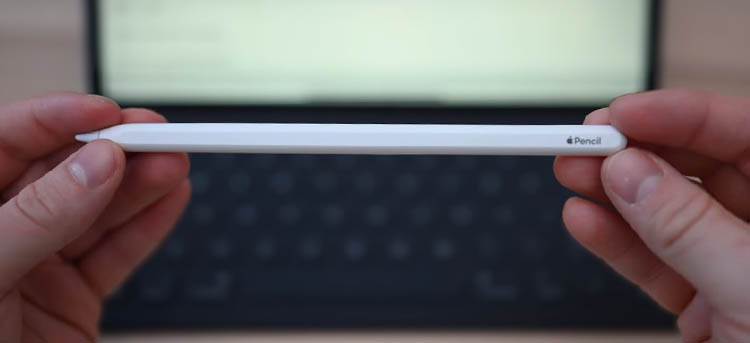 Every single model of Samsung tablet which supports pen input comes with a free S Pen in the box. On the other hand, no model of iPad comes with a pre-included Apple Pencil.
Apple Pencil has to be purchased separately. You can click here to check its current price on Amazon.
Role of Operating System – IOS vs Android
Operating systems play a big role in choosing the right tablet. A few years back the gap between IOS and Android devices were huge.
As of now, things have come close and both operating systems are equally good in terms of overall user experience and choice of drawing/writing apps.

There are some of the IOS exclusive apps such as Procreate, which is one of the most popular drawing apps but only available for IOS devices.
But there are multiple drawing apps for android which are as good as their IOS counterpart. Further, more and more IOS exclusives apps are now appearing on the Android store.
If you are only concerned with writing and taking notes then both Android and IOS app store are equally good.
Which is a better stylus for Drawing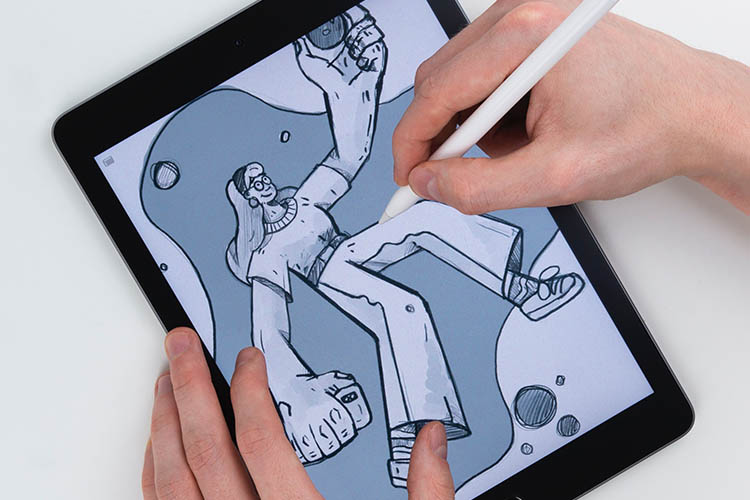 If you are an artist and looking for the right stylus to pick than Apple Pencil (Amazon) would be a better choice. The Apple Pencil really shines in every drawing related tasks whether it is accurate pressure and tilt sensitivity or the handy touch button to switch between pen and eraser.
What actually sets the Apple Pencil apart from all the other styles in the market is its insanely low latency.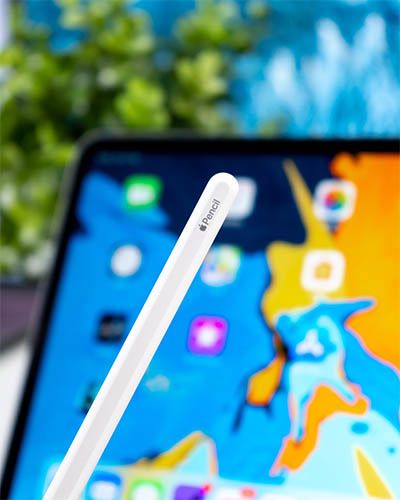 There is visibility no input lag in the stylus which makes the drawing experience feel natural and flawless.
On top of all these, IOS is a mature environment where everything from the tablet to software and apps is made for one another and they talk and communicate flawlessly.
This results in a superior drawing experience.
Now that is not to say that S Pen is not capable stylus. In simple words, you can say that S Pen is 95% of what you get with Apple Pencil.
If for some reason you can't or don't want to invest in Apple than Samsung S Pen will not disappoint you at all.
There are numerous talented artists who use S Pen and Samsung tablets on a daily basis. Some of them even prefer it more than Apple Pencil.
which is a better stylus for Taking notes
Things take a round turn when we talk about taking notes. S Pen is primarily a note-taking device. The Shape and size of the pen feel just about right for long writing sessions. You will have a really comfortable writing experience due to its lighter weight.
The Apple Pencil takes the second spot due to its longer and heavier body. The most common complaint people have with Apple Pencil is – the stylus is too thin and you won't get a comfortable grip. If these things do not concern you then you can go with Apple Pencil.
Supported devices for Samsung S-Pen
Here are some of the most popular S-Pen supported devices.
Last update on 2020-04-09 at 09:39 / Affiliate links / Images from Amazon Product Advertising API
Supported devices for Apple Pencil
Apple pencil supported devices
Last update on 2020-04-09 at 09:39 / Affiliate links / Images from Amazon Product Advertising API
Click here for the full list of Apple iPads on Amazon.
Related post:
Huion Kamvas Pro 13 vs Xp Pen Artist 13.3 Pro – display tablet comparison
Standalone drawing tablets that do not need a computer