Disclosure: As an Amazon Associate EssentialPicks earn from qualifying purchases.
---
At the time of writing this review, I have been using the XP-PEN Deco Mini 7 wireless graphics tablet as my main drawing device for over 4 weeks now.
If you ask me about my experience of using this tablet so far, my answer would be "I don't think I am going back to my old tablet".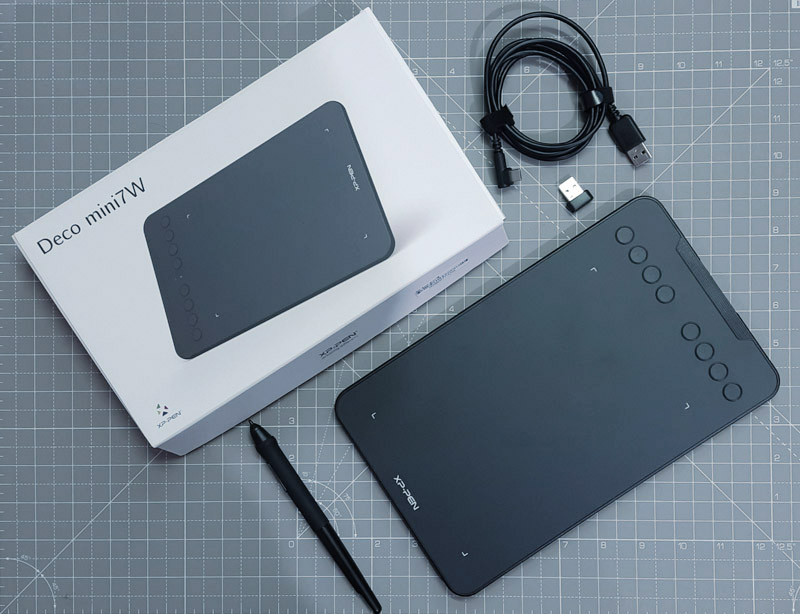 Xp Pen Deco Mini 7 is currently one of the most value for money drawing tablets in the market.
Its features list is so impressive that it makes you feel like you are looking at some top of the line premium graphics tablet, but but when you look at its price tag, it tells a completely different story.
What caught my attention about this tablet is – it connects to your computer wirelessly. In fact, it is the cheapest tablet in the market with wireless connectivity.
On paper, the Xp Pen Deco Mini 7 definitely seems like a really promising option, but does it really delivers on its promises in real-life usage. That is exactly what we wanted to find out ourselves.
If you are looking for a quality graphics tablet and wondering whether the Xp Pen Deco Mini 7W would be a good option for your drawing needs, this is a must-read article for you.
This is probably the most in-depth Xp Pen Deco Mini 7W review you are gonna find over the internet.
Here we will take a close look at the features this tablet has to offer and discuss all the positives and negative points that I observed during my usage.
By the end of this article, you will know exactly whether Xp-Pen Deco Mini 7w is the right fit for you.
Features and specifications
The tablet is available in two variants – wired and wireless.  Xp-Pen Deco Mini 7 is the wired version, whereas the Deco Mini 7W (wireless) works in both wired and wireless modes.
Here is a list of all the features these tablets come with.
XP-PEN Deco Mini 7
XP-PEN Deco Mini 7W (Wireless)
Dimension
260.2 x 162.2 x 9.3mm
260.2 x 162.2 x 9.3mm
Active Drawing Area
7 x 4.37 Inches
(177.8 x 111.1mm)
7 x 4.37 Inches
(177.8 x 111.1mm)
Surface
Textured
Textured
Stylus
Xp Pen P05D (battery-free)
Xp Pen P05D (battery-free)
Pen Pressure
8192 Levels
8192 Levels
Pen Tilt
60 degree
60 degree
Tablet Resolution
5080 LPI
5080 LPI
Stylus Report Rate
220 RPS
220 RPS
Reading Height
10 mm
10 mm
Shortcut Buttons
8 buttons
8 buttons
Connectivity
Wired
Wired/ Wireless
Battery
N/A
1000mAh/ 3.7V
Charging Time
N/A
about 2 hours
(needs to be charged twice a week) - as per my usage
Weight
0.65 pounds (307 grams)
0.7 pounds (330 grams)
Check Price on
Amazon
XP-PEN Store (US and Canada only)
Amazon
XP-PEN Store (US and Canada only)
You will notice, except for wireless capability, both Deco 7 and Deco 7W come with exact same features.
Design and Build Quality
The XP-PEN Deco Mini 7 can be categorized as a mid-range graphics tablet.
So when looking at the tablet for the first time we had a certain level of expectations with regards to its overall fit-and-finish and build quality of the tablet.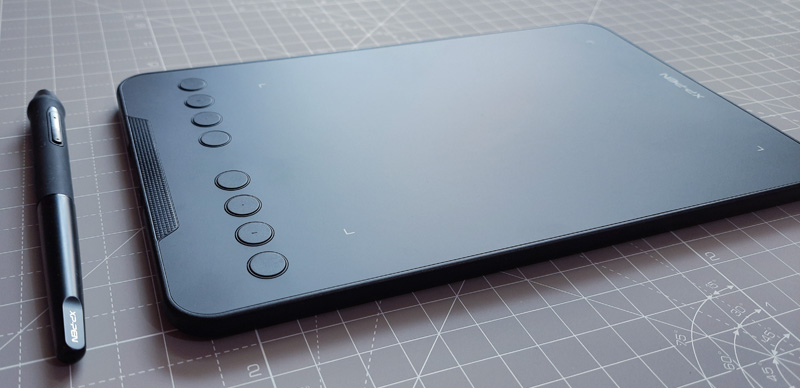 Holding the tablet first time in hand, it felt like a well put together device.
Although it is throughout-ly made out of plastic with no hint of metal anywhere on its body, but the plastic used here is of high quality.
The tablet feels solid with no squeaks or creaks audible from anywhere, it does not even flex on pressing.
The tablet has round corners and beveled edges with four large rubber pads at the back.
The rubber pads help the tablet to firmly grip the surface. Once you place the tablet on your desk it stays put and does not slide or move around.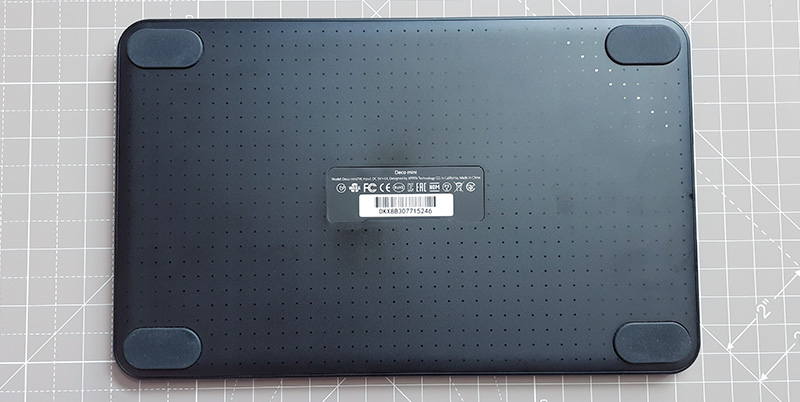 As far as the design is concerned, it is quite minimalistic and straightforward. You have an all-black tablet with shortcut buttons on the left a subtle Xp Pen branding on the right.
Other than that the whole area is covered by the drawing surface.
The tablet measures less than a centimeter in height, 9.3mm to be exact – which is very sleek and does not feels uncomfortable when drawing near the edges.
Drawing area and Surface texture
The Xp Pen Deco Mini 7 and Deco Mini 7 Wireless comes with an active drawing area of 7 x 4.37 Inches.
This is considered a medium size for drawing tablets and is ideal for both working on laptop screens and external monitors.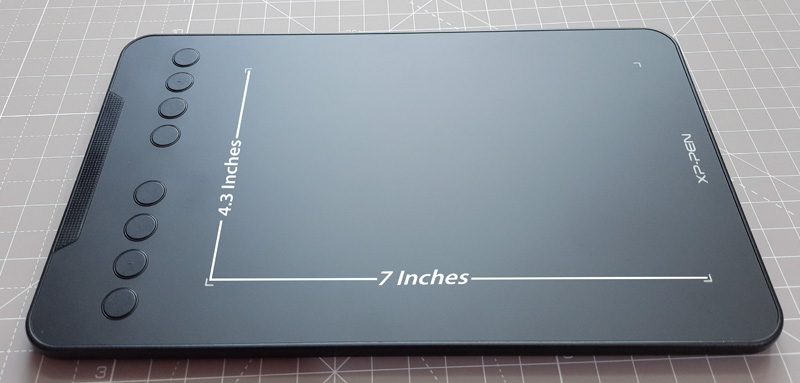 In art communities and forums you often see artists asking questions like – "which is the largest tablet that I can get under so and so budget".
Now there is nothing wrong with wanting a larger tablet – but there are other important aspects of graphics tablets – such as "surface texture", that do not get the attention they deserve.
Surface Texture plays a big role in providing a satisfying drawing experience.
The texture on the surface of the drawing tablet provides resistance to the stylus, just like paper provides resistance to HB pencil.
This slight resistance enhances the handling and movement of the stylus. Without the texture, the stylus would just slide around too much on the smooth plastic surface.
Moreover, the surface texture is also responsible for that pleasing scratchy sensation that you feel and hear when drawing on the tablet. (hear it yourself by clicking the play button below)
(Sound of stylus drawing over the Deco Mini 7)
The surface texture on the XP-PEN Deco Mini 7W is neither too harsh nor too soft, it is very balanced and feels great to draw on.
Here is a closeup of the textured surface on Xp Pen Deco mini.
How scratch resistant is the drawing surface?
Basically, all drawing tablets claim themselves to be resistant to scratches but there are only a few tablets that actually perform well in this category.
Well using the tablet for a few weeks is too soon to conclude about its scratch resistance. But the good news is there are no early signs of scratches and I think this tablet will hold well against scratches in the long run.
Programmable shortcut buttons
The Xp-Pen Deco Mini 7 comes with a total of eight programmable buttons located on the left.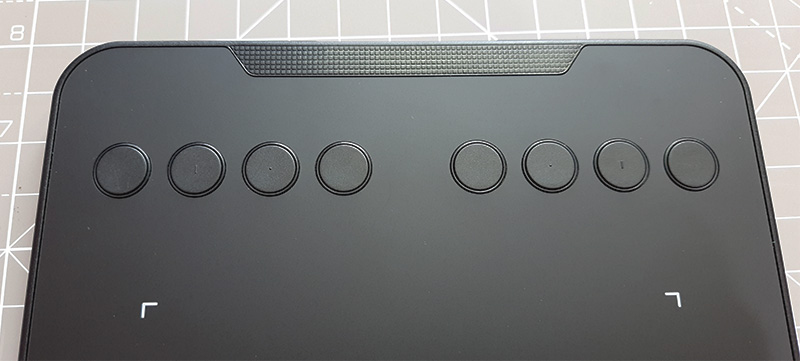 All these buttons can be reprogrammed to perform any shortcut of your choice.
You can set them to perform operations like – change between brush and eraser, increase or decrease the size of brushes, Undo, Redo, use them as ctrl, shift and alt buttons, and many more.
The buttons on the tablet have raised surfaces in the form of dots and dashes that helps you identify the correct button without looking at them or when working in the dark.
The buttons themselves are of high quality. They have a nice and tactile click to them. Although clicking pressure is slightly on the heavier side but I like them.
Xp Pen P05D stylus – features

The Deco Mini 7W comes with a battery-free stylus that has 8192 levels of pressure sensitivity and 60 degrees of tilt detection. These numbers are on par with other styluses in the market.
Since the pen is battery-free and uses wireless power transfer technology to receive power from the surface of the tablet. That means you never need to change it, which is very convenient.
Build quality of the stylus
Although the stylus is made of plastic, it stills feels reassuringly high quality.
It is rock solid – there is nothing rattling inside or any indication of cheap materials or loosely attaches components.
As the stylus is made of plastic and does not have a battery inside, it is very lightweight. Lighter than you would assume by looking at it.
The stylus is cylindrical in shape and has a wider front portion that slowly tapers down towards the back.
The weight distribution of the stylus is also on point, it does not feel back heavy or front heavy – it is balanced really well.
For an easier grip, the stylus has got a soft grippy material towards the front half. It gives you a better grip especially when your hands get sweaty.
This ergonomic shape combined with soft grip at the front, overall lightweight-ness, and good weight distribution makes the stylus very comfortable to hold during long drawing sessions.
When I used it for long drawing and 3d sculpting sessions I felt almost no hand fatigue. So I can really attest to its comfort.
Buttons on the stylus
The Deco Mini's stylus comes with two buttons on its side. The buttons serve as hotkeys and perform different actions.

Just like the buttons on the tablet, you can also customize the button on the stylus.
Most artists use the button on the pen to switch between pen and eraser or as a "grab tool (hand tool)" to move the canvas.
Some artists also like to use them as a color selector tool (eyedropper tool), which can be very helpful during coloring and blending.
For making it easier to feel and locate, the buttons on the stylus are slightly raised above the body.
I also like the fact that buttons give great feedback when clicked, there is a nice thump to them.
The clicking force is also on point unlike those styluses with soft and mushy buttons that keep getting clicked unintentionally. My last tablet had that and it was really annoying.
Initial activation force
Initial activation force is how much pressure you need to apply in order for the stylus to start drawing. This affects how the pen responds to light touches.
Many tablets in the market struggle with this and only a few get this right. The initial activation force on the Xp Pen deco mini good and it responds well to extremely light touches.
With that said, the nib of the stylus is springy and retracts by maybe half a millimeter before it starts drawing (as shown below).
Initially, I did not particularly like this – but eventually, I got comfortable with it – to the point that I don't even notice it now.
Drawing performance
A graphics tablet is heavily reliant on its stylus. A good stylus can really make a big difference to your experience of using the tablet.
A number of pen tablets in the budget range come with an impressive list of features but when you start using the stylus you realize where they have done the cost-cutting.
The most important factor to look for in the stylus is how well the pen tracking works. Are the lines drawn by the stylus smooth and consistent? Does it have abnormal pressure behavior? Does it leave behind a curved hook shape at the end of the strokes? These are the tell-tale signs of a bad stylus.
Thankfully that is not the case with the Xp Pen Deco Mini 7. Right from the beginning, the stylus had a specular drawing performance.
I did make some changes in the pressure settings to match it to my personal preference.  The pressure sensitivity on the Xp Pen p05D stylus is on point, it responds well to the slight changes in the pressure.
The stylus also has tilt sensitivity which works well enough to get the job done.
As far as the quality of the strokes is concerned, the stylus draws perfect lines every single time.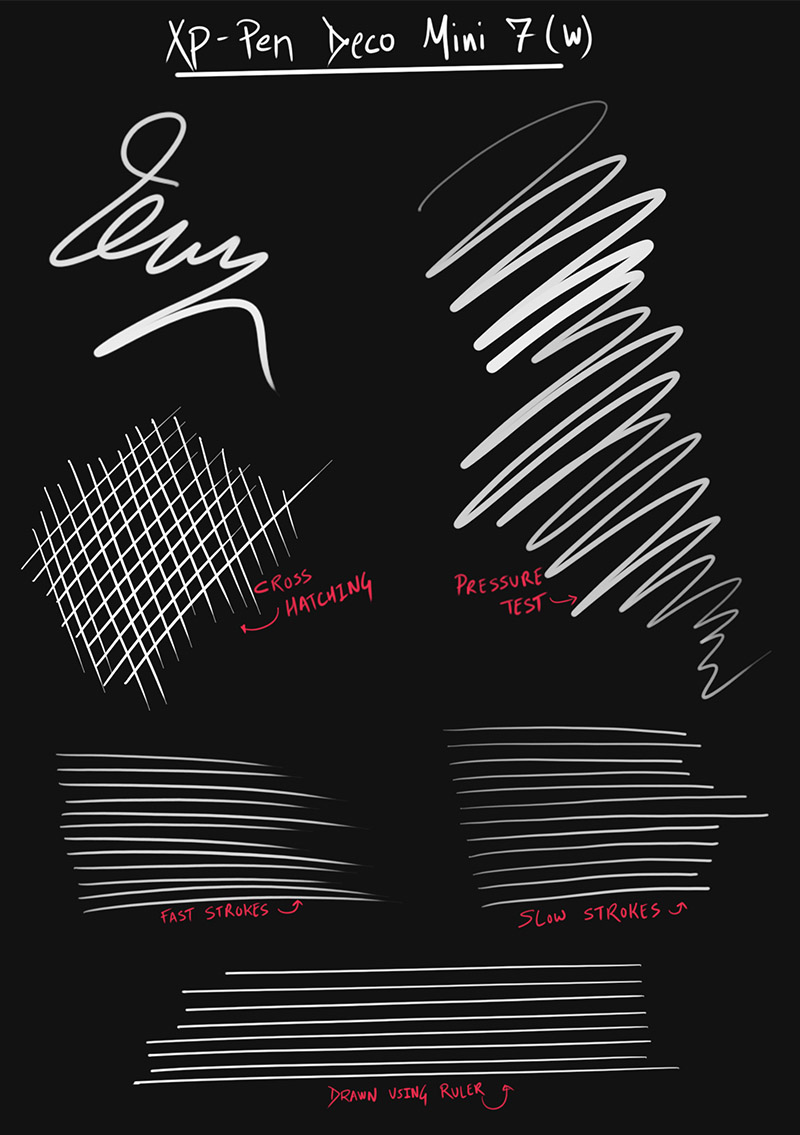 Here is a stylus test we did to demonstrate the performance of the stylus and the quality of lines/strokes drawn by it.
Connectivity (wired and wireless modes on XP-PEN Deco Mini 7W)
There are two ways of connecting the tablet to the computer. One is by using the USB-A to USB-C cable, or you can connect the included 2.4 GHz wireless USB receiver.
Both the methods of connection works equally well with no lag in either wired and wireless modes.
The included cable is adequately long, measuring about 5 feet (1.5 meters).
The USB-C end of the cable connects to the graphics tablet, and the larger USB-A port connects to the laptop (computer).
The USB-c port that plugs into the tablet is L-shaped, which does not sticks out when plugged into the tablet.
Now coming to wireless connectivity.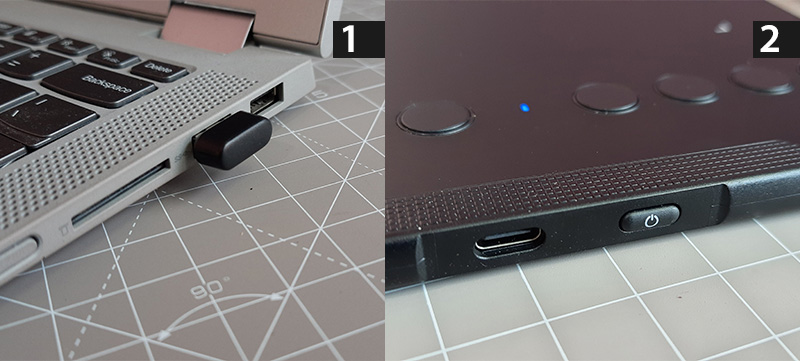 First, you simply connect the wireless receiver to the laptop/computer, then power on the graphic tablet (by long-pressing), and your graphics tablet is ready to draw.
But there are some laptops, especially the newer models that only have USB-C ports.
For these laptops, you can use the included USB-C to USB-A adapter to connect the wireless receiver. (as shown in the image below)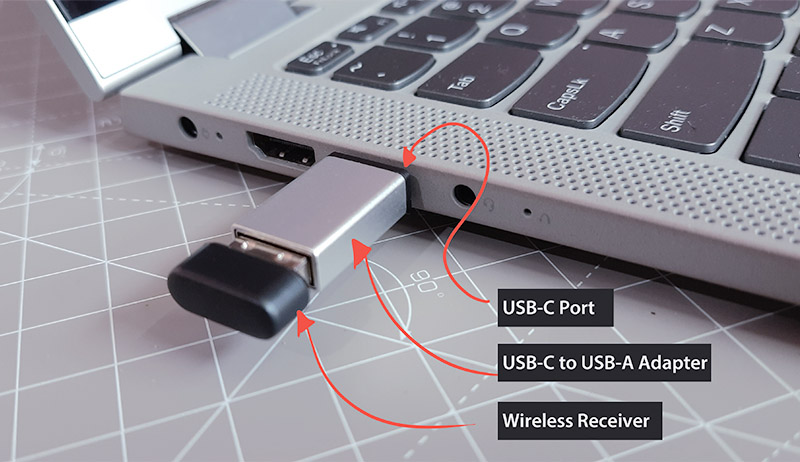 Charging and Battery backup in wireless mode
There is no separate charger included in the box, instead, the tablet gets automatically charged when you use it in the wired mode.
This is very convenient because, if the tablets get discharged while you are working, you can plug in the cable and continue working. In the meantime, the tablet will automatically charge.
It takes the tablet about two hours to fully charge its 1000mAh battery. On normal usage, you need to charge the tablet twice a week.
There is a button on the side which you need to long-press in order for the tablet to power on or off.
In case you forget to power off the tablet, after some time it goes into standby mode to save battery. In standby mode, the tablet can last as long as 15 days.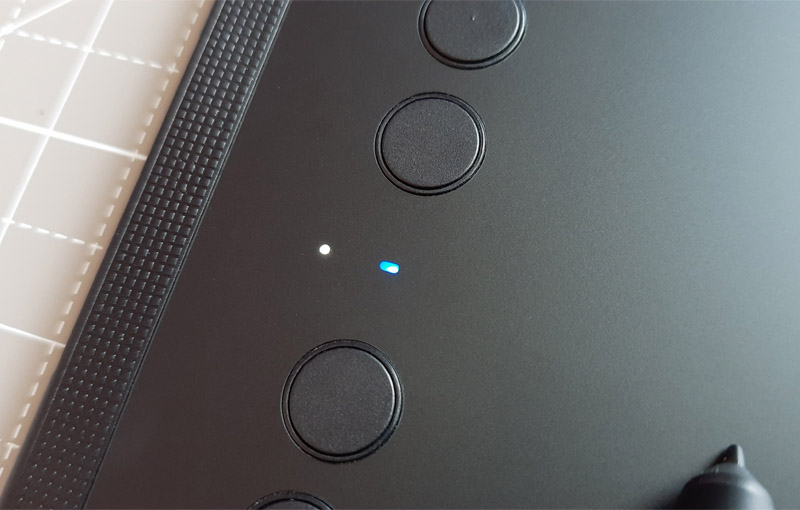 Inbetween the shortcut buttons there are LED lights that indicate the connection status (blue light), pen detection (white light), and low battery (red light).
Driver – Why you need it
In order for the tablet to work correctly, you need to install the driver. The driver allows you to customize the tablet as per your preference.
The driver of the tablet is easy to understand and simple to use. There are three menus within the driver.
Work Area setting
Pen Setting
Express Keys
Work area (Drawing area mapping)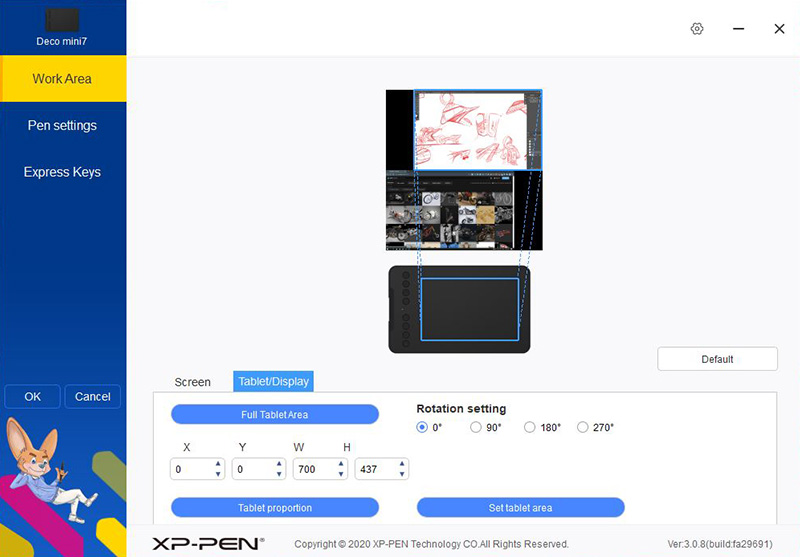 The "work area settings" allow you to correctly map your screen area. It also allows you to manage the working area on the screen as well as the tablet when working with multiple displays.
In the image above, I have connected my laptop to a monitor. With the help of screen and tablet area settings, I have set the tablet to work with my monitor screen, not with the laptop screen.
Pen Settings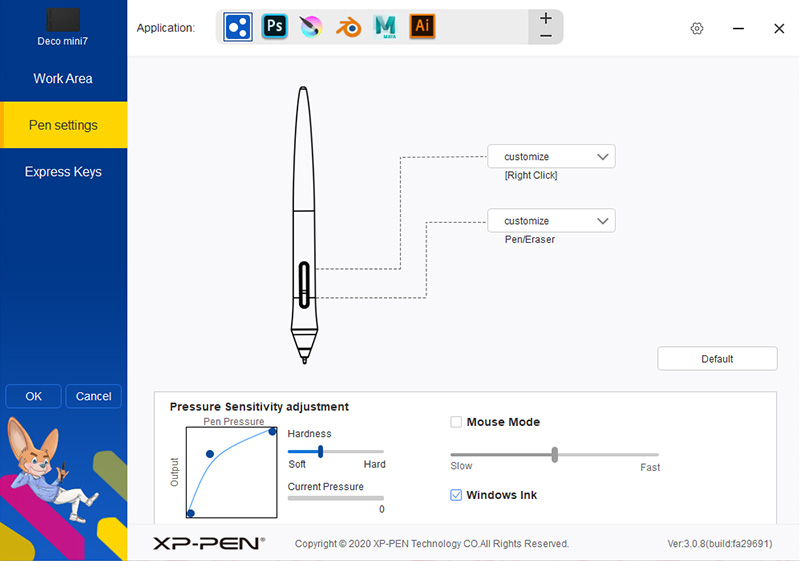 Next coming to "Pen settings menu". It allows you to change the pressure sensitivity of the stylus and customize the buttons to any shortcut of your choice.
Expresskey (shortcut buttons) settings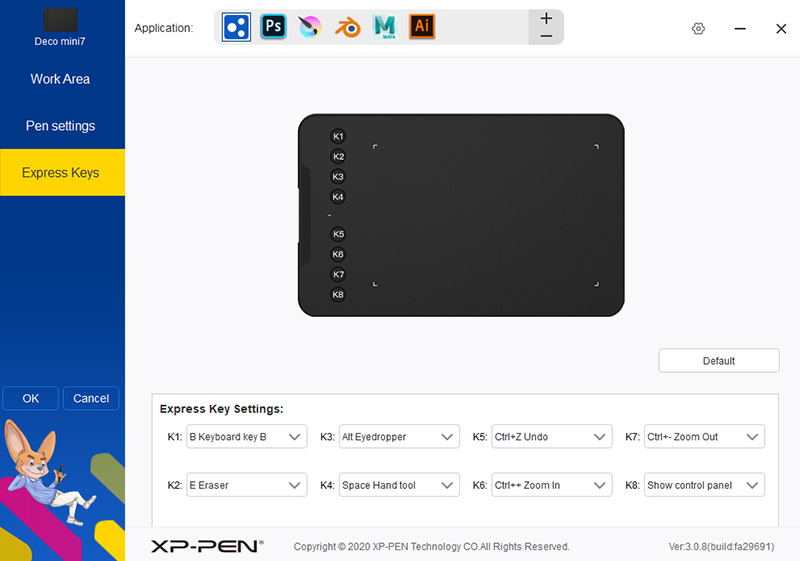 The third and last menu is all about the "Express Keys" (shortcut buttons) on the tablet. In this section, you can reprogram the buttons to set your custom hotkeys.
Application-specific hotkeys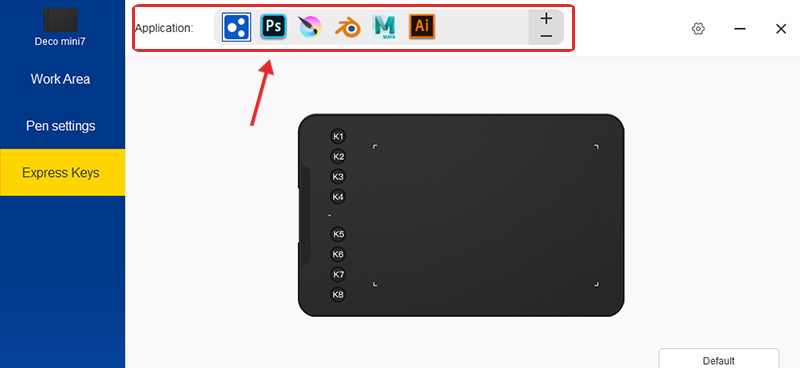 The driver allows you to set application-specific shortcuts. Where you can set different hotkeys for different applications.
In the image above, you can see photoshop, Krita, Blender, Maya, and Illustrator – all have their own set of hotkeys. You can do this with any application of your choice.
Once you switch from one application to another, say from photoshop to Krita, the driver automatically updates the buttons with the hotkeys of the active application.
What is missing from the driver?
The only thing missing from the driver is – there is no battery percentage indicator. Well, the tablet displays low battery in the form of blinking red light – but there is no way to know the exact amount of battery remaining.
Also note that, on installation, the driver is installed by the name of "Pen tablet" instead of saying "XP-PEN". This is confusing and makes the app difficult to locate or search within your computer applications if you don't know what to look for.
Android support
This feature is for the artists who draw on their smartphones or want to be able to draw on their smartphones.
The XP-PEN Deco Mini 7 connects to your Android smartphone and allows you to use the tablet as a drawing surface.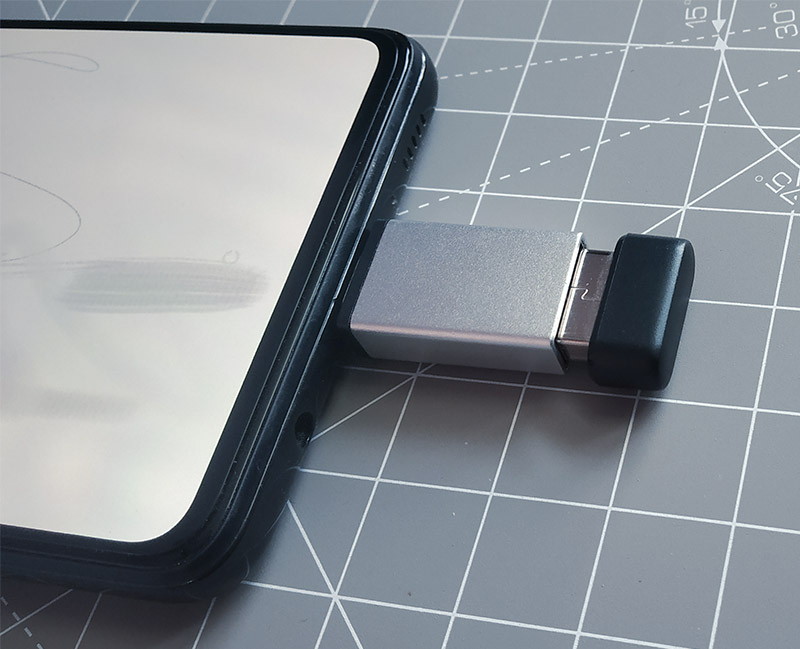 It works in both wired and wireless modes and supports most Android drawing applications.
Further, you do not need to download any separate driver for Android mobile simply plug in the wire or the wireless adapter and start drawing.
The USB-C and Micro-USB to USB-A adapters are included in the box to make sure you do not have port incompatibility issues.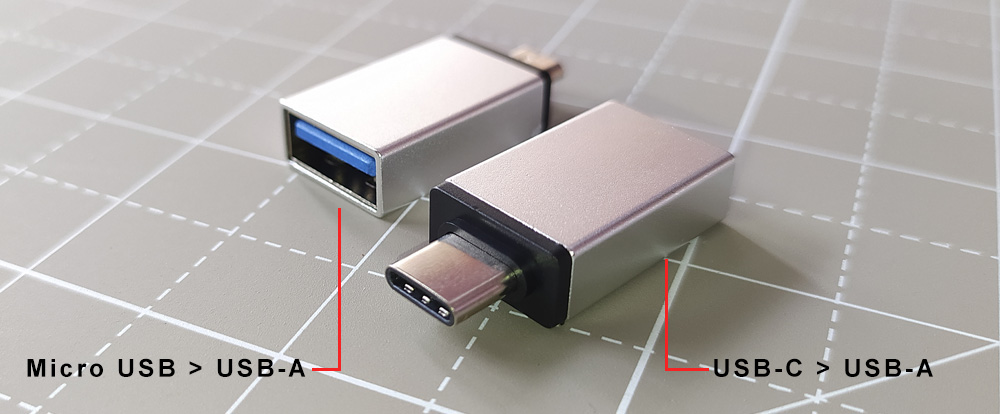 Coming to the drawing experience, in Android mode the tablet works in portrait mode (with shortcut buttons on the top).
Well, there is no way to customize the buttons on Android, but the pressure sensitivity works extremely well.
If you have been so far drawing on your phone with a cheap capacitive stylus on with your fingers, this is definitely a worthy upgrade.
Note – This feature is only supported by devices running on Android version 6.0 and above. Also, IOS devices and iPhones are not supported yet.
What comes with the box
The tablet comes with quite a number of accessories to make sure you have everything you need to get started.
Here is everything that comes in the box of XP-PEN Deco Mini 7 Wireless.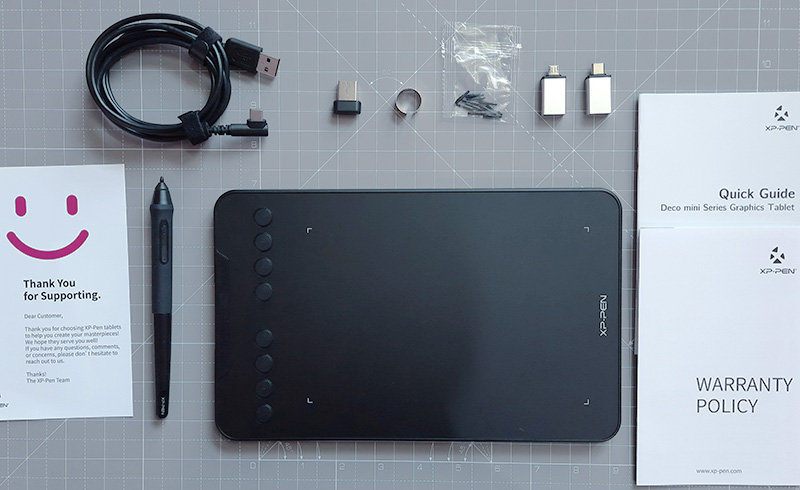 Tablet – XP-PEN Deco Mini7
Stylus – XP-PEN P05D
10 Extra Pen-nibs
Nib remover clip
USB-C to USB-A Adapter
micro-USB to USB-A adapter
USB-C to USB-A cable (5 feet or 1.5meters length)
Wireless receiver (USB-A)
Free driver (can be downloaded from XP-PEN's website)
12 months warranty card
Quick Guides
What is missing from the box
Graphics tablets normally come with pen holder and drawing gloves, both of which are missing from the box of Deco mini 7. But these accessories are not that important and considering the price tag this the Deco Mini 7W comes at, it gets a pass in this department.
Price
The low price point is the main attraction of this tablet. It is really impressive that in spite of its low price tag the Deco Mini 7w comes packed with features and provides an extremely good drawing experience.
It is almost as good as what you get with premium tablets that costs as much as twice the price of this tablet.
You can click here to check out its latest prices on Amazon.
XP-PEN Deco mini 7 wireless – Pros and cons
After fully analyzing and testing the tablet, here are all the main positive and negative points to consider when buying this tablet.
Pros - What we liked
Medium size drawing area (good for laptop screens and under 24-inch monitor screen)
High-quality drawing surface (good texture, scratch resistive)
Excellent stylus performance
Good Build quality and weight distribution on the stylus
Tablet feels strong, sturdy and emanates a quality feel
Programmable shortcut buttons
Flowless Wireless experience
No lag in either wired or wireless modes
Good battery backup and convenient charging
Android support
Stable and easy to use drivers
Box comes with multiple accessories
12 months warranty
Good customer support service (can vary depending on your area
Cons - What needs improvement
No support for IOS devices
Does not comes with a pen holder
No battery percentage indicator
No place to safely store the wireless USB connector
The driver installs by the name "Pentablet" instead of saying "XP-PEN". (Could be difficult to find it on your computer if you don't know what to look for)
Summary – Is the XP-PEN Deco Mini 7 (wireless) the right tablet for you?
From what we have discussed so far it is pretty obvious that the XP-PEN Deco Pro is the best graphics tablet in its category.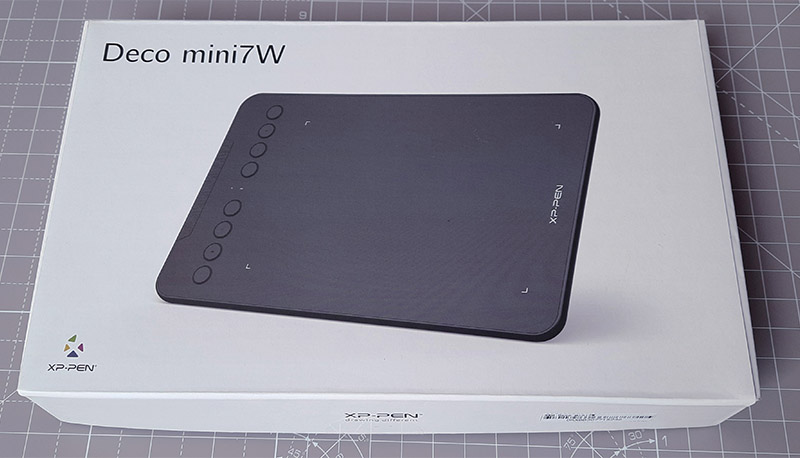 It ticks all the boxes whether we talk of the drawing performance, stylus capabilities, or the overall quality. Its wireless connectivity features alone make it a very compelling option compared to all other tablets in the market in a similar price segment.
From setting up the tablet for the first time to the end, it was a smooth sail where we have encountered no tablet or driver issues.
Overall our verdict is – the XP-PEN Deco Mini 7W stands tall on all its promises. It is truly the best tablet in its range even beating its own brand's tablets such as Deco 01 and Deco 02.
If you are looking for a reliable tablet, you should look no further and get this tablet.
Is Deco Mini 7 the right fit for you
The Deco Mini 7 is a medium-size tablet which is suitable for screen ranging from 13 inches to 24 inches max.
If you happen to have a larger 27 inch or 32-inch monitor, Deco Mini is not the tablet for you. You need a tablet with a bigger drawing area, you should check out the XP-PEN Deco Pro range of tablets.
Buy XP-PEN Deco Mini 7W (wired and wireless) on
– Amazon
– XP-PEN Store (US and Canada Only)
– AliExpress
Buy XP-PEN Deco Mini 7 (wired only) on
– Amazon
– XP-PEN Store (US and Canada Only)
– AliExpress