Disclosure: As an Amazon Associate EssentialPicks earn from qualifying purchases.
---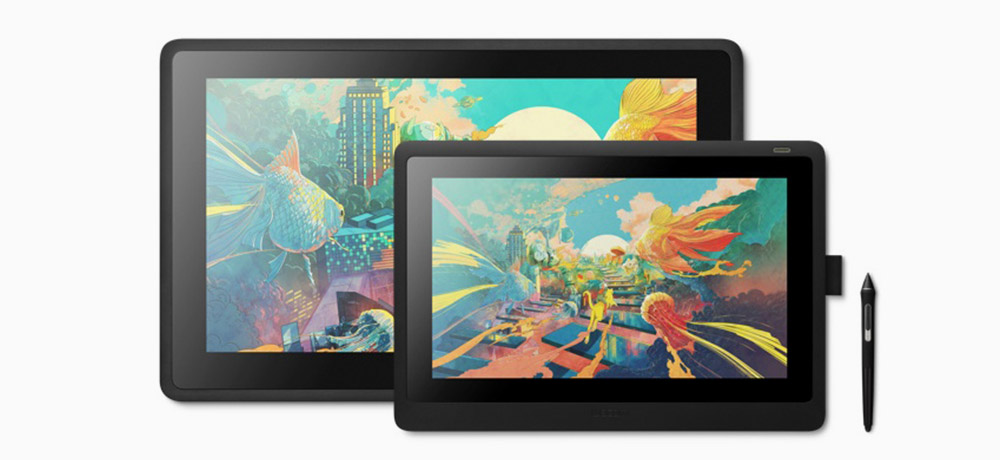 The Wacom Cintiq 16 and Cintiq 22 are two relatively new tablets offered by Wacom.
As more and more Artists asked for a budget-friendly drawing tablet, Cintiq 16 and Cintiq 22 were introduced as an alternative to the expensive Wacom's Cintiq Pro lineup of tablets, which can easily reach a couple of thousand bucks.
These two tablets sit at a sweet spot, giving you the best possible features while keeping the price under control.
Now there as cheaper tablets available such as Wacom One, but it makes a lot of compromises. On the other hand, premium tablets such as Wacom Cintiq Pro comes with a lot of extra features and add-ons that you don't necessarily need.
So the question is – which of the two tablets should you buy? in other words – Which is a better drawing tablet?
This is what we will try to answer in this Wacom Cintiq 16 vs Wacom Cintiq 22 Comparison.
Features Comparison
Here is the list of all the main features these tablets come with.
| | Wacom Cintiq 16 | Wacom Cintiq 22 |
| --- | --- | --- |
| | | |
| Display Size | 15.6 Inches | 21.5 Inches |
| Resolution | 1920 x 1080 FullHD | 1920 x 1080 FullHD |
| Color Accuracy | 72% NTSC | 72% NTSC |
| Dimension | 16.6 x 11.2 x 1.0 in | 22.4 x 14.1 x 1.6 in |
| Shortcut Buttons | No shortbut Buttons | No shortbut Buttons |
| Stylus | Wacom Pro Pen 2 | Wacom Pro Pen 2 |
| Pressure and Tilt | 8192 levels, 60 degrees | 8192 levels, 60 degrees |
| Buttons on Pen | 2 + Eraser | 2 + Eraser |
| Pen Holder | Yes (Fabric Loop) | Yes (Fabric Loop) |
| Tablet stand | Foldable Legs | Adjustable Stand |
| VESA Mount | Yes | Yes |
| Weight | 4.2 lbs (1.9 kg) | 12.3 lbs (5.6 kg) |
| Price | Check on Amazon | Check on Amazon |
From this features comparison, it is pretty clear that both these tablets have very similar specs.
So we will be discussing some of the key differences between Cintiq 16 and Cintiq 22. These differences are often overlooked but make a big difference in the real-life usage of these tablets.
Display – Cintiq 16 and Cintiq 22
Starting off with the obvious, the Wacom Cintiq 16 comes with a 15.6-inch display whereas the Cintiq 22 comes with a 21.5-inch screen.
They come with the color accuracy of 72% NTSC color space which is equivalent to 96% sRGB. On top of that, these tablets are factory calibrated meaning they are ready to use right off the bat.
Resolution – The differentiating factor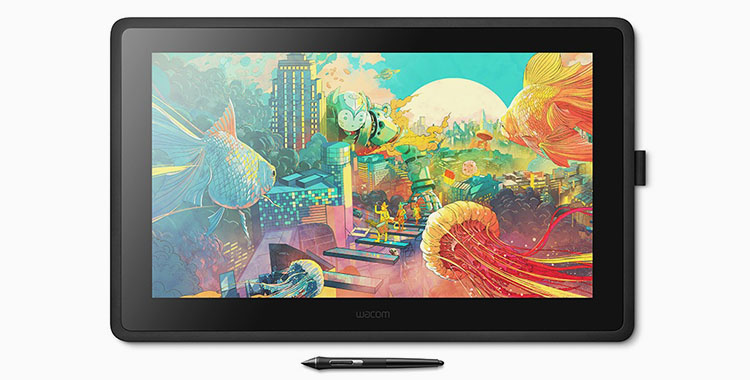 Both the tablets come with a FullHD resolution of 1920 x 1080p. Now, this is one of the most overlooked things about these tablets.
On paper, the resolution is the same meaning both the tablets have equally good sharpness, but that is not the case in real-life usage. A full HD resolution on a 16 inch and 22-inch screen produces different results.
On the Cintiq 16, the pixels are smaller and you get a clearer and sharper image. Whereas on Cintiq 22 the same number of pixels are stretched over a larger area, which produces less sharp images then the Cintiq 16.
Brightness
Both the Cintiq 16 and Cintiq 22 has the brightness of 210 cd/m2, which is typical of drawing tablets in this price range. This level of brightness is sufficient for bright indoor environments.
In the tablet driver settings, you have the option to change the brightness as well as color settings of the tablet.
Stylus – Wacom Pro Pen 2
Both the tables come with the exact same stylus – "The Wacom Pro Pen 2". It is the most advanced stylus from Wacom and has a very balanced and refined drawing performance.
It has 8192 levels of pressure sensitivity as well as ±60° of tilt recognition. The Pro Pen 2 has an ergonomic design which makes it easier to use it for longer drawing sessions.
Both tablets come with a pen holder fabric which is located on the right side of the tablet. You also get three additional pen tips.
The only difference between Wacom Cintiq 16 and Cintiq 22 is the response time. Cintiq 16 has a response time of 25ms whereas Cintiq 22 comes with 22ms of response time.
The response time is the amount of time it takes for the tablet to display the strokes on the screen. The difference of 3ms in the response time of the Cintiq 16 and Cintiq 22 is so small that it has no effect in real-life usage.
Tablet stand – Foldable legs and Adjustable stand
Tablet stands are important as they provide a comfortable and ergonomic drawing position. The tablet stand situation is slightly different in Wacom Cintiq 16 and Cintiq 22.

The Wacom Cintiq 16 comes with tiny foldable legs which are located at the back. It gives the tablet an elevation of 19° which is way more comfortable then drawing on a flat surface.
The foldable legs have rubber pads at the ends to stop the tablet from moving around on smooth surfaces.
Wacom Cintiq 22 does not have those foldable legs and comes with Wacom adjustable stand instead. As the Cintiq 22 is a larger and heavier tablet, it needs more adjustable angles in order to be used comfortably.
The stand allows you to change your drawing angle anywhere between 19° to 68° which is great. The quality of the stand is top-notch and like the Cintiq 16, the Cintiq 22 also has those rubber pads on the stand.
VESA mount
Both Cintiq 16 and Cintiq 22 comes with support for VESA mount. The VESA mount can be used to attach an external stand if you want more adjustment angles.
For example, the Cintiq 16 comes with a foldable stand which gives a single working angle of 19°. But if you want a more comfortable drawing position or want the tablet to raise at any desired angle – you can use an external tablet stand.
Shortcut Buttons and Exresskey remote
Neither the Cintiq 16 nor Cintiq 22 have any shortcut buttons on the tablet. A clean and minimal design definitely looks better but not having shortcut buttons takes away some usability.
Most of the artists use the keyboard for the shortcut. But if you really need programmable shortcut buttons, you can get the Wacom Expresskey Remote (Amazon).
The Expresskey remote has a total of 17 shortcut buttons and a touch-sensitive ring that acts as a multipurpose shortcut button. The touch ring can perform shortcuts such as changing the size of the brush and eraser as well as zoom, scroll, and pan.
Dimension and Weight
There is a massive difference in size and overall form factor of Wacom Cintiq 16 and Wacom Cintiq 22.
The Dimensions of these tablets are:
Wacom Cintiq 16 – (422 x 285 x 25 mm) 16.6 x 11.2 x 1.0 in
Wacom Cintiq 22 – (570 x 359 x 40 mm) 22.4 x 14.1 x 1.6 in
*(Length x Width x Height)
As you can see above the Cintiq 22 has a considerably large form factor than the Cintiq 16. On top of that, there is a big difference in weight. The smaller Cintiq 16 weighs 4.2 lbs (1.9 kg) and Cintiq 22 has the weight reading of 12.3 lbs (5.6 kg). 
Now you can see that Cintiq 16 has a smaller footprint, plus It is lighter as well.
Connectivity and Driver
Since Wacom Cintiq 16 and Cintiq 22 are not a standalone drawing tablet, they need to be connected to a computer.  You also need to install the Wacom driver for the tablet to work. The driver is free to download and easy to set up.
It provides additional settings for the display as well as allows us to change the pressure sensitivity as well as default shortcuts of the stylus.
Summary – Wacom Cintiq 16 or the Cintiq 22?

From the comparison, it can be seen that – Wacom Cintiq 16 and Cintiq 22 have a lot of similarities. You get the same color accuracy, resolution as well as the stylus. The real-life drawing experience of these tablets is also equally good.
The Wacom Cintiq 16 (Amazon) is a better value for money out of the two. With Cintiq 16, you get a very good tablet at a reasonable price. Portability is another main factor – the tablet may not fit in your backpack, but still, it can be carried around if you need to.
A large drawing area is the biggest advantage of the Wacom Cintiq 22 (Amazon). A 22-inch tablet is a good size for those who want a large tablet, it is neither too small nor too overwhelmingly large.
A larger 22-inch tablet also provides a more enjoyable drawing experience. In many drawing and modeling applications such as Photoshop, Krita, Clip Studio, ZBrush or Blender – a large portion of the working area is covered by in application menus and settings.
In smaller tablets, these buttons and menus occupy a lot of screen real estate, giving you a smaller working area than the actual size of the tablet. A large drawing tablet does not have these issues.
Overall both tablets have their own advantages and disadvantages and which is the right tablet for you depends on your needs and requirements. The good thing is both Cintiq 16 and Cintiq 22 are good tablets and you can't go wrong with either of them.
Buy: Wacom Cintiq 16 on Amazon
Buy: Wacom Cintiq 22 on Amazon
Related Topics:
Wacom One vs Cintiq 16 comparison
Cheap drawing tablet with screen
Standalone drawing tablet
How Wacom Pens Work – Wireless & Batteryless