Disclosure: As an Amazon Associate EssentialPicks earn from qualifying purchases.
---

The Wacom Cintiq Pro 24, Cintiq 27 QHD and the Cintiq Pro 32 are some of the largest drawing tablets in the market. The bigger drawing area provides an immersive drawing experience but the larger size also presents some unforeseen challenges.
One of the common inconveniences with these massive drawing tablets is – they are very limited in ergonomics, comfort, and adjustability.
Drawing on a flat surface or on your lap may be fine with smaller drawing tablet but that is not practical when we talk of massive 24 to 32-inch devices.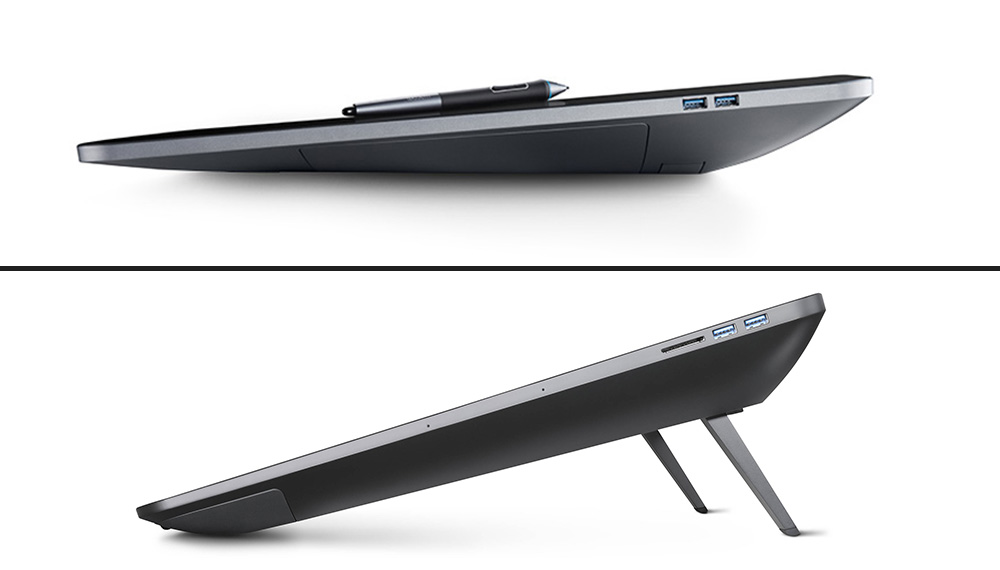 To give you a better drawing angle, these drawing tablets come with built-in foldable legs that have a drawing angle of 20° degrees.
Now, 20 degrees is a fairly comfortable drawing angle. But it promotes a slouchy drawing posture that leaves your back hurting, especially on those longer drawing sessions.
The Wacom Ergo Stand and Wacom Flex Arm are the two official tablets stands from Wacom that provide greater flexibility and better ergonomics.
So which of the two tablet stands provide greater comfort? Are they stable enough? What are some other alternatives? These are some of the questions we will answer in this Wacom Ergo Stand and Wacom Flex arm comparison.
Wacom Ergo Stand – Simple, Strong and Sturdy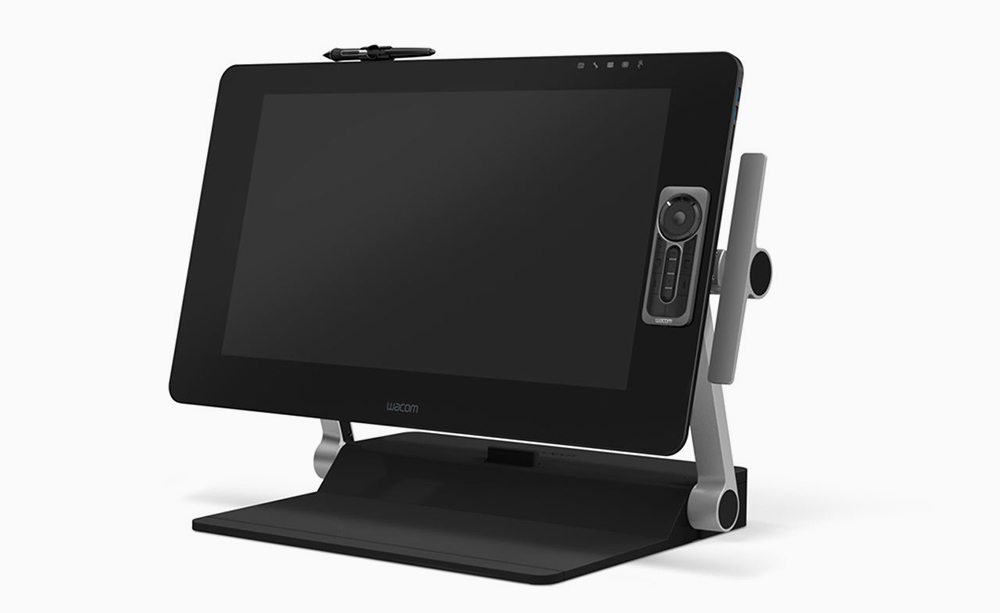 Check Wacom Ergo Stand on – Amazon
The Wacom ergo stand is a mix of simple and functional design that has a lot of potential, but it is not quite there yet.
There is a lot to like about the Wacom Ergo. It is a well-designed tablet stand that does an excellent job of cable management – concealing all the clutter underneath back panels, giving you a clean workspace.
A combination of large base and metallic arm gives it a very sturdy and stable hold that allows you to work comfortably with no wobble or vibration issues.
The arm of the stand primarily gives you two height settings – the raised position and the desk mode. Other than that – you can also change the angle and rotation up to 90 degrees in both clockwise and anti-clockwise direction.
How to re-adjust height, angle, and rotation on Ergo Stand
The stand snaps into standing position with the help of the small lever located at the base of the stand that locks the stand in position.
The handles on both the sides of the tablet can be pressed to change the angle of the tablet. For rotation, you can simply hold the tablet and rotate it.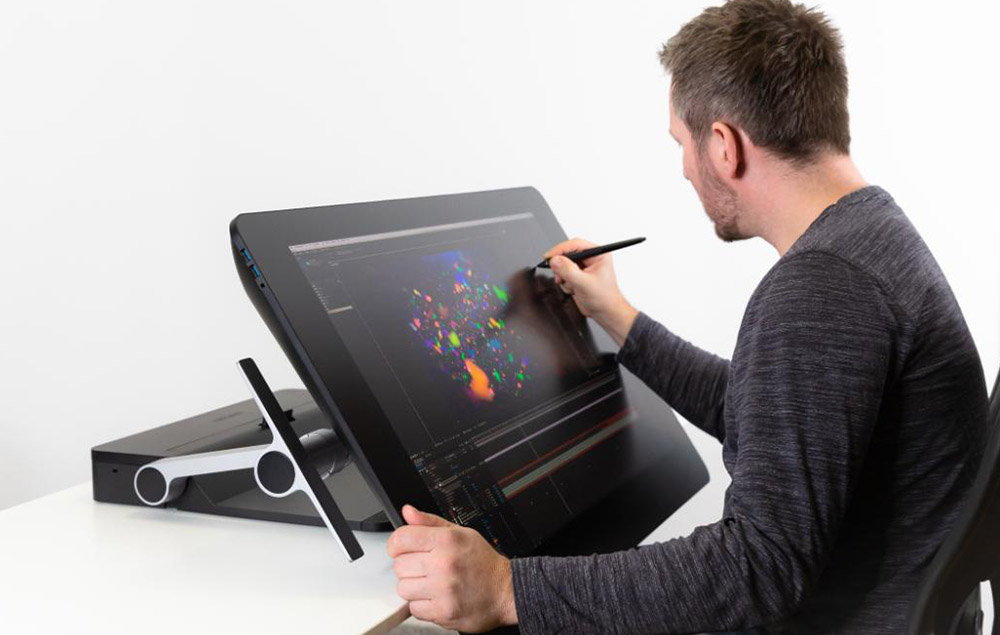 One of the neat features of the Wacom Ergo stand is, it allows you to position the tablet in such a way that it overhangs beyond the edge of the table. It feels like the tablet is resting on your lap, giving you a nice drawing position.
Although most of the artists are very happy with the Wacom Ergo Stand in its current form, it would have been great if the stand provided a mid-height setting. Where the tablet floats slightly above the desk allowing you to slide in a keyboard underneath for performing shortcut operations.
Advantages of Wacom Ergo Stand
Stable and Strong Hold
Incredibly easy to switch from one position to other
Smooth Rotation
Good Build Quality
Good Cable Management
Disadvantages of Wacom Ergo Stand
Heavy
Expensive
Just 2 height settings
Takes up large Desk Space
Takes time to assemble and set up for the first time
Wacom Flex Arm – Unlimited Adjustability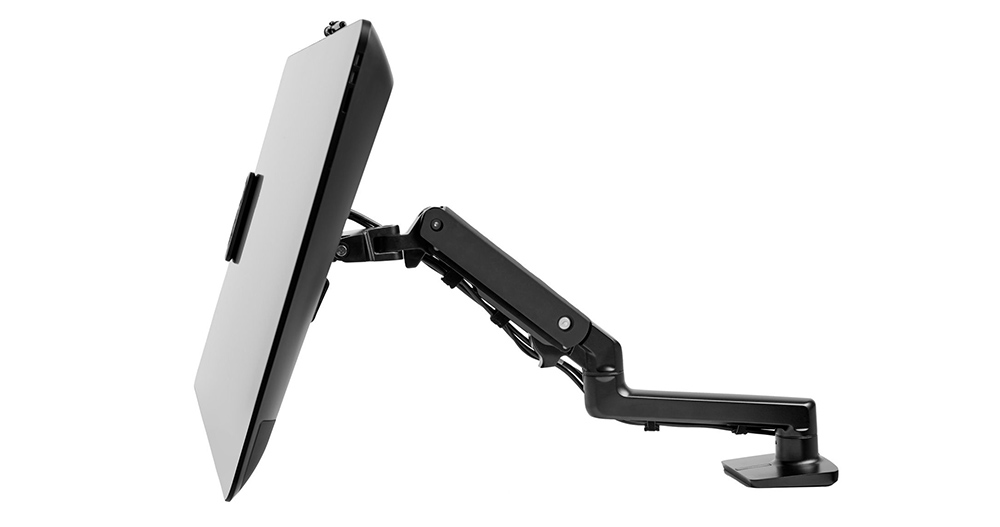 Check Wacom Flex Arm on – Amazon
The Wacom Flex Arm is another official stand that can be seen as an alternative to the Wacom Ergo Stand. It is compatible with Wacom Cintiq Pro 24 and 32.
The freedom to hold your tablet anywhere in its 30-inch reach is one of the biggest advantages of this stand. This allows you to use your table in a standing position, sitting position, or anywhere to best fit your preferred drawing and working position.
The tablet attaches to the desk with the help of a clamp with a recommended desk thickness of 1 inch (for a wooden table).
Wacom Flex Arm is made of metal and is sufficiently strong to hold the Cintiq Pro 24 and 32 with Cintiq Engine attached.
Like the Wacom Ergo stand, the Flex arm comes with proper cable management that neatly routs the cable and gives you a clean and organized working space.
You can check out the current price of the Wacom Flex Arm on Amazon.
Advantages of Wacom Flex Arm
Maximum flexibility with tilt and Rotation support
Occupies minimum space (frees up desk space)
Can be tightened to adjust lift strength
Easy to reposition
Good Cable management – With velcros on each arm
Disadvantages of Wacom Flex Arm
Slight wobble, but manageable
Takes time to set up and assemble for the first time
No support for Wacom Cintiq 22HD and Cintiq 27QHD
Wacom Ergo Stand Vs Wacom Flex Arm – Which is a better option?
Well, it depends. The Wacom Ergo Stand and Flex arm provide different solutions to the same problem.
In areas such as tablet stability, the Ergo Stand does a better job. Ergo Stand is easier to switch from one position to other but at the same time, it is not as flexible as Flex Arm.
The benefits of the Wacom Flex Arm is – it has a smaller footprint that saves a lot of space.
Also, if you are working on a multi-display setup where you have a main monitor for reference and a drawing tablet, the Wacom Flex Arm is better for these situations as it can be pulled in and out of your way, depending on whether you are currently using it or not.
Compatibility
The Wacom Ergo stand is Compatible with Wacom Cintiq Pro 24, Cintiq 27 QHD, and Cintiq Pro 32.
The Flex Arm is only compatible with Wacom Cintiq Pro 24 and 32.
Alternatives drawing tablet stands for Wacom Cintiq Pros
Wacom Ergo stand and the Wacom Flex Arm are good enough for most of the artists. But there are third-party tablet stands in the market that comes with some really interesting features that are worth looking into.
Before we go ahead, it is important to know – whether Wacom Drawing tablets are compatible with third-party stands or not.
Are Wacom Cintiq tablets compatible with third-party VESA tablet stands?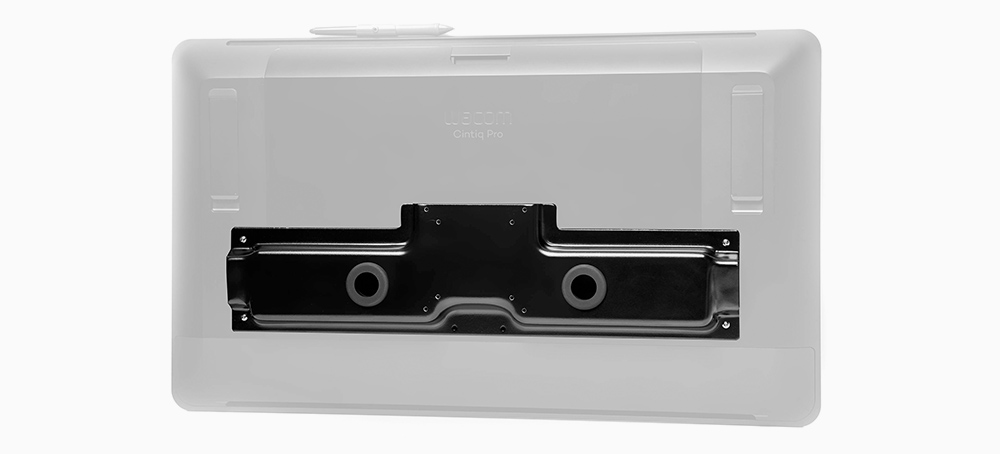 Yes, the Wacom Cintiq Pro 24 and 32 can be attached to a third-party VESA compatible tablet stand with the help of Wacom ACK62804K Cintiq Pro VESA mount.
For older tablets such as Wacom Cintiq 22HD and Cintiq 27 QHD, you can use RiteAV VESA mount. This is a universal VESA mount compatible with most drawing tablets.
Talking about other Wacom tablets, both the Wacom Cintiq 16 and Cintiq 22 comes with a standard VESA mount and can be directly attached to any VESA tablet stand.
Xoot stand: 2 in 1 Ergo Stand and Flex Arm combo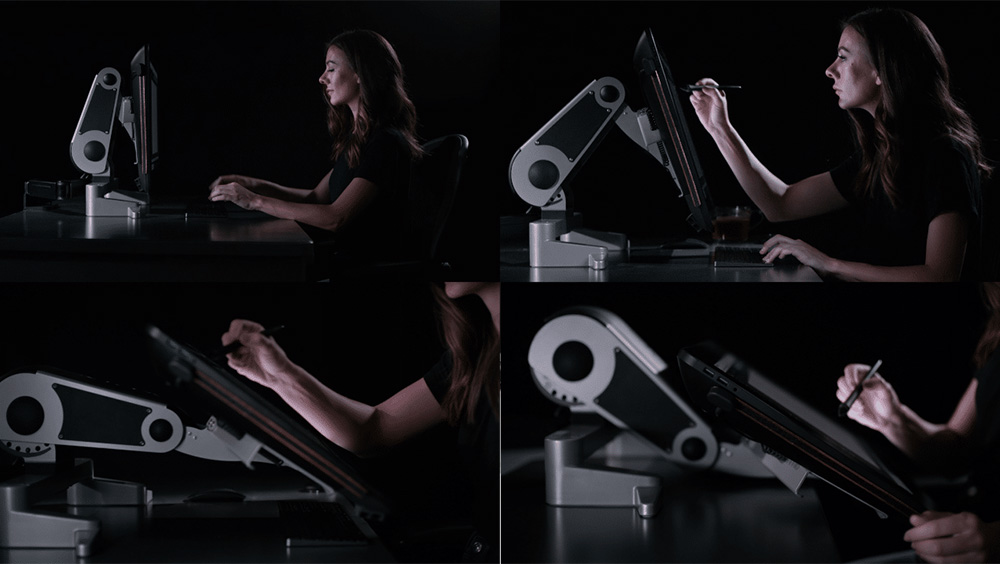 Check Xoot Pro Stand on – Xoot.pro
If you want the stability of the Wacom Ergo Stand and the Flexibility of the Wacom Flex Arm in a single device, the Xoot stand is the perfect choice for you.
The Xoot stand is specifically made for professional artists who want a better stand alternative for their Wacom drawing tablets.
Using patented electromagnetic brakes and cantilevered screen support, the Xoot stand gives you unmatched stability even when your tablet is lifted above your desk.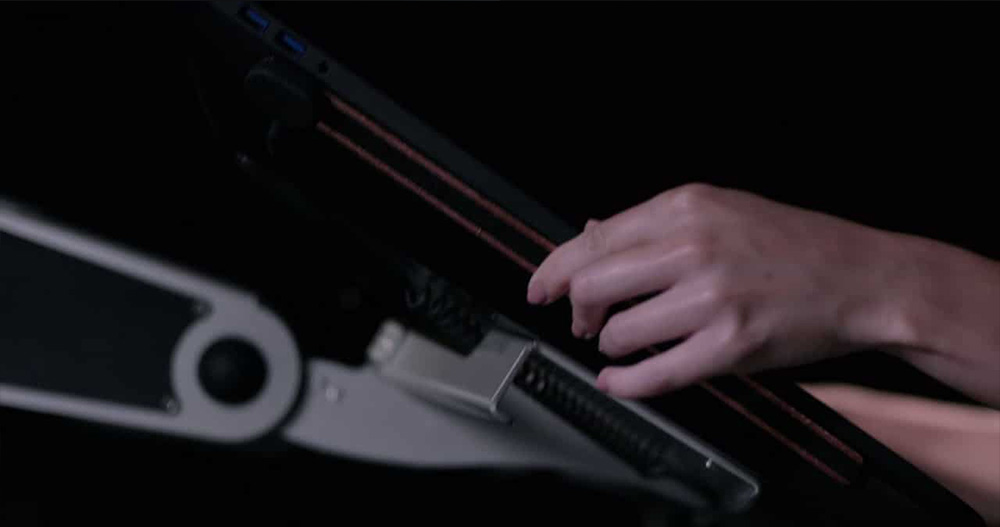 Changing the tablet from one position to another is smooth and simple, just reach out to the touch stripes at the back of the tablet. It unlocks the electronic braking system allowing you to easily change the position of the tablet.
Xoot stands are made from heavy-duty metal and have good cable management. The stand supports height adjustment, angle adjustment, tilt as well as screen rotation.
If you are someone who uses a keyboard for shortcuts while using the drawing tablet, the Xoot stand will serve you well. The stand allows your tablet to glides a few inches above the desk allowing you to place your keyboard and mouse underneath it for easy access.
The only downside to Xoot stands is their expensive price tag. But if ergonomics is your priority then you are possibly getting the best tablet stand in the market. Check out the Xoot Stand by clicking here.
Compatibility: Wacom Cintiq Pro 24, Cintiq Pro 32, Cintiq 27 QHD, and Dell Canvas 27.
Ergotron Hx – Wall-mounted flex arm alternative for Drawing tablets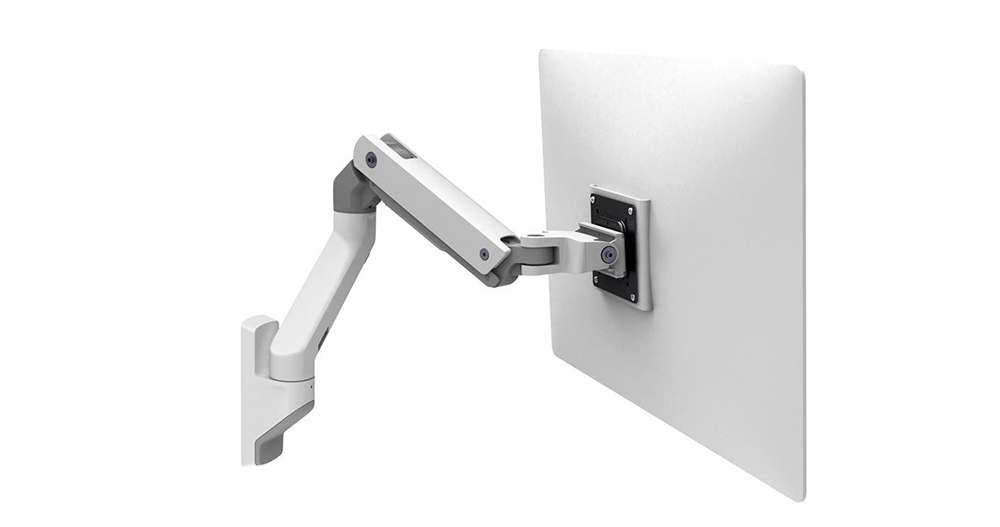 Check Ergotron Hx Stand on – Amazon
Ever wanted to mount your drawing tablet directly on the walls? Wall-mounted tablet sands can be useful if you have a weak, flimsy and unstable desk or if your desk doesn't have enough space to fit your tablet.
Ergotron is a very popular brand that is known for its strong and reliable display mounting solutions. The Ergotron HX wall mount is perfect for anyone looking for a reliable and trustworthy tablet stand for their drawing tablets.
It has a full metal design and a very strong hinge system that can easily withstand the weights up to 42 lbs (19 Kg). For reference the Wacom Cintiq Pro 32 weights about 28.6 lbs (13 kg).
There are cheaper alternatives available in the market, but as the saying goes "you get what you pay for".  The stability of the stand is very similar to what you get with Wacom Flex Arm.
You can change the hold strength of the stand by tightening the screws with the help of the given tool. The only downside of this stand is, it has no screen rotation.
Related topic:
Tablet stand for smaller drawing tablets (15 inches and below)
Portable Drawing tablet for Digital Artists