Disclosure: As an Amazon Associate EssentialPicks earn from qualifying purchases.
---

Drawing tablets like Wacom Cintiq are very popular amongst digital artists. They come with a number of useful features that make them very convenient to draw on.
Shortcut buttons are one such feature that artists really like.
They perform a variety of quick actions such as undo, redo, grab, change between brush and eraser, manipulate their sizees, and a lot more – without you ever needing to touch your keyboard.
Some, drawing tablets like the Wacom Cintiq series do not come with buttons on the tablet.
Whereas, other tablets in the market come with just a handful of shortcut buttons – which is not sufficient in most cases.
If you are someone who can see the benefit of using custom shortcut buttons then getting an external shortcut accessory for your drawing setup will serve you well in the long run.
The Wacom's Expresskey Remote is one of the most popular hotkey remotes in the market and allows you to perform shortcut operations wirelessly.
With that said, the Expresskey Remote is way overpriced for what it does, considering it is just a box with buttons.
In this article, we are gonna introduce you to the three Wacom Expresskey alternatives which are not only as good as Wacom's offering but also come with their own unique set of features. In addition to being a lot cheaper.
Best Wacom Expresskey Remote alternatives

Xp Pen AC19
Affordable
Supports any tablet
Wireless
Comes with Dial
No backlight
Uses AAA battery
Shuttle Pro V.2
15 Buttons 2 dials
Ergonomic
Fully customizable
Wired
Big footprint
Kooletron Pad
48 keys with 8 macros
Fully programmable
Multiple actions
Wired
No dial
1. Xp Pen AC19 – Shortcut Remote for drawing tablets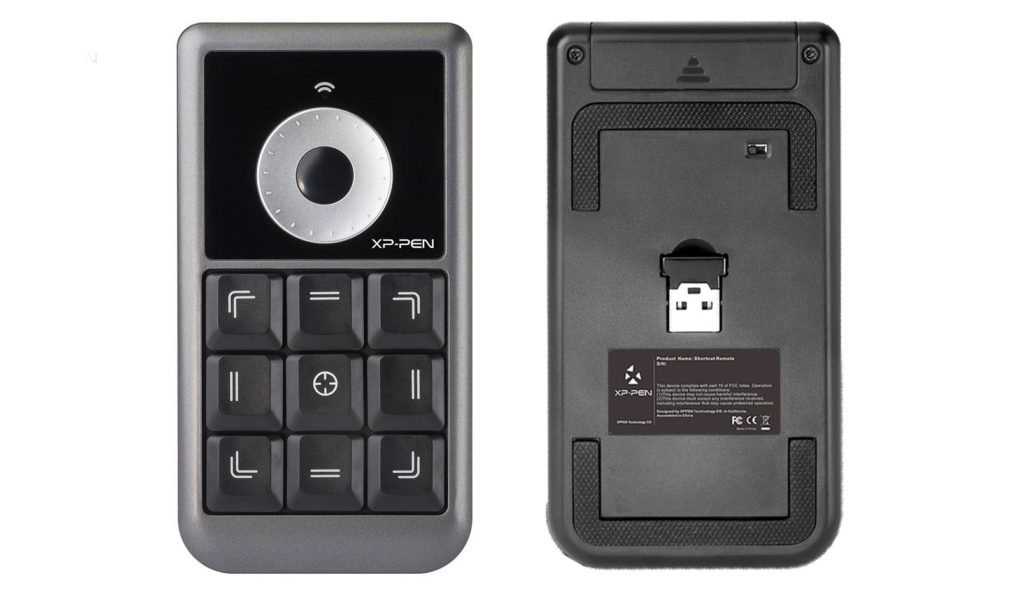 Xp pen AC19 is the only true competitor to the expensive Wacom Expresskey remote. It has a total of 10 buttons and a dial. All the buttons are customizable and work with almost all the drawing applications. The rolling dial makes small clicks on rotating, which feels very satisfying and overall gives a high-quality feel.
The dial allows you to zoom, rotate, pan, scroll and change the size of the brush or eraser. The buttons in the middle of the dial switches between different modes(rotate, zoom etc.).
The Xp pen shortcut remote connects to your computer wirelessly using a USB wireless receiver. There is a cutout at the base of the remote to store the USB receiver when not in use.
Driver and third-party tablet support
Unlike Wacom, Xp pen AC19 shortcut remote comes with its separate driver, which means it can be installed on any computer and does not interfere with the drivers of the other drawing tablets.
It allows you to use the shortcut remote with any drawing tablet – be it Wacom Cintiq, Huion, Xp pen or any other brand.
The remote uses a AAA non-rechargeable battery. Although the battery lasts a very long time – a rechargeable battery would have been more convenient.
In a Nutshell – Xp pen AC19
10 Buttons
1 dial
Highly customizable
Works with the third party drawing tablets
Wireless connectivity
Storage for the USB receiver
Rubber pads at the bottom
Uses 1 AAA battery
Excellent built quality
2. Shuttle Pro V.2 – Most versatile shortcut keys
The Shuttle Pro V.2 is primarily made for video editing but it is a perfect tool for using with many other applications. It has a total of 15 customizable buttons with two dials. The buttons and dials can be customized through the driver.
Button layout
The buttons are divided into three separate groups. There are nine buttons at the top which are similar in shape and size. Next two buttons are placed on either side of the dial. In the end, the last four buttons are placed below the dial at an angle. All the buttons are easy to reach and had a sharp click to them.
The driver is easy to navigate and the whole setup process takes just a couple of minutes. The inner ring rotates 360° whereas the outer ring is spring-loaded.
It connects to the computer using a USB cable with no option for wireless connectivity. It has a fairly big footprint and takes up some extra space on the desk. The Shuttle Pro V2 has an ergonomic design and fairly big palm rest – in fact, the whole lower half of the device is just the palm rest.
The nine buttons at the top can be popped off and you can place custom notes inside them, which makes it easy to recognize what work they do.
In a Nutshell – Shuttle Pro V.2
15 Buttons
2 dials
Easy to customize
Support all windows and Mac devices
Wired connection using USB
Bigger footprint – takes extra space on the desk
Very ergonomic with palm rest
Custom stickers for 9 buttons at the top
3. Koolertron Programmable Mechanical Keyboard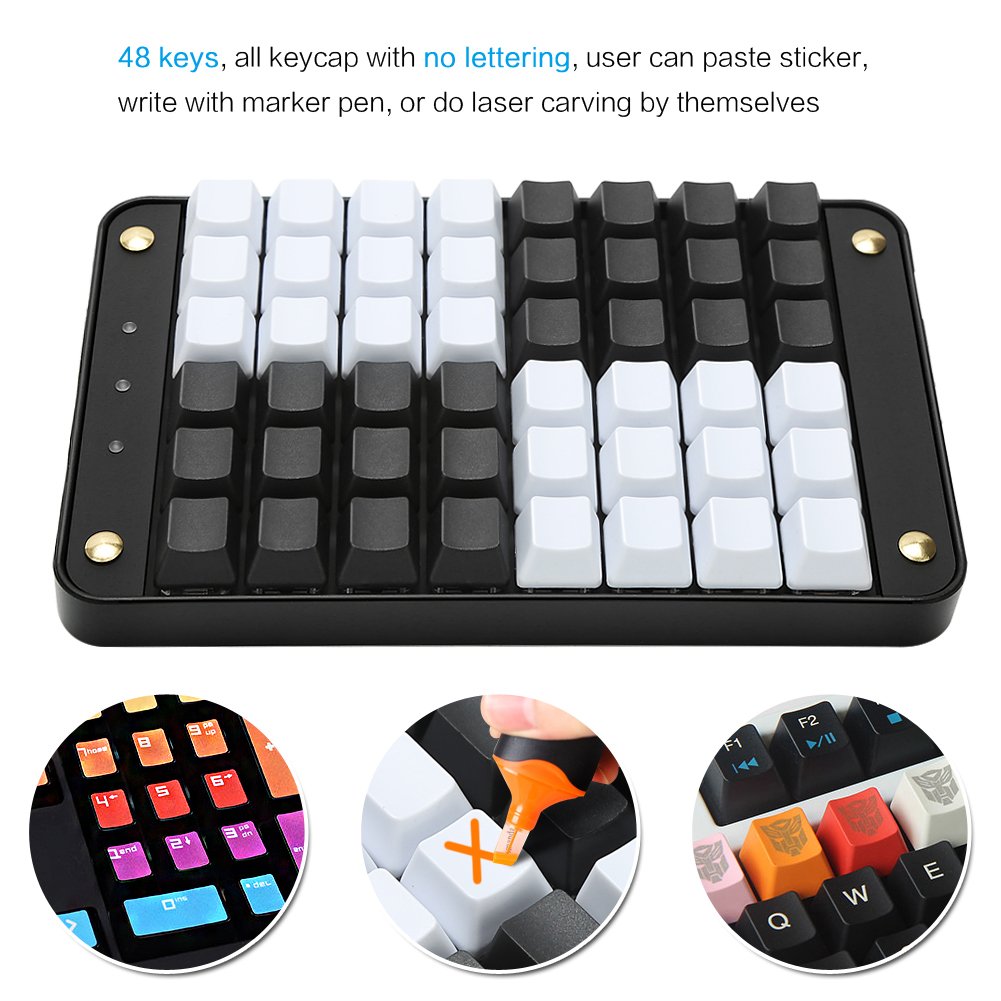 Kooletron keypad has the potential of being one of the best Wacom Expresskey alternatives. Most of the other shortcut remote max out at around 20 buttons, whereas the Kooletron comes with a total of 48 customizable buttons.
Out of the 48 keys -there are 8 complex macros keys with the configuration software which can take full command of your computer. A macro key can output up to 31 characters.
In simple words what it means is – you can program it for doing multiple actions on a press of a single button.
All the key customizations and macro settings are stored within the hardware – which means you don't need to set things up again even if you change the computer.
Although this advance board was made primarily for gaming, it is also perfect for tasks such as photo and video editing and digital painting. It supports multiple profiles and can be switched between using the hotkey.
With all these advanced features and these may settings, it can take a while to set up everything. To help you with settings, it comes with an easy to understand driver and user manual which guides you through the settings process.
The only downside is the keypad does not come with a dial like the other two options. The keypad is compatible with Windows, Mac and Linux.
In a Nutshell – Kooletron keypad
48 Buttons
No dials
8 Complex macro keys
unlimited customization
Wired connection using mini USB
Compact and portable
Settings stored onboard
Multiple profiles
Mechanical keys
What is wrong with Wacom Expresskey Remote
There is nothing wrong with Wacom Expresskey Remote (Amazon), in fact, it is one of the most useful and premium shortcut accessories in the market.
It has a number of amazing features. For example, it has a magnetic back that allows it to stick to the side bezels of Wacom Cintiq Pro tablets.
It has a total of 18 programmable buttons that can be programmed to perform different functions for different drawing applications.
It also comes with a touch ring which mainly helps with changing the size of the brush and eraser.
All the buttons have different patterns on them which help in recognizing them with your fingers.
The best part about them is – they operate wirelessly.
One of the main reasons people look for alternatives is – it is very expensive considering the fact it is just a box with buttons.
Other than that, there are a number of features such as the aforementioned magnetic back panel which only works with Wacom devices and not with non-Wacom tablets.
Overall, Wacom Expresskey remote is good but there are definitely other options that are very similar in functionality and costs way less.