Disclosure: As an Amazon Associate EssentialPicks earn from qualifying purchases.
---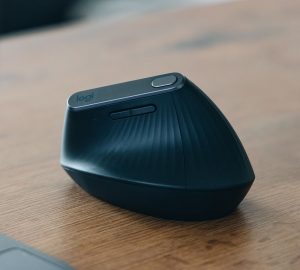 Does your wrist hurt from using a mouse? Thousands of people develop pain and injury in their fingers, wrist, and forearms every single year.
Using computers for multiple hours a day on less than ideal hardware with bad body and hand posture is one of the prime reasons for muscle cramps and tissue injuries.
When our work rapidly changed from physical to computer-based our bodies did not get sufficient time to evolve. Our hands – particularly the wrist had to take a major hit as most of the computer-related tasks need them.
Why you need an alternative to a generic mouse?
Working long hours on computers in the office or home without ergonomic devices and correct posture is open invitation to problems like Carpal tunnel, RSI (Repetitive Strain Injuries) plus general pain, and fatigue.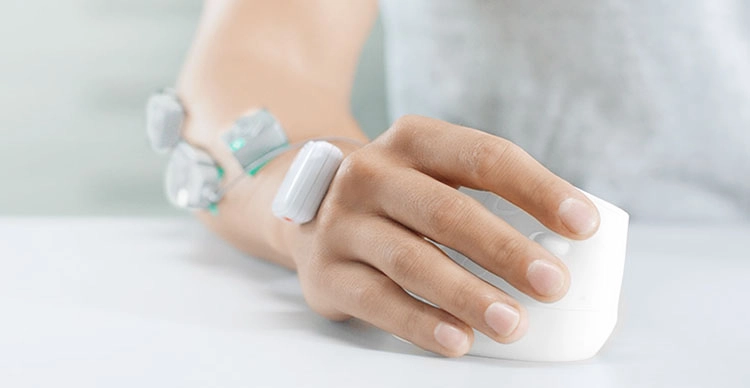 If you work on a computer for long hours and have a sensation of pain in your arms, then looking for an orthopedic is the first step you should take followed by immediately changing your computer mouse to an ergonomic mouse with a neutral holding position.
Who needs these mouse?
After doing extensive research for a couple of days and fully understanding the matter, we are finally here with best mouse alternatives for Carpal Tunnel, RSI, Arthritis and wrist pain.
These mice are the perfect replacement for people who already have these issues or who have started noticing pain and fatigue in their hands. These mice will help to fasten the recovery process and prevent it from happening again.
Best mouse replacements for mouse-related hand injuries
Here is a quick look at some of the best mouse and mouse alternatives for mouse-related hand injuries as well as wrist and forearm pain.
Our top recommendations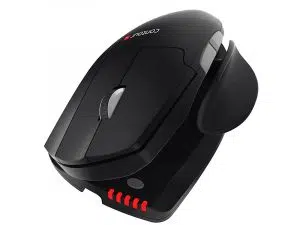 Contour UniMouse
Changeable vertical angle
Articulating thumb rest
Wireless
Comfort: 9/10
Plastic body
Right-handed users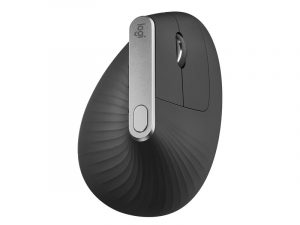 Logitech MX Vertical
57 degrees vertical angle
Premium quality
Wireless
Comfort: 8/10
Plastic/silicone body
Right-handed users
Contour RollerMouse
Mouse reimagined
Place below keyboard
Wired (it does not moves)
Comfort: 9/10
Metallic/silicone body
Right & left-handed users
Next, we will discuss these mouse in detail – why these mouse are better and why you should upgrade to them.
1. Master of ergonomics – Contour Unimouse for Carpel tunnel and wrist pain
Our pick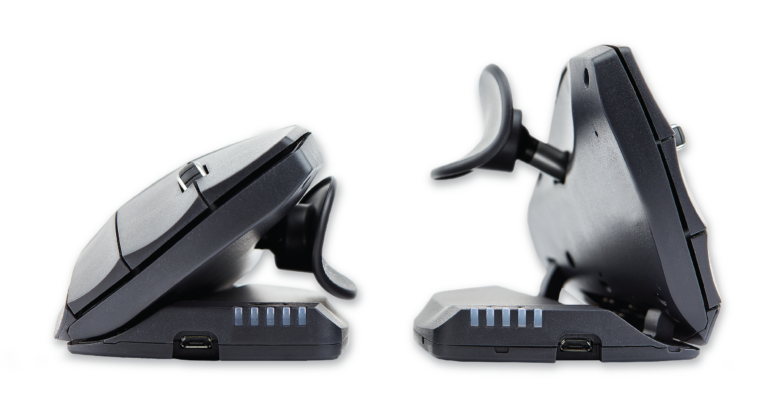 Contour Design UniMouse Amazon →
The Unimouse from Contour Design is hands down one of the most ergonomic mouse. It has multiple moving parts that allow you to customize the feel and comfort of the mouse.
Angle of the mouse
An elevated angled mouse has a lot of advantages over a generic flat mouse. They are more comfortable to use and cause less strain on the wrist region. The Unimouse takes this design a step forward with its customization options.
It comes with a unique hinge that allows you to change the height and tilt of the mouse to any angle of your choice. The hinge is smooth enough to be easily adjustable and firm enough to not move unintentionally.
The thumb rest
Our thumbs are important and how the thumb sits on the mouse affects not only the grip but also the comfort level of the mouse.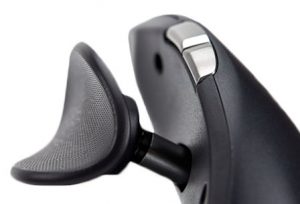 The thumb rest of the Contour's Unimouse – which they call Articulating thumb support is another great feature that provides your hands a better place to rest.
The thumb holder can move in all four directions (Forward, Back, Up, and Down) as well as pivot at its base.
Not everyone's hands are equal and that is why an adjustable thumb rest makes a lot of sense.
In addition to the forward and back motion, the thumb rest can also be pulled outwards which effectively changes the width of the mouse which you will appreciate if you have large hands.
Who should use Contourdesign Unimmouse?
If your work requires you to use computers for long hours then Unimouse (Amazon) is for you. It gives you the comfort which you need whether you have Carpel tunnel or wrist pain from continuous mouse usage. Its customizability ensures the mouse fits you well whether you have a small or large hand.
PROs
Ergonomic design
Multiple adjustments
3 Buttons – Left, right, middle click
Wireless
Good build quality
Better thumb support
10 DPI levels for cursor speed
CONs
Only for right-handed people
No wrist rest
Needs some time to get used to
2. Vertical Mouse for carpel tunnel – Logitech Mx Vertical
Premium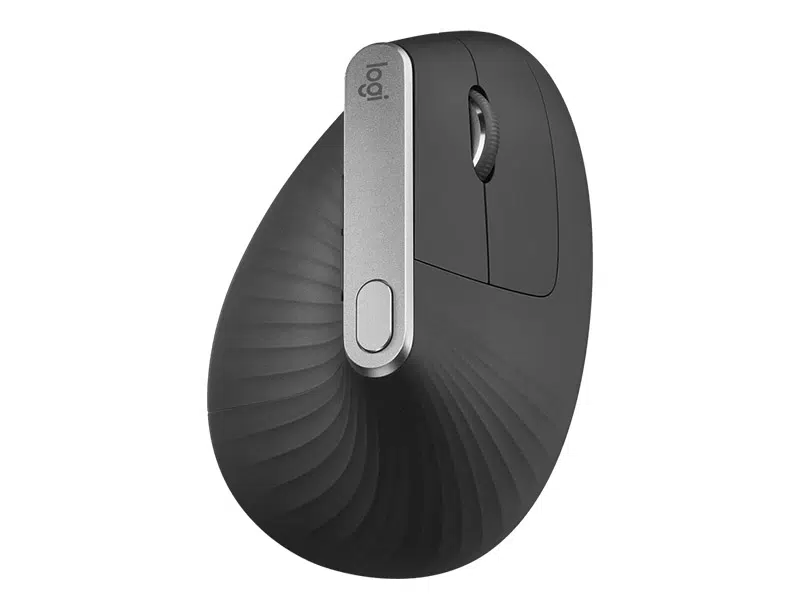 Logitech MX Vertical Amazon →
It is not easy to make a vertical mouse, it is difficult to get all the shapes and proportions right plus for some people, it may be a little too awkward to hold. But in spite of all these road bumps, Logitech has done it.
Logitech is a brand that is popular for its excellence in designing computer accessories like mouse and keyboards. So needless to say, they have a lot of experience.
For making the Logitech Mx Vertical, Logitech has done extensive research and testing to find out what is an optimal angle, height, and size for the most comfortable mouse.
The Logitech Mx Vertical mouse looks nothing like any other mouse in the market. Its shape makes you hold it in a handshake position and it has the perfect angles and well-thought-out curves that perfectly fit your hand like a glove. There is a textured material around its body for a better grip.
Other than the shape everything else is like a normal mouse. You get two buttons and a scroll wheel on one side and two customizable buttons near the thumb region.
There is a dedicated cursor switch on top which can increase cursor speed to reduce hand movement.
Overall it is a good choice for people who have mouse-related pain issues or those who want to avoid hand fatigue. It is important to note that this mouse is made for only right-handed people.
PROs
Ergonomic design
Smooth gliding
Cursor speed switch
Wireless via USB/Bluetooth
Customizable buttons
Non-Slip texture
CONs
Only for right-handed people
No wrist rest
Not for small hands
3. Rollermouse by Contor design – For arthritis and forearm pain
Mouse re-imagined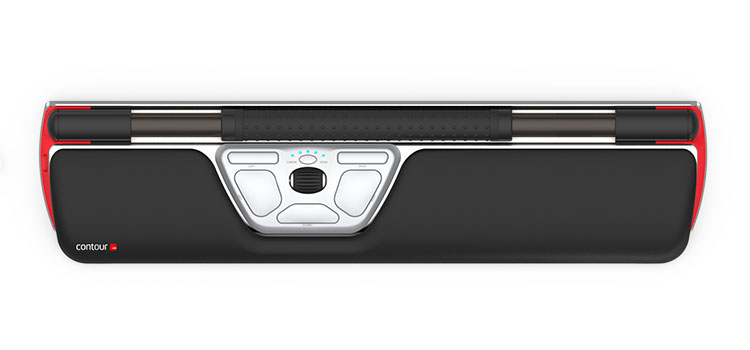 Contour Design RollerMouse Amazon →
The Rollermouse by contour design may be one of the most innovative mouse designs we have seen in a while. If you suffer from Repetitive strain injuries and wrist pain this mouse may be one of the best options for you.
One of the main reasons why it is so effective is you do not have to use your pinky and thumb to grab and move the mouse. Even the index and middle finger can be left alone. Plus you don't have to move your hands much which is great if you have forearm pain or tennis elbow.
Plus due to its design, you can quickly switch between left and right-hands without any learning curve or feeling of discomfort.
How does it work?
The Contour design roller mouse works by using a rotating cylindrical bar placed on a horizontal rod. For moving the pointer up and down you simply need to roll it. For moving left and right you can slide the roller sideways.
The roller itself is clickable and the clicks are lightweight, which reduces strain on hands. Prominent fingers like index finger and thumb do not face stress as they would have with a generic mouse.
Extra Buttons: There are dedicated buttons for most common tasks like copy, paste, left and right-click plus an additional double click button in addition to a scroll bar.
Wrist support: For making the whole experience more comfortable, Contourdesign has included high-quality wrist rest for additional support to your hands. If you work on computers multiple hours a day, you will love this Rollermouse.
PROs
Unique design
Smooth roller
Less stress on fingers
High-quality metallic body
Multiple shortcut buttons
Palm rest
Fits all hand types
CONs
Expensive
Requires some time to get used to
4. Touchpad as a mouse alternative for wrist pain
Alternative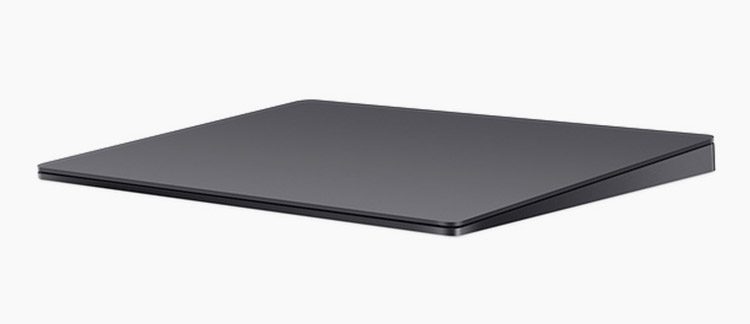 Large TouchPad Amazon →
A touchpad may not be as ergonomic as other dedicated ergo mouse out there but on the upside, it takes away the need to click buttons. If you have a limited movement in hands or your thumb and fingers hurt from RSI then a touchpad can be a good mouse alternative.
You do not have to move your hands as much as you would in case of a mouse. There are fairly large size touchpads available for desktop and laptop computers which gives you full functionality of mouse without feeling cramped.
You can also combine a touchpad with a soft wrist rest to support your wrist and get added comfort.
PROs
Big surface area
Accurate tracking
Gesture support
Less hand movement
Less stress on fingers
CONs
Less ergonomic
No tilt support or customizations
5. Another mouse alternative – Graphics Pad for wrist pain and mouse-related injuries
Alternative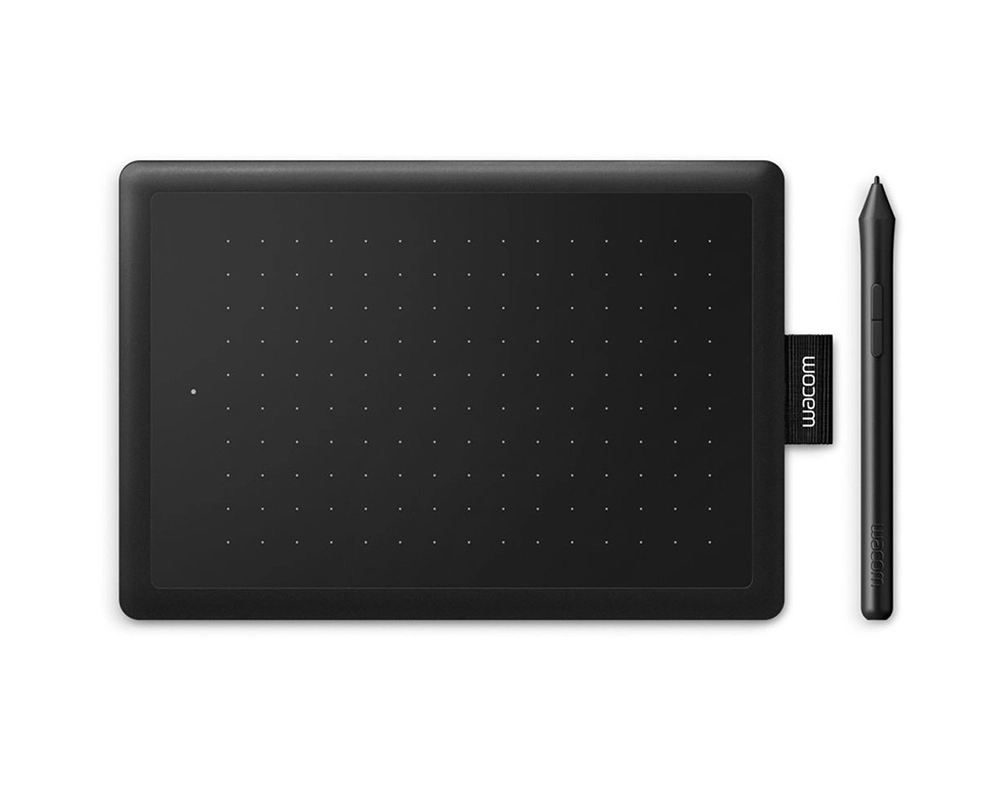 Graphics Tablet Amazon →
Using a pen instead of a mouse can be a good solution if you are looking for a mouse alternative. That is exactly what a graphics tablet does.
Although they are mainly used by digital artists and photographers but it can also work in case you suffer from mouse-related pain and injury.
A graphics tablet comes with a small pad and a digital pen which you can use as a pointing device. The pen has buttons that can be used as left and right clicks. And after a short adjustment period, using them as your mouse alternative will feel as natural as writing on paper.
Some of the pads also come with extra buttons which can be used as a cut, copy, and paste button. The good thing is – these buttons are programmable so you can assign any other shortcut of your choice.
One of the biggest advantages of using a digital pen as a mouse is you can use them for hours without feeling discomfort as you would have felt with a mouse.
Not only that, but a graphics tablet is also really cost-effective and it is pretty easy to find a great tab for cheap. You can check out this article on some of the cheap graphics tablets.
PROs
Keeps your hand in better posture
Less stress on fingers
Cheap
Feels as natural as writing with the pen
Customizable shortcuts
CONs
Different interface than a mouse
You may or may not like using it
What to not use a trackball mouse?
A trackball mouse may seem like a good option especially those wireless handheld ones which don't even need to be placed on the table.
The Trackball mouse has a ball that needs to be rotated for moving the pointer on the screen.
The problem with trackpad mouse is they may be good at minimizing your hand movements but they put a lot of pressure on your thumb. They cause more fatigue then what you would normally have with a generic mouse and that is why these mice are not recommended if you have hand pain-related issues.
Accessory: Wrist cushion
The mouse mentioned in the list may be excellent in terms of ergonomics but most of them lack in one key area.
All these ergonomic mouse may provide a better holding angle for your hands and they do not have wrist rest. So what ends up happening is all the weight of the hand is concentrated towards the wrist area.
This pressure zone can develop pain in the long run. That is why it is recommended to pair your ergonomic mouse with a wrist rest. These wrist rest have soft cushion which spread up the pressure zone and feel comfortable to work on.
The wrist and palm rest combo (Amazon) can be found on Amazon.
Additional care
Take short breaks between work
Sit with proper posture
Keep your back straight
Keep switching your hands (Right to Left hand)
Perform other tasks with mouse hand
Buyer's Guide
Here is a buyer's guide to help you find the right mouse for your specific needs. It explains what are the features you should look in a mouse for the following mouse-related pain and injuries.
Best mouse for Carpel tunnel
The Carpal tunnel is a narrow passway in the wrist through which all the important nerves and tendons pass. When using a normal mouse your wrist rests against the surface which applies pressure on the Carpel tunnel. Over time it develops into pain.
For recovering from the carpel tunnel or completely avoiding it in the first place what you need to do is remove the pressure on your wrist.
Mouse such as Contour design Unimouse and Logitech Mx vertical puts your hand in handshake position removing any contact from the carpel area and freeing up the pressure.
Best mouse for Arthritis
In arthritis, you want to minimize the hand and finger movement as it causes pain and discomfort. The RollerMouse from Contour design is a good choice as you do not have to hold it and fold and apply pressure on your fingers.
Its cylindrical roller can be operated with a straight hand and you simply need to press it lightly for right-click. The wrist rest provides additional comfort.
Best mouse for wrist pain
Wrist pain has a lot of similarities with Carpel tunnel. The way you hold your mouse could be causing wrist pain. If you feel your wrist hurts after a long computer session then one of the first things you need to do is get a wrist pad.
Wrist pads are soft cushions for your wrist which spread the pressure on the wrist and provides comfort. You can also start looking for some ergonomic mouse in the market such as Logitech MX master or Contour Unimouse.
Best mouse for forearm pain and tennis elbow
Constantly switching between keyboard and mouse can be a reason for forearm pain. In this case, you should use your mouse in high DPI range which will give you faster pointer movement for less distance covered with the mouse.
Alternatively, you can use a touchpad. The Rollermouse by contour design can also be a good option – as it sits right beneath your keyboard and you do not have to move your hands in the sidewise direction.
Best mouse for RSI (Repetitive strain injury)
As the name suggests, repeating the same movements, again and again, can be the reason for RSI. You can have repetitive strain injury from doing any tasks which have repeated action.
Using a keyboard or a mouse can be a contributing factor for RSI. Maintaining correct posture and properly positioning your hands is the best thing you can do to avoid and recover from RSI. For learning more about correct posture check out this article from RSI-Prevention (opens in new tab).
For mouse, we recommend using mice such as Logitech MX Master or Mx Vertical along with a high-quality palm and wrist rest. As per mouse alternatives you can try using a touchpad or graphics tablet which minimizes the need to click which results in lesser strain on your fingers.
References:
1. Effects of computer mouse design
2. Computer and carpel tunnel
3. Effect of keyboard and mouse
Recommended posts:
Ambidextrous gaming mouse for lefties