Disclosure: As an Amazon Associate EssentialPicks earn from qualifying purchases.
---
Art projector is a great tool for making scaled artwork on a large canvas and walls. They are quickly becoming one of the favorite tools amongst artists.
These projectors have a lot of advantages. They help you during the various process of your painting.
They are great for planning, composition, and sketching out the basic shape, they also help in cross-referencing and spotting mistakes along with various other steps of drawing and painting.
Art projectors can speed up your workflow and that is the reason many artists believe they are an essential tool to have in your studio.
Art projectors come with varying power, size, and image quality. In this article, we have featured some of the best art projectors for drawing and tracing, which will help you master the art of scaled paintings.
In the end, we have made a buyer's guide to help you select the right projector based on your specific needs. So don't miss that.
Top recommended art projectors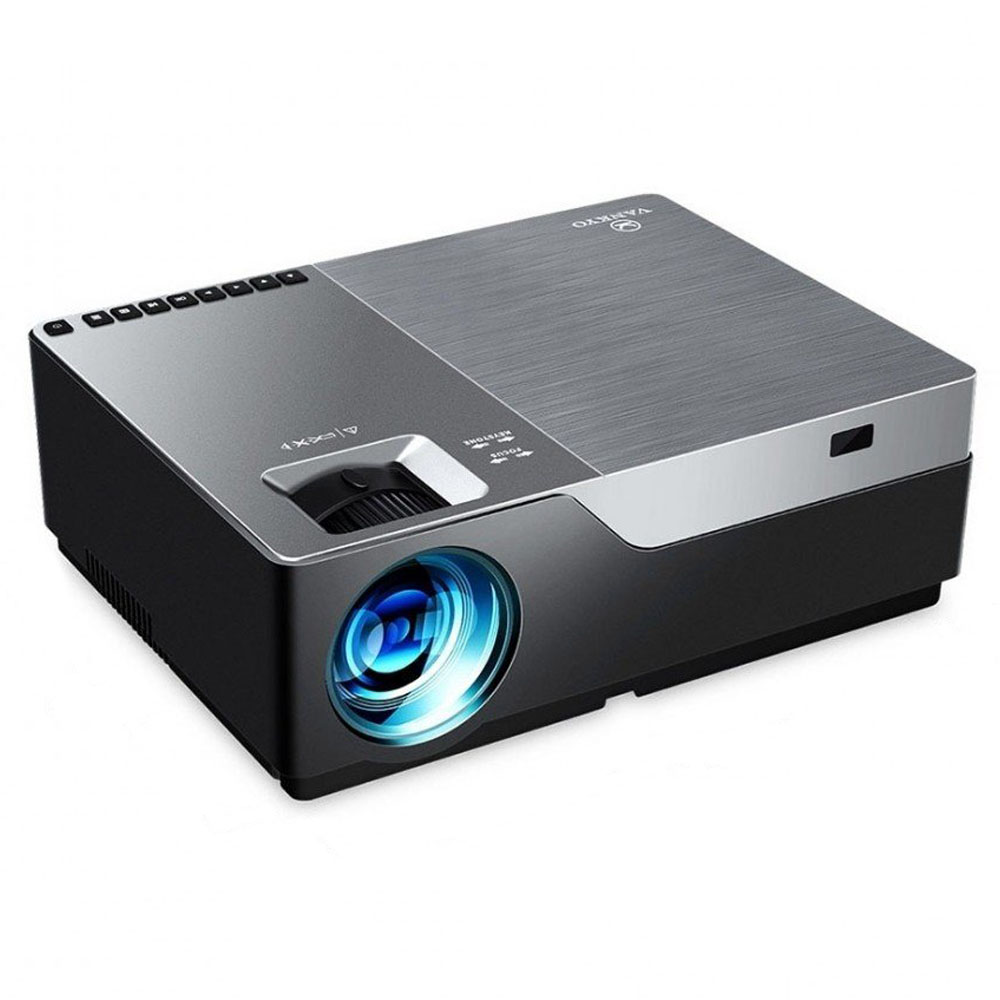 Vankyo V600
Affordable
1080p Resolution
5000 Lux
Projection: 150″-300″
LCD Projector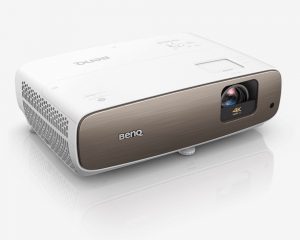 BenQ HT3550 4K
Feature Packed
4K resolution
2000 ANSI Lumens
DCI-p3 color
DLP projector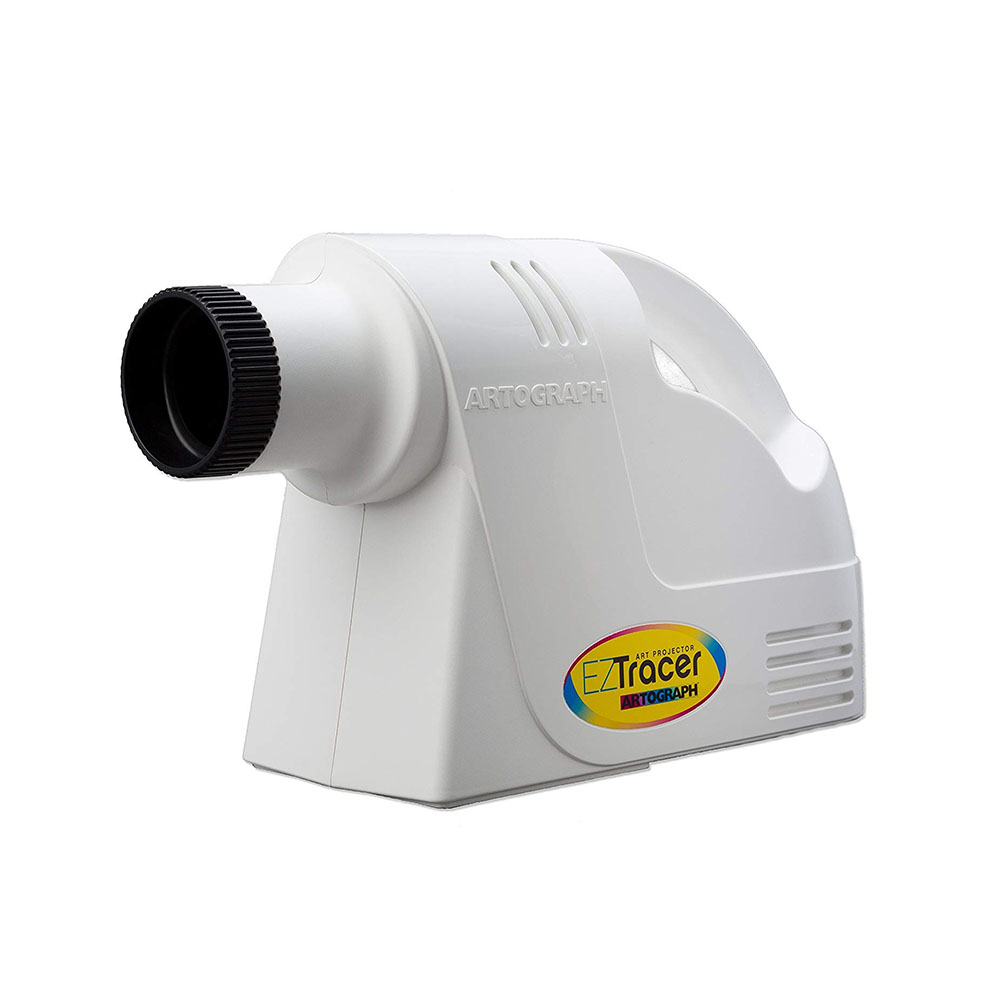 Artograph Tracer
For Beginners
10 X magnification
Easy to use
LED or CFL bulb
Opaque projector
Types of art Projector
Art Projectors are available in two types.
Digital projector
Physical projector (Opaque Projector)
Digital Art Projector for artist
Digital art projectors produce digital images. They are very similar to regular projectors used for watching movies, but not all generic projectors can be used as an art projector.
They can project images and files from your smartphone as well as computers.
Some of the powerful versions of art projectors can also be used as a rear screen projector, where the images are projected from the backside of the canvas.
Opaque Projectors for artist
Opaque projectors and traditional style art projectors. They produce the image by shining a bright light on a printed photograph. They use various sets of lenses to produce a sharp and focused image.
The quality of the image produced by these opaque projectors is average as they lack proper color accuracy and brightness. These projectors are very inexpensive, which makes them a great choice for beginners.
One of the biggest advantages of this type of projector is they are very simple in design and you do not have to go through a complex set up process to get them working.
One of the main advantages of digital art projectors over their Opaque counterparts is – they are brighter and have better color accuracy.
They can be used in fairly bright environments where the Opaque projector won't work.
Best digital art Projector for artists
Here are some of the best digital art projectors in the market. They come at various price points with different features. Before you move ahead it is important to note that you do not need the absolute best projector.
If you work in a small studio with you will be well served by a small projector. You only need a big, powerful and fancy projector if you work in an indoor-outdoor studio with a bright and challenging environment.
1. Vankyo V600 – Budget Projector for artists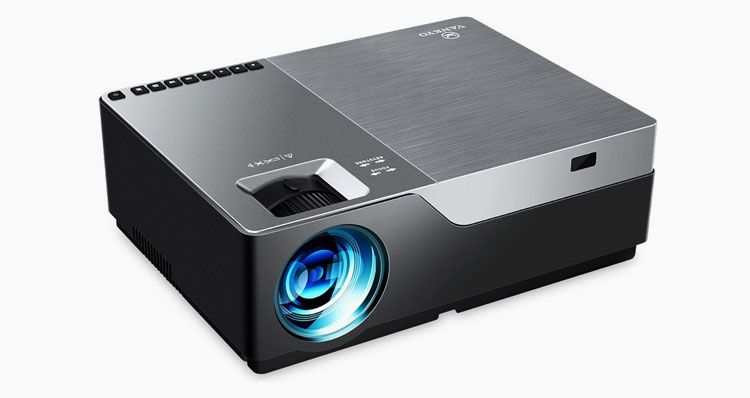 If you are looking for an affordable projector for the purpose of making largescale paintings and murals, the Vankyo projector is a great choice.
Most of the budget projectors make big compromises in order to keep the prices low. Some even try to mislead people by a confusing description of their product.
The Vankyo V600 is an affordable Projector with no compromises. It has a native 1080P resolution and comes with all the features you would expect in a decent projector.
Here are the top features:
Real 1080P resolution
Brightness: 5000 Lux
Ideal projection 120 inches
Max projection 300 inches
Lamp life: 50000 hours
Type: LCD projector
One of the biggest issues with the cheap projectors is they have weak lamps with low brightness. They need a completely dark room for decent projection.
The Vankyo V600 comes with a 5000 Lux projector lamp. It is bright enough to be comfortably used in a decently-lit room or studio. As an artist, you will really enjoy using this projector to sketch and draw on a big canvas.
The 1080P resolutions make sure you do not get to see big pixels on your sheet. The focus, sharpness is on point and the color accuracy is good enough for the price.
Pros – What we liked
Native FullHD resolution projects sharp images
Works great in indoor studio/room
Can be controlled with a remote
HDMI, USB, SD Card support
Comes with a carrying case
Cons – What needs Improvement
No Wireless connectivity
Average speaker quality
Fan noise on prolonged uses
Slightly blurry corners (but managable)
2. Epson 2150 – Value for money
Epson 2150 is one of those projectors which you cannot go wrong with. It is a medium-range projector that shoots Full HD resolution video.
It is one of those projectors which will really impress you with the quality of the projection. The black levels and brightness are amazing. There are no focus issues which you will find in a lot of cheap projectors.
Main features:
1080p Full HD Resolution
Brightness: 2500 lumens
Ideal projection size: 132 Inches
Wireless connectivity, Screen mirroring
Wireless connectivity and screen mirror
Screen mirroring via wireless connectivity is one of the very handy features. It mirrors your smartphone screen. Which means you can directly display image and videos stored on your phone without needing to transfer them to a flash drive.
In terms of brightness, the projector comes with 2500 lumens which is decent. It needs a fairly dark room for full performance, although the image is easily visible in controlled indoor lights.
Overall if you want to invest some money in a great projector that will probably last a long time while proving excellent picture quality, Epson 2150 (Amazon) is a perfect choice.
Pros – What we liked
1080p Full HD Resolution
Excellent colors
Sharp images with no rainbow effect
Wireless screen mirror
Good build quality
Cons – What needs Improvement
Fan noise can get high
Average speaker quality
No carrying case
3. Apeman mini projector – Portable and handy
Generic projectors are big and bulky devices that are great for a fixed location. But if you are someone who has to travel and switch between the office and home for work, this ultra-small Apeman mini DLP projector (Amazon) will serve you well.
It is so small that it can be easily carried in a backpack, without sacrificing much of space. It has an inbuilt battery that can run up to 2.5 hours on a full charge. The inbuilt battery pack can also be used to charge your phone in case you need to.
Here are some of its main features:
854 x 480 Resolution (Supports 1080p output)
Brightness: 50~100 lumens
Projection size: 30 to 100 inches
Size: 3.86 x 3.86 x 0.85 inches
3400mAh Battery
2.5 hours on a full charge
Small size has a lot of benefits, you can carry it anywhere and use it more often. But you also make some compromises.
Resolution and Projection size
The projector comes with 854 x 480p resolution, which means you may see bigger pixels when looking at images from a small distance. But if you work on medium-size canvas with a projection size below 70-80 inches – the lack of full HD resolution should not bother you.
The second compromise you make is with the brightness. The projected images are a little dim which is difficult to see in a bright room. If you are comfortable drawing in a fairly dark room than you will be fine with this.
Overall you get an incredibly good projector at a really decent price point. If the mentioned shortcomings do not bother you, you will have a really great experience with this projector.
Pros – What we liked
Great picture quality with DLP technology
Excellent focus and sharpness
Comes with a 360° tripod
Battery backup
Great build quality
2.5 hours of playback on a full charge
Multiple ports for connectivity
Cons – What needs Improvement
No native Full HD resolution
No wireless connectivity and screen mirroring
Low Brightness
Below average speaker quality
4. BenQ HT3550 – Taking your murals to the next level with 4K projector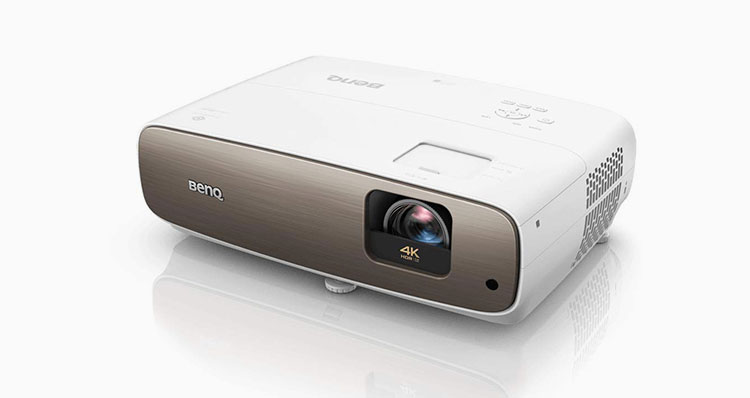 Projectors are primarily made for watching movies. The problem arises when you use these projectors for largescale paintings and sketching.
While drawing we artists have to be really close to the projection surface(canvas) and because of this – rather than seeing a sharp image we see large pixels. These pixels makes it difficult to trace smaller details.
Most of the time you have to manually defocus the projector to fix the pixel issue but it results in a blurry, low-quality image.
Getting a 4K projector is one of the best ways of solving the issue. The BenQ HT 3550 (Amazon) has 4K (UHD) resolution with 3840 x 2160 pixels. It makes sure you do not see big pixels when you work on the canvas.
Main features:
4K (UHD) resolution of 3840 x 2160
Brightness: 2000 ANSI Lumens
Perfect colors – dci-p3 color space
Supports 3D at 1080p
HD-pro tone Mapping for better contrast
10 Element lens for perfect focus
Connectivity Options
The projector comes with multiple connectivity options. Here is an image of all the ports you have. You can easily connect this projector with newer as well as old models of computers. There is also support for USB flash drive.
This projector is great if you have a small and compact art studio. It comes with the short throw lens which can project 100-inch footage from just 8.2 feet away from the projection surface.
Budget projectors often produce images that look muddy and flat with a desaturated look. The BenQ HT 3550 has DCI-p3 color support which produces colorful images with really good contrasts.
Overall, with BenQ HT 3550 you pay a little extra, but the features and overall quality you are getting with this projector, it is totally worth it.
Pros – What we liked
4K Resolution creates very detailed images
Pleasing colors
Excellent for indoor usage
On point focus and sharpness
Short throw projector
Expensive but worth it
Cons – What needs Improvement
No wireless connectivity
No SD card slot
Average speaker quality
5. Artograph EZ tracer art projector – For beginners/ hobbyists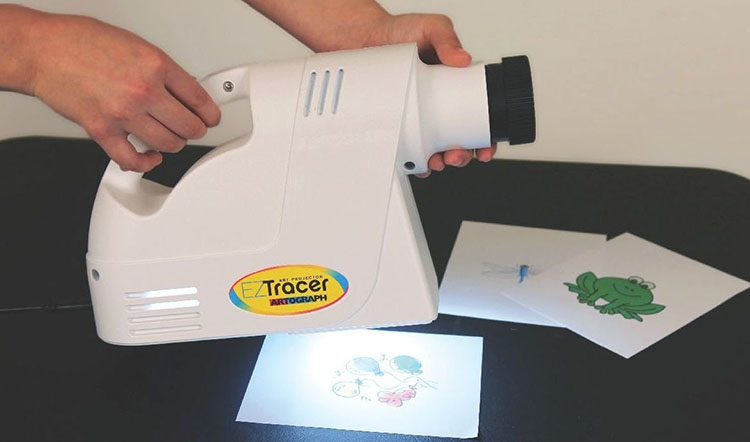 Artograph tracer is a simple opaque projector made by Artograph. It works by shining a bright light on a photograph and projecting it on the screen.
The EZ Tracer is a great projector for beginners and hobbyists as it is small and handy and does not cost much. It is also very simple to set up as there is no external connection required other than the power cable.
Here are some of its main features:
Max Copy size – 4 x 4 inches
Maximum enlargement  – 10 times
163 mm optical lens
23-Watt fluorescent lamp (included)
How does it work?
The projector works with a physical printed image of maximum size 4 x 4 inches. If you want to use a digital image, you need to print it first.
Next, you have to keep the projector on top of the image, with the image facing up. Now connect the power cord and switch on the lights. Next, rotate the focus ring at the front till you get a sharp image.
These projectors work best in a dark room.
Pros – What we liked
Small, lightweight and portable
Simple and easy to use
Only need a power connection
Produces sharp images
Cons – What needs Improvement
Low brightness
Does not works in a well lit room
Light Bulb not included
6. Artograph prism art projector Multicolor – For Professional artists
If you do not want a toy projector and looking for something bigger, brighter, and better than the Prism projector from Artograph can be a good choice.
It can take a photograph of 7 x 7 and can project it on the wall 20 times the size of the image.
Overhead Projection
It comes with a curved projector stand (Amazon) which allows you to mount the projector on top of your drawing table for a more comfortable tracing and drawing position.
Here are its main features:
Dimension: 17.5 x 17.2 x 10.2 in
Max Copy size: 7 x 7 inches
Can Project small 3D objects
Included lens: 200 mm optical lens
Fan cooled
Safety overload circuit
As it is an opaque projector, it works by shining a bright light on a printed image. It has the maximum magnification of 20 times the size of the print. The size of the projected image increases as you increase the distance between the projector and the screen.
For achieving the maximum magnification of 20X, you are required to place the projector 16.5 feet (5 meters) away from the screen. Similarily for 10X zoom you need at least 8.6 feet (2.6 meters) of studio space.
At the front, you have a lens that can be rotated to adjust the focus and achieve a sharp projection.
Projecting 3D objects
The Prism projector can also be used for projecting small 3D objects. For this, you need to place the 3D object in place of the printed paper. Then it needs to be covered with a black box to avoid light leakage. The black box is not included in the pack.
Overall it is a good choice for professionals, who are looking for a simple and easy to use the projector. It is also used by art teachers to teach students. But if you want a brighter projector that can be used in well-lit studios, Check out Digital Projectors.
Pros – What we liked
Simple and easy to use
20x Magnification
Can project 3D images
Can be used as an Overhead Projector
Extra Super Prism accessory for sharper/ Brighter image
Good for wall murals
Cons – What needs Improvement
Expensive
Can only be used in a dim room
Low brightness
Big size
The extra Super Prism lens has to be purchased separately
Art Projector accessory: Get a tripod stand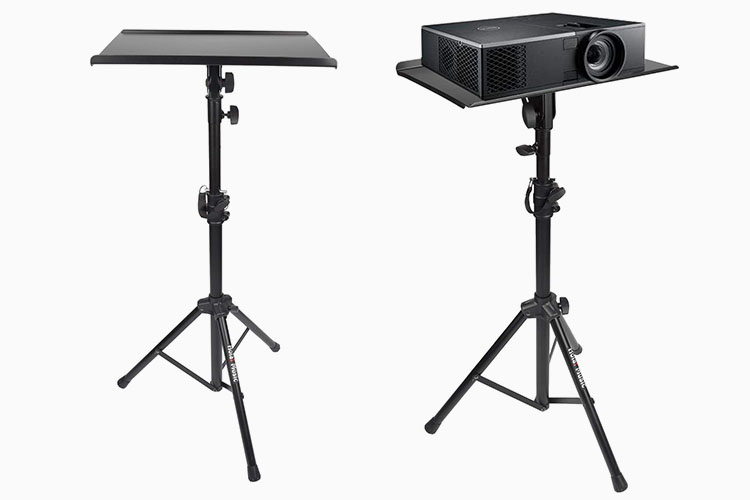 If you do not want the projector to permanently occupy a certain section of your art studio. Or you want the flexibility of being able to shift and move the projector without difficulties, it is recommended to get a projector stand (Amazon).
These stands have a flat top and a tripod stand which allows you to freely move the projector when not in use. The stand gives your projector varying levels of elevation from the ground for the best possible results.
How to select the perfect Art Projector for tracing and drawing
Every projector is different. Some have great image quality, others are portable. Some projectors are very bright other need a dark room to work properly.
It is very important to pick the projector which fits your needs better. Here are some of the important points to remember before getting a projector.
Digital or Opaque
We have already discussed this earlier. Digital projectors project digital images on the screen. In case you have a physical artwork you need to scan it before it can be projected.
If you want to save money on the scanner you can get an opaque projector. These are old-generation devices that some of our readers may remember. They can project a printed painting or even small 3D objects without needing to scan them.
Digital projectors are brighter and more colorful than the traditional opaque projectors but also cost more at the same time.
Size of the projection
Theoretically speaking, there is no limit to the size of the projected image. The further the projector is from the screen the bigger images it will display.
But with an increase in size, the overall brightness reduces. Also, the lens cannot focus the rays beyond a certain limit.
Most of the projectors can easily project images around 100 inches diagonally, but some of them can also project twice or thrice that size.
You should think about how large of paintings you generally make and get the projector accordingly.
The ideal resolution for Art projectors
If you are getting an art projector for drawing and tracing purposes, you should get at least a 1080p resolution projector. When you make artwork bigger than 150-200 inches in size (diagonally) than you should go for a 4K projector.
For tracing over another image you have to be close to a projection screen. With a low-resolution projector you will encounter big pixels. A higher resolution projector has more pixels per unit area. It results in a sharp image even when you look from close.
If you go super cheap (under 100 dollars) most of the projectors have a resolution of 480p or 720p. Many brands sell these projectors by claiming that it supports 1080p video.
What it actually means that the projector can play the full HD videos but it projects it in 480p or 720p. This is really misleading and confusing and you should definitely avoid almost all the projectors under 150-200 USD.
Brightness (Lux and Lumens)

Some projectors show their maximum brightness in Lux while others in Lumens. Lumens is the measure of the total light emitted by a source, Whereas Lux is the measurement of total light on the surface per unit area. The brightness of projectors is measured in ANSI lumens. Which is the combination of multiple measurements.
As an artist you cannot work in a pitch-black room, you ideally want a projector which is visible in normal lighting conditions.
If you like to work in a dark room then you can go with any projector but if your art studio has bright lights all over the place, look for a projector with maximum brightness.
Connectivity – Wired and wireless
Most of the digital projectors on the list have multiple connectivity options. You can either plug them via USB, HDMI, or even display ports. All the projectors support USB flash drive input where you can display the images and video directly from the flash drive.
In the more recent projectors like Epson 2150 (Amazon), you get wireless connectivity. These projectors can easily connect to your devices like smartphones.
They can mirror your screen and show images and videos stored on your smartphones without needing any file transfer.
Coming to the opposite end, what if you have an old computer with older generation ports. In that case projectors like BenQ HT 3550 (Amazon) and Epson 2150 (Amazon) come with both older and newer types of ports.
Art projector for compact spaces: Long-throw, Short throw, and ultra-short throw projector
Art projectors come in three types: Long-throw, Short throw, and Ultra short throw.
In projectors, the size of the projected image depends on how far the projector is placed from the screen. The further away projector is placed from the screen the bigger would be the projected image.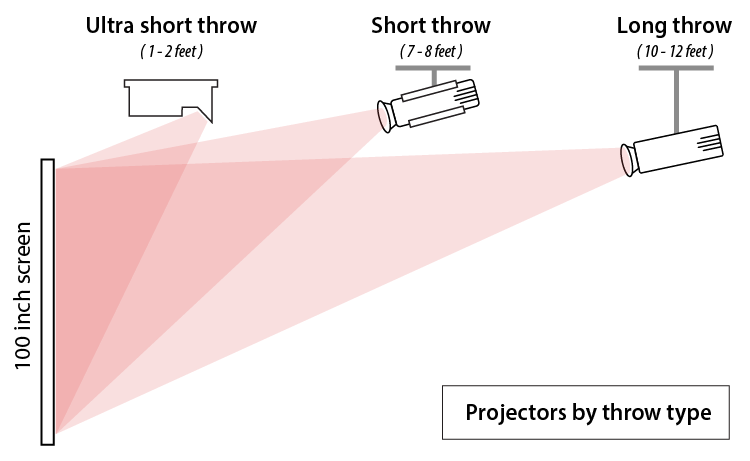 Generally speaking in Long throw projectors you need to keep the projector around 10-12 feet away to get a 100-inch projection. These numbers can vary between different projectors. These projectors are fine if you have a large and spacious art studio.
In case you have a smaller art studio you should go with a Short throw projector like BenQ HT 3550 (Amazon). These projectors can project 100-inch images from 7-8 feet away.
There is also a variety of projectors called Ultra short throw projectors which can project a 100-inch image from just 1 or 2 feet away.
For the purpose of making artwork short throw projectors can be difficult to work with. As they will project images directly on your eye from below.
For using these projects for art purposes they have to be mounted on the ceiling. Ultra short throw projectors are more expensive than regular projectors.
Budget – the most important factor for art projector
The amount of money you are willing to spend has the biggest impact on the quality of the projector you get. There are a number of super-cheap projectors in the market which claim to have features equivalent to the much expensive projectors.
But after using these knockoff projectors for a while you would realize the picture quality is bad, you get weird artifacts like rainbow effect. Also, these cheap projectors have major issues like – being unable to properly focus the image.
If you want to go cheap the Vankyo v600 (Amazon) is the only projector we found which is worth buying.
Or you can spend a bit more and get the Epson 2150 (Amazon) which has essentially the same features on paper as the previously mentioned Venko V600 but there is a great difference in the actual quality of the image. The images are sharper with better contrast and the colors are amazing.
As a general rule of thumb, the more you spend the better art projector you get.
Portability
If you are one of those artists who has to constantly go back and forth between home and office studio. Or you are someone who has to do projects at multiple locations, you can get a portable projector.
Portable projectors like Apeman mini projector is so small that you can almost fit in your pocket. Additionally, it has a rechargeable battery so you don't need to connect it to an external power source.
Related: Graphics tablet for digital art