Disclosure: As an Amazon Associate EssentialPicks earn from qualifying purchases.
---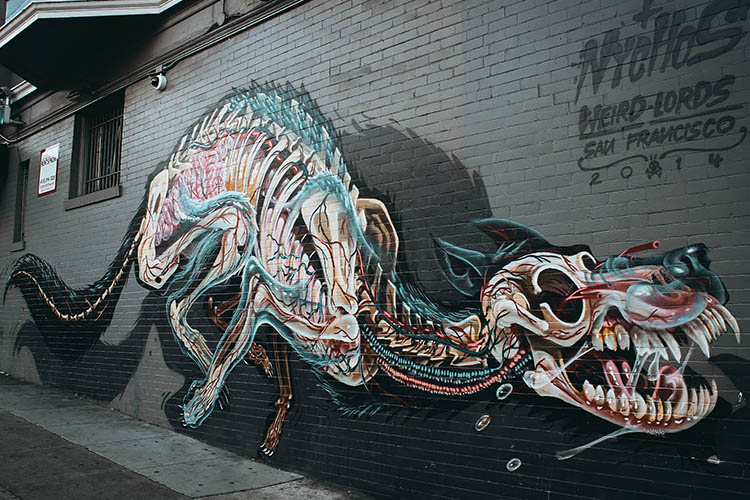 Getting the proportions right is one of the most difficult parts of painting large murals. But how do you maintain correct proportions when you are working so close to a massive painting.
Using projectors for making mural can help you with various stages of your painting. With projectors, you do not have to waste time making grids as you can directly start laying out the basic shape with the right proportions.
Projectors work as a guide. They are reliable and produce a better output while saving a lot of time, and that is the reason why more and more artists have started using them.
Different lighting conditions require different types of projectors with varying power, resolution, and brightness. We have handpicked some of the best projectors for making murals. These projectors come with a lot of helpful features that will make your work easier.
We have also made a detailed buyer's guide to help you pick the best possible projector as per your needs.
Best Projector for murals
After filtering through hundreds of projectors in the market, we found. There are a lot of projectors that may look like a good option for using in murals but after close inspection, we found they lacked one or two key features.
Further, some of the projectors have straight up put confusing/ misleading product information and you should stay away from them.
It becomes easier to spot the right projector when you know what features to look for. So here are some of the best projectors for painting murals.
1.
LG CineBeam HU80KA

– Portable laser projector with 4K resolution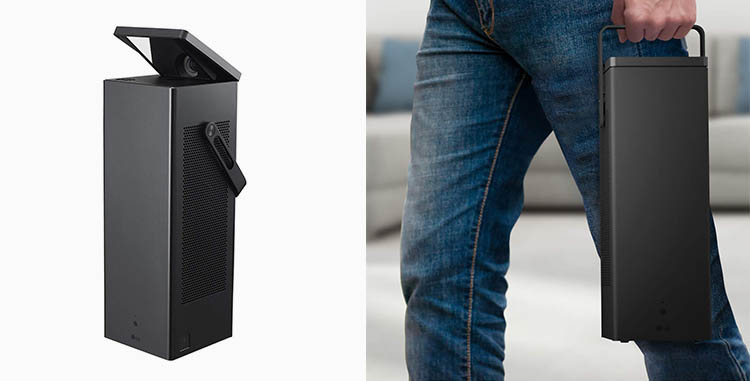 If you want an all in one projector with good resolution and brightness which can be easily moved from one place to another and produces stunning images then the LG CineBeam HU80KA laser projector is the perfect choice for you.
Starting off with the resolution – When you stretch an image across multiple feet, it gets pixilated.
A generic projector with low resolution will create big pixels and you won't be able to trace the finer details properly. A projector with 4K resolution has a lot more pixels per inch which results in a sharper image with crisp details.
The LG CineBeam is a 4K laser projector that comes with the brightness of 2500 ANSI lumens. The source of light is a laser which means the projector will last a long time.
The projector is ideal for both indoor and outdoor usage. Unlike cheap projectors, you can clearly see the image in the presence of ambient light.
How the design helps it to be the perfect projector for murals
For painting murals, you often have to move around and travel to different locations. The projector is compact enough to be carried with you in a car without taking up a lot of space. It comes with a neat handle which allows you to easily lift and carry it anywhere you go.
The same handle also works as a stand which lets you properly position the projector for the best projection angle. The LG CineBeam HU80KA (Amazon) comes with a reflecting mirror on top which gives you added flexibility in how you position your projector.
Last but not least, the projector has a retractable wire which can be rolled back in the projection unit resulting in a simple and clean setup.
For connectivity, the projector come with all the necessary ports, you also have the ability to display the image directly from the flash drive.
In addition to that, it supports wireless screen mirroring which lets you mirror your smartphone screen and display its contents directly on the projector without needing to transfer the files. Click here to learn more on Amazon.
Overall, the LG CineBeam has got everything you will ever need. It is great for indoor as well as outdoor uses and comes with some neat design and premium features. You would be definitely satisfied with this projector.
Pros – What we liked
Extra sharp images with (3840 x 2160) 4K projector
Excellent colors with DLP and HDR 10 support
Stream videos with Smart Tv options
Silent fan
Wired/ Wireless connectivity
Compact design with carrying handle
Cons – What needs Improvement
No manual keystone correction (comes with automatic)
Average speakers
Remote is not Backlit
Directional sound – one side sounds louder
2.
BenQ HT3550

– Value for money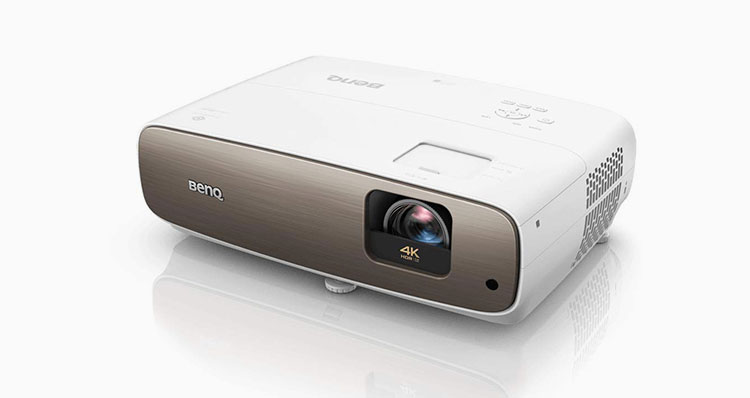 The previously mentioned LG projector may have all the cool features and intelligent design, but it also has an equally fancy price tag to match. What if you want the same level of projection quality without that heavy price tag.
The BenQ HT 3550 (Amazon) has the perfect blend of features and quality with a very reasonable price tag. It projects super-sharp 4K resolution footage with the support for 95% DCI-P3 color space.
The color and contrasts are the strong points of this projector. Contrast helps to differentiate between the minor difference in colors which can be helpful when tracing images.
What you don't get with BenQ HT3550
Unlike the LG projector, you do not get to see any hybrid design. There is no kickstand included in the box.
In terms of connectivity, you have multiple options for wired connection. The projector can read files directly from a flash drive. On the flip side, you do not get any support for wireless connectivity or screen mirroring.
The projector comes with the brightness of 2000 ANSI lumens which makes the projector sufficiently bright for indoor and outdoor uses. The projected images look fine in a bright indoor environment.
Overall, if you want a good projector with an excellent build and image quality then the BenQ HT3550 (Amazon) is a good choice. You can save some money while enjoying that crisp 4K resolution.
Pros – What we liked
4K resolution
Great value for money
Excellent colors with DCI-p3 color support
Remote control
Multiple wired connectivity options
Adequately bright
Cons – What needs Improvement
No Wireless connectivity
No included stand
Fan noise on prolonged uses
3.
Vankyo V600

– Budget-friendly projector with native 1080p resolution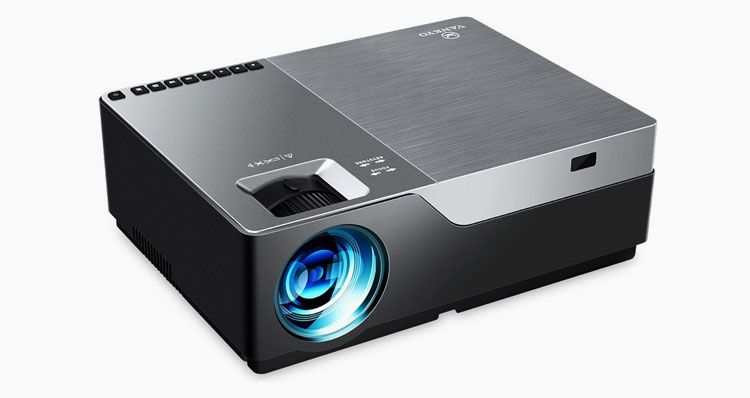 If you do not want a top of the line projector and looking for something on a budget than Vankyo V600 (Amazon) is the best option in the market right now. Searching for a good projector low price range is tricky.
The budget segment is full of low-quality projectors which will give you a really bad experience right from the beginning.
Most of the super cheap projectors come with a 480p screen, which is terrible. Further, they have a very hard time focusing the images properly due to their low-quality lens.
The Vankyo V600 is the only projector that stands out of the crowd and we are comfortable recommending to you. It comes with a native 1080p resolution which is quite rare to find in this price segment.
Brightness and screen size
It is a super bright 5000 Lux projector that is suitable for indoors as well as outdoor uses. It can project an image from 50 inches to 300 inches in size (diagonally).
Here is the video showing you the actual image quality of the projector.
In terms of connectivity, it has 2 HDMI port along with 1 AV port,1 VGA port and a single USB2.0, SD card slot and audio out port. It comes with a decent inbuilt speaker. Unfortunately, it has no wireless connectivity or support for the screen mirror.
So if you want a good projector at very budget-friendly prices, the Vankyo V600 (Amazon) will be the perfect fit for you.
Pros – What we liked
Native FullHD resolution projects sharp images
Good for indoor and outdoor uses
Can be controlled with a remote
HDMI, USB, SD Card support
Comes with a carrying case
Cons – What needs Improvement
No Wireless connectivity
Average speaker quality
Slightly blurry corners (but manageable)
4.
Anker Nebula mars 2 pro

– Compact and portable with inbuilt battery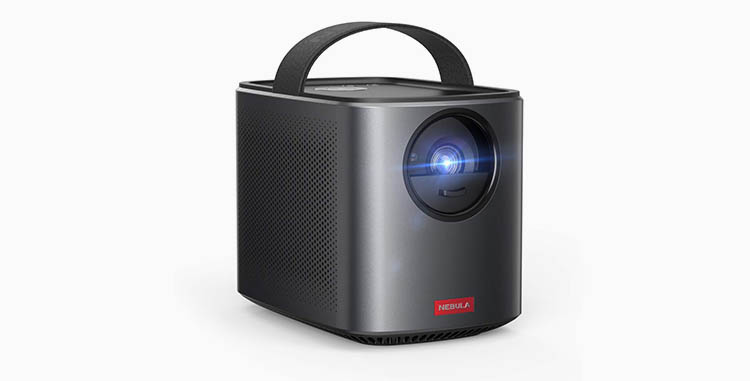 Portability plays a big role when looking for a projector for murals. If you are searching for a compact and powerful projector than the Nebula 2 Pro (Amazon) can be a good choice.
As a mural artist, it is common to find yourself in locations where you do not have a proper power supply. In that case, you cannot use a traditional projector.
Well, the Nebula mars 2 Pro by Anker comes with an inbuilt battery of 12,500 mAh which can last up to 3 hours on a full charge.
Connectivity- Wired and Wireless
You can connect the projector using HDMI or USB ports, it can also display images directly from a flash drive.
In addition to that, the projector has the option for wireless connectivity and screen mirroring where you can display images from your smartphone without needing to transfer the files to a flash drive.
Projection Quality
The Nebula 2 Pro has a lamp with a brightness of 500 ANSI lumens, which is decent considering the size. This projector works best in controlled lighting conditions.
It comes with a resolution of 1280 x 780p which is an HD resolution. What it means that the projector is suitable for small to medium-sized murals.
Once you try to increase the size of the projection beyond 150-200 inches diagonally, you would start to see pixels along with loss in sharpness.
If you are looking for a lightweight and compact projector with good picture quality, the Nebula Mars 2 Pro (Amazon) projector is the best device for the task and you will enjoy using it.
Pros – What we liked
Compact and portable
Great for indoors
Wired and wireless connectivity
Smart tv Options
Inbuilt battery which lasts for 3 hours
Cons – What needs Improvement
Just 720p resolution
Average speaker quality
No fast charging
Low brightness
How to find the perfect projector for painting murals
Here are some of the main features to consider when looking for a projector for murals.
Resolution
Projection quality – Sharpness and Contrast
Brightness
Size
Connectivity
Resolution of Projector for murals
It all depends on the size. What is the average size of the murals you make? is the first question you should consider when looking for a projector.
Spreading an image over a large area leads to pixelation. A low-resolution projector is ideal for a smaller screen but when you need a larger projection, it is better to get a projector with a FullHD or 4K resolution.
A projector with a higher resolution will have more pixels per inch. Which helps with better Sharpness of the image. Using this projector you will have no issue tracing and drawing over finer details of your artwork.
Projection Quality – Sharpness, color and Contrast
The quality of the projection depends on the quality of materials used inside projectors. Many of the cheap projectors in the market use cheap lamps which stops working after a while and low-quality lens which results in blurry images due to their inability to focus.
Contrast is important for an artist as it helps to differentiate between similar colors of a painting. Many projectors like Nebula mars (Amazon) and BenQ HT 3550 (Amazon) come with DLP projection which results in better color saturation and contrasts. Also, – projectors like LG CineBeam (Amazon) take the color quality a step further with the support for HDR 10.
Brightness
Sun is the brightest laser and no matter how big and expensive the projector you buy, you cannot use it in bright sunlight. So, most of the time you would be using the projector in the evening or night or in a controlled indoor environment.
Now the brightness plays a big role when we talk about projectors. Many of the less bright projectors can only be used in pitch black rooms. As an artist, you need a certain amount of light in the room to work comfortably.
Problems start to arise when you introduce ambient light in the room. The images from the less bright projectors start to fade. A bright and powerful projector allows you to clearly see the projected image even in the presence of bright lights.
For outdoor situations, many times you would be working in a brightly lit neighborhood where you cannot simply request everyone to switch off their lights. That is where bright and powerful projectors come handy.
Talking real numbers – any projector beyond 2500 lumens is good for challenging lighting conditions.
Size of the Projector
You will have to balance. Super powerful projectors come in large sizes and portable projectors are not that powerful. If you are not too concerned with the size, you can go with massive and powerful projectors.
Although, Some big projectors like LG CineBeam (Amazon) have carry handles and slim profile making them somewhat mobile.
With compact and portable projectors you get the freedom to take and use them anywhere. But they come with limitations. The quality of the projection will not be the same.
On the bright side, some portable projectors also come with unique features like the Nebula Mars Pro (Amazon) come with an inbuilt battery which allows you to use them without needing a power supply.
Connectivity – Wired and Wireless
There two ways of connecting your device to the projectors. Almost all the projectors come with the option for wired connectivity. Where you can connect your computer using a USB or HDMI cable. Some projectors like BenQ HT3550 (Amazon) comes with a VGA port for old models of computers.
Many of the modern projectors come with the option to connect wirelessly using WiFi. Some of them like LG HU80KA (Amazon) supports screen mirroring. While projectors like Anker Nebula (Amazon) can connect to the internet and play videos directly through websites like Youtube and Netflix.
Wireless connectivity is really convenient and if you have the supported devices, then you should definitely go for a projector with wireless connectivity.
How projectors help in painting murals
Projectors are getting common these days as more and more artists are using them as part of their workflow. It is used by all sorts of artists for varying styles of murals. Some use them for only a certain – complicated section of their painting while others make the whole mural using them.
The projectors can be of great help when working on uneven surfaces. In conjunction with photo editing software, they help you map out, plan, and design according to the difference in elevations, bumps, and gaps in the wall.
What types of murals require a projector
Projectors can be used for making all sorts of murals. But there is some style of murals which can use them more extensively. Here are some of the examples.
Lineart Painting
If you got a lot of lines and petters in your mural a projector will help you get better results. This style of mural requires a lof of sketching and measuring to get the correct image on the wall. A projector can cut out a lot of unnecessary-time consuming steps. Here is a video to demonstrate that.
Lettering
Lettering is more complicated than it looks. It also takes a little longer than usual and easier to mess up. A projector can be of great help when lettering on walls or incorporating it in your mural.
Learning tool for beginners
Beginners and hobbyists are the ones who can benefit the most from projectors. It helps build up confidence in your painting and overall get better results.
Related –
Projectors for drawing and tracing
AR Projected Murals