Disclosure: As an Amazon Associate EssentialPicks earn from qualifying purchases.
---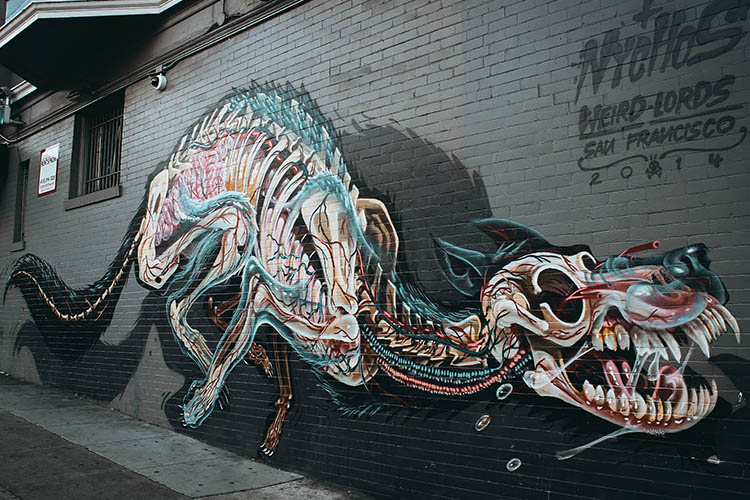 Getting the proportions right is one of the most difficult parts of painting large murals. But how do you maintain correct proportions when you are working so close to a massive painting.
Using projectors for making mural can help you with various stages of your painting. With projectors, you do not have to waste time making grids as you can directly start laying out the basic shape with the right proportions.
Projectors work as a guide. They are reliable and produce a better output while saving a lot of time, and that is the reason why more and more artists have started using them.
Different lighting conditions require different types of projectors with varying power, resolution, and brightness. We have handpicked some of the best projectors for making murals. These projectors come with a lot of helpful features that will make your work easier.
We have also made a detailed buyer's guide to help you pick the best possible projector as per your needs.
Best Projector for murals
After filtering through hundreds of projectors in the market, we found. There are a lot of projectors that may look like a good option for using in murals but after close inspection, we found they lacked one or two key features.
Further, some of the projectors have straight up put confusing/ misleading product information and you should stay away from them.
It becomes easier to spot the right projector when you know what features to look for. So here are some of the best projectors for painting murals.
1. ViewSonic PX 703 – The best projector for mural artists
Our pick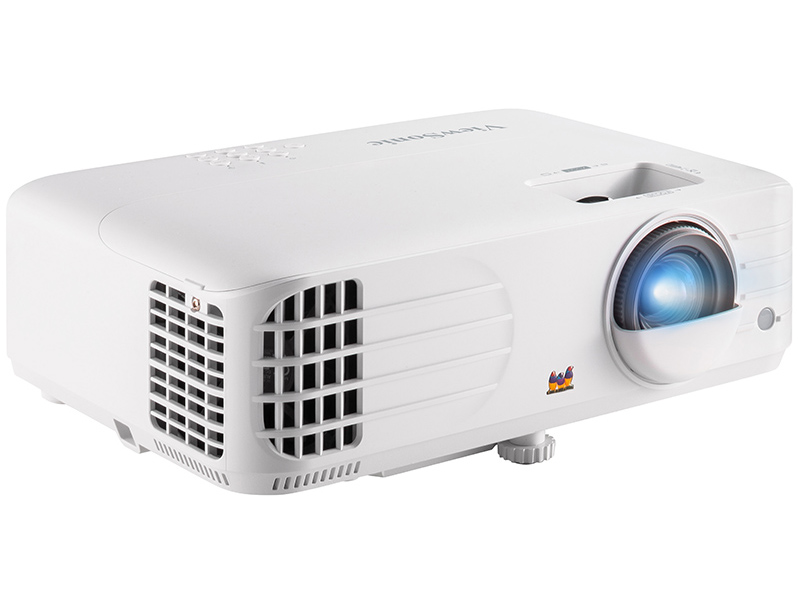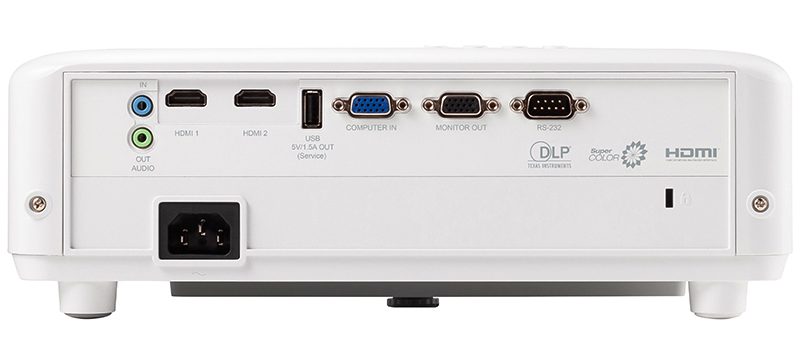 ViewSonic PX 703 (short throw)
A versatile do-it-all projector with high brightness, good color reproduction, and short throw capabilities, makes it an ideal choice for indoor as well as outdoor mural projects.
• DLP projection technology
• 1080P resolution
• 3500 lumens
• Short throw (key feature)
• Good value for money
Buying a projector as a mural artist is a one-time affair and you want to make sure you get the perfect projector that fit a wide range of application.
The Viewsonic PX 703 is one of the few all-rounder projectors that can be used for indoor as well as outdoor projects.
Its high-intensity bulb, which produces 3500 lumens (8500 LED lumens) is great for outdoor usage.
Whereas its short throw capabilities, which allow it to produce large images even in congested space make it an ideal indoor projector.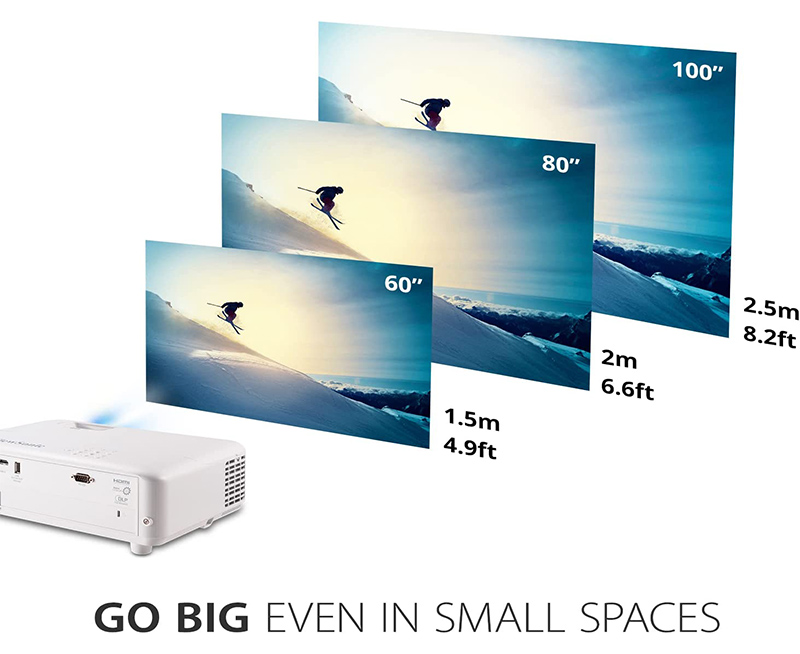 Official max size = 300 inches
The projector uses DLP projection technology which is known for its reliability.
It has good color reproduction and smooth gradients which you would really appreciate as a mural artist.
The sharpness of the images is also incredibly good the images remain crisp through the projection area, corner to corner.
While working on your mural, you don't want to go towards the projector to change settings, it breaks your flow and is inconvenient.
Thankfully, the projector comes with a very handy remote which you can use to make all your adjustments.
To help you further the projector also comes with auto keystone correction which flattens and straightens the projected image even when the projector is placed at an angle. This is very convenient and saves a lot of time.
Since this projector is coming from a reputable brand you can expect it to last a long time. In fact, the lamp of the projector is rated for 20,000 hours.
Ports on the projector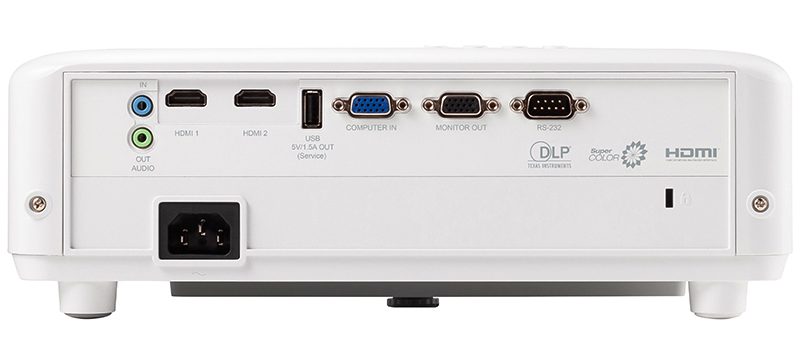 2 x HDMI
1 x USB-A
2 x DB15 3-row serial port (in/out)
1 x RS 232 port
Audio in
Audio out
power in
The projector can connect to your PC and smartphone, plus you can also project images from a USB drive, which is very handy.
Overall, the ViewSonic PX703 ticks all the boxes, it is bright, produces crisp images with good color reproduction, and comes at a reasonable price.
If you are looking for a reliable, all-rounder projector that you can use anywhere you want, look no further.
Pros – What we liked
Native 1920 x 1080P resolution, projects crisp images
High-quality DLP projector
Dimensions: 12.2 x 8.7 x 4.4 inches
Works great even in compact spaces (short throw)
Bright enough for outdoor projects (3500 lumens)
Can scale images up to 300 inches or more
Comes with a remote controller
Has multiple mounting options
Multiple connectivity options
Lamp rated for 15000 hours
Low input lag – be used for gaming or home office
Cons – But not dealbreakers
No USB-C connection or SD card reader
No wireless connectivity
Average inbuilt speaker quality
2. BenQ TK700 – DLP Projector with 4k resolution
Upgrade pick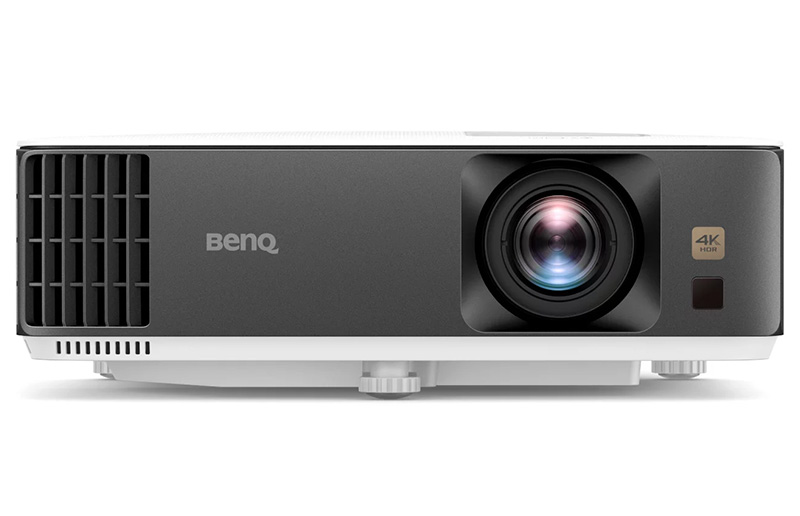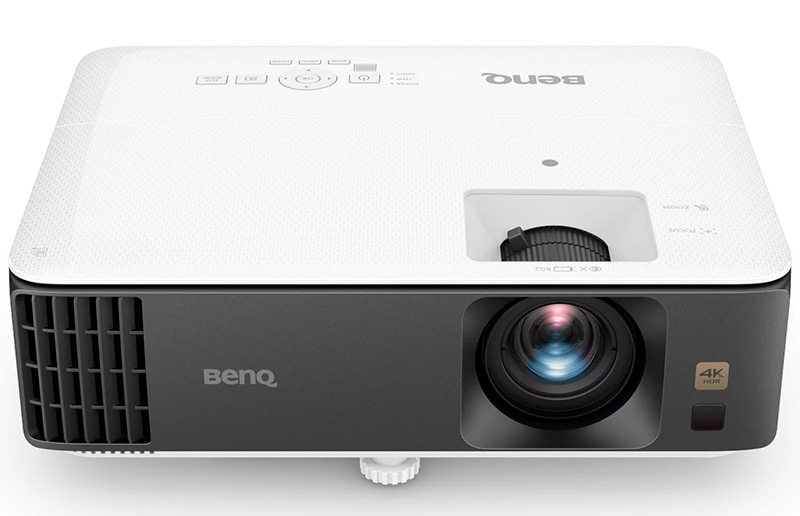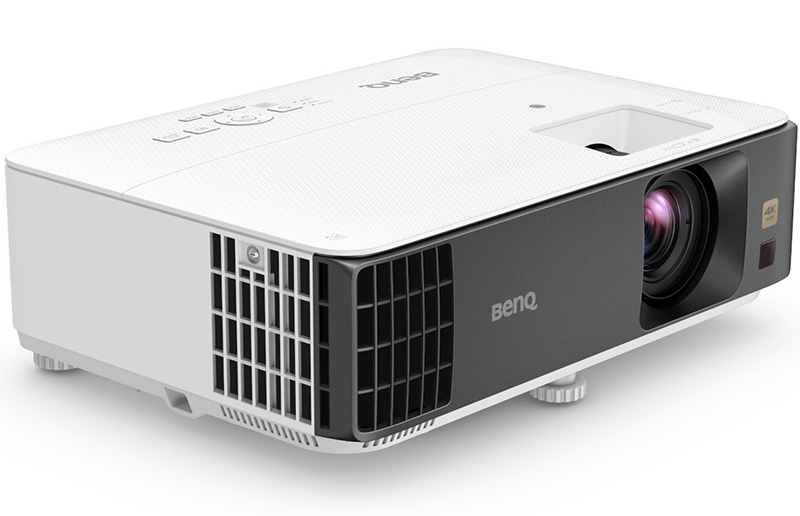 BenQ TK700
Pretty much the best projector in terms of projection quality. A capable tool or professional Mural artists.
•DLP projector
• 4k (3840 x 2160 pixel) resolution
• 3000 ANSI lumens brightness
• Enhanced colors with deeper blacks
• Dolby Atmos 7.1 sound support
• 3 years warranty (limited)
The previously mentioned projector was a nice all-rounder, but what if you have some specific needs.
If you are someone who often works with larger murals or complex mural designs with intricate lines and patterns, you need a projector with higher resolution.
The BenQ TK 700 (Amazon) is pretty much one of the best projectors on the market in terms of projection output.
It produces images with 4k resolution (3840 x 2160 pixels). This level of resolution allows you to scale the images at much larger wall.
You no longer need to cut down your sample into small pieces and stich it together on the wall, this projector is sharp enough to display the whole image at once.
Projection distance and projection size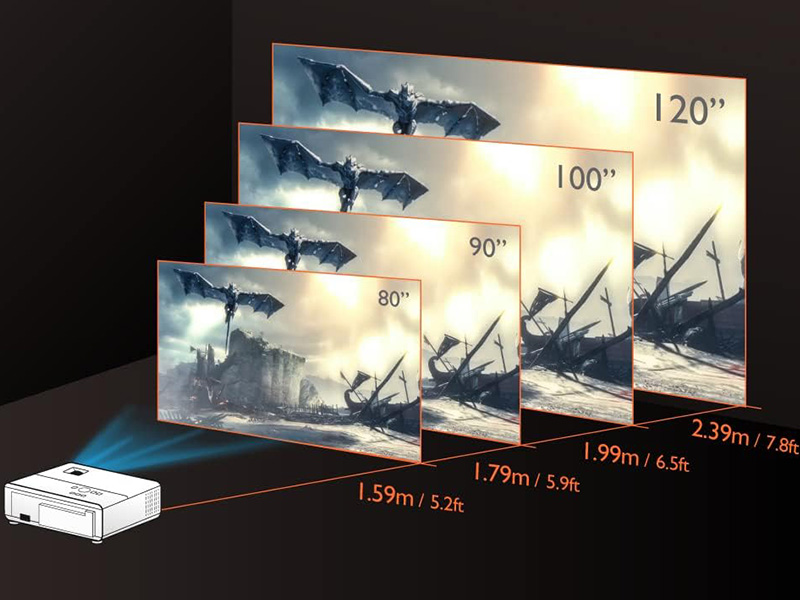 *Note – BenQ TK700 is also available in long throw version
The projector has a brightness of 3000 ANSI lumens (7200 LED lumens), which is good and can be used outdoors in low lighting conditions (when the sun is down).
The color and contrasts are the strong points of this projector (it suports HDR). Contrast helps to differentiate between the minor difference in colors which can be helpful when tracing closely matched colors and lines.
Connectivity ports
2 x HDMI
1 x USB-A
1 x RS-232 port
1 x audio out
power input
The price of this projector is a bit on the expensive side, but considering all the features and qulaity you get – it is a worthwhile investment.
This projetor is not only good for mural, but you can also create some Projected Augmented Reaity based murals.
Overall if you really need the 4k resolution, there is no better option than BenQ TK700. You will really love using this on your future projects.
Pros – What we liked
Crisp 4k resolution
Incredibly good picture clarity (HDR support)
3000 ANSI lumens brightness
Ability to scale without losing clarity and brightness
Ability to work in challenging lighting conditions
Wide device support (PC/game stations and more)
Low latency mode
2D auto keystone correction
Excellent built quality
Good color reproduction with darker black shades
Good inbuilt speakers
Several mounting options (wall, ceiling, desk)
An excellent choice for projected AR murals
You are paying a reasonable price for the features you get
Cons – But not dealbreakers
No wireless connectivity
Runs hot on prolonged usage
Fan noise
3. SovBoi – Affordable projector for Indoor murals
Value-pick
Sovboi 1080p projector
Affordable easy-to-use indoor projector with wifi and Bluetooth connectivity.
• 3LCD projection technology
• 1080P resolution
• 500 ANSI lumens brightness
• Wifi/ Bluetooth connectivity
• Up to 450 inches projection size
If you don't want to spend north of 500 or 1000 bucks on a projection system and need a simple affordable projector that just gets the job done, this one is for you.
There are numerous affordable projectors available on the market but most of them are not up to the mark and often come with misleading features set and questionable reliability.
After scanning through all the options, the 1080p projector from SovBoi (Amazon) is the one that sticks out.
In spite of the lower prices, the projector is packed with features and is an excellent option for hobbyists to intermediate-level mural artists.
First of all, this is a full HD projector with a resolution of 1920 x 1080p, most other projector in this range only offers 720p resolution.
The projector uses a 3LCD projection technology, which actually projects excellent pictures for the given price.
On the features side, the projector comes with 4d keystone correction, wireless connectivity (Bluetooth/wifi), high-speed dual-band wifi (2.4G/5G) plus support for IOS Android, and Windows devices.
Ports and connectivity
2 x USB
2 x HDMI
AV port
Audio out
Dual-band wifi
Bluetooth
The good thing about this projector is, unlike other cheaper options, the projection module is fully sealed and does not accumulate dust on the internal components over prolonged usage.
The only downside to this projector is – it is not as bright (500 ANSI lumens or 1200 LED lumens) and you are only limited to indoor usage in controlled lighting.
Pros – What we liked
1920 x 1080 p resolution
Good color output
500 ANSI lumens (1200 LCD lumens)
Up to 450 inches projection size (diagonally)
Wifi/ Bluetooth connectivity
Can cast images from your mobile phone
Simple plug-and-play system
4-point keystone correction
Sealed dust-proof optical system
Comes with a remote
Ports: 2 x USB, 2 x HDMI, AV, Audio out
Good but-in speakers (8 watts)
Incredibly good user reviews (on Amazon)
3 years of support
Cons – But not dealbreakers
Not ideal for outdoor usage
The cooling fan runs louder on prolonged usage
4. Elephas mini projector – mini projector with mighty powers
Travel size
Elephas mini projector
Easy to carry, easy-to-use mini-projector with full HD 1080p resolution. Comes with a tripod and a carrying case.
• LCD projection technology
• 1080P resolution
• 8000 lumens brightness (~270 ANSI)
• Connects to smartphone/computer/ USB drives
• Up to 200 inches projection size
• 3 years factory support/ 2 months free return
Imagine having a projector so small that you can carry it as an afterthought.
The Elephas Mini is quite a popular projector that is known for its powerful projection system in a compact size.
This projector is ideal for artists who often travel around for their projects and want something small and handy to carry alongside.
One of the biggest benefits of choosing this projector over the other options on the market is – in spite of the small size, the quality of the projected images is actually really good.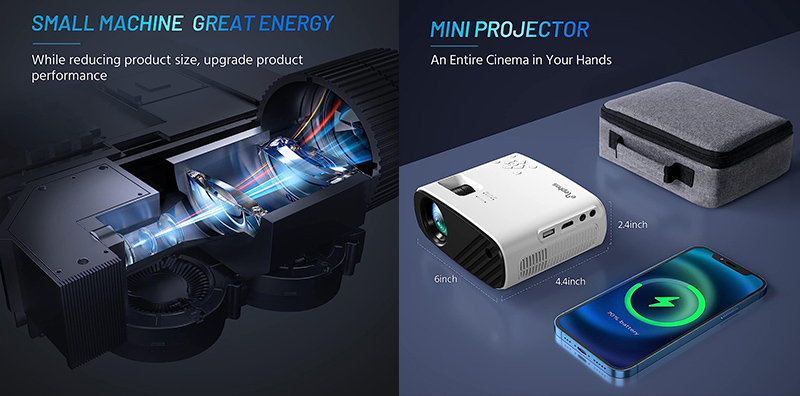 The projector comes with a resolution of 1080p, which is honestly quite surprising at this price.
Looking at the image output, it is obviously not as good as some of the other projectors we have featured in this article, but it is not as bad either.
You will find yourself tracing lines quite comfortably, and since it is full HD resolution – the sharpness is not gonna be a problem either.
But small size does come with a limitation, in this case, you lose the brightness. The projector has a brightness of 8000 light source lumens, which is equal to around 270 ANSI lumens.
What it means is, you can only use it projector indoors or at dark hours with controlled lighting.
To make the overall operation and setup process a bit easier, the projector comes with a tripod stand. This allows you to quickly prop up the projector anywhere and start working.
Pros – What we liked
The most value for money
Smaller footprint
Max recommended projection size – 200 inches
Real 1080p resolution
Good color reproduction
Cheapest 1080p projector on the market
Multiple connectivity options
Supports Android/IOS, Windows/Mac, flash drives
Tripod and carrying case included
It does come with a remote controller
Cons – But not dealbreakers
Relatively lower brightness (indoor use only)
No wireless connectivity
Mediocre built-in speaker
no automatic keystone correction (manual only)
No built-in battery, needs to be plugged to power (uses 48w power adapter)
How to find the perfect projector for painting murals
Here are some of the main features to consider when looking for a projector for murals.
Resolution
Projection quality – Sharpness and Contrast
Brightness
Size
Connectivity
Resolution of Projector for murals
It all depends on the size. What is the average size of the murals you make? is the first question you should consider when looking for a projector.
Spreading an image over a large area leads to pixelation. A low-resolution projector is ideal for a smaller screen but when you need a larger projection, it is better to get a projector with a FullHD or 4K resolution.
A projector with a higher resolution will have more pixels per inch. Which helps with better Sharpness of the image. Using this projector you will have no issue tracing and drawing over finer details of your artwork.
Projection Quality – Sharpness, color and Contrast
The quality of the projection depends on the quality of materials used inside projectors. Many of the cheap projectors in the market use cheap lamps which stops working after a while and low-quality lens which results in blurry images due to their inability to focus.
Contrast is important for an artist as it helps to differentiate between similar colors in a painting. Many projectors come with DLP projection which results in better color saturation. Also, many newer projectors also come with HDR capabilities, resulting in better contrast and gradients in images.
Brightness
Sun is the brightest laser and no matter how big and expensive the projector you buy, you cannot use it in bright sunlight. So, most of the time you would be using the projector in the evening or night or in a controlled indoor environment.
Now the brightness plays a big role when we talk about projectors. Many of the less bright projectors can only be used in pitch black rooms. As an artist, you need a certain amount of light in the room to work comfortably.
Problems start to arise when you introduce ambient light in the room. The images from the less bright projectors start to fade. A bright and powerful projector allows you to clearly see the projected image even in the presence of bright lights.
For outdoor situations, many times you would be working in a brightly lit neighborhood where you cannot simply request everyone to switch off their lights. That is where bright and powerful projectors come handy.
Talking real numbers – any projector beyond 2500 lumens is good for challenging lighting conditions.
Size of the Projector
You will have to balance. Super powerful projectors come in large sizes and portable projectors are not that powerful. If you are not too concerned with the size, you can go with massive and powerful projectors.
With compact and portable projectors you get the freedom to take and use them anywhere. But they come with limitations. The quality of the projection will not be the same.
Connectivity – Wired and Wireless
There are two ways of connecting your device to the projectors. Almost all the projectors come with the option for wired connectivity. Where you can connect your computer using a USB or HDMI cable.
Many modern projectors come with the option to connect wirelessly using WiFi. many of them even come with features such as screen mirroring allowing you to project images right from your smartphone
Wireless connectivity is really convenient and if you have the supported devices, then you should definitely go for a projector with wireless connectivity.
How projectors help in painting murals
Projectors are getting common these days as more and more artists are using them as part of their workflow. It is used by all sorts of artists for varying styles of murals. Some use them for only a certain – complicated section of their painting while others make the whole mural using them.
The projectors can be of great help when working on uneven surfaces. In conjunction with photo editing software, they help you map out, plan, and design according to the difference in elevations, bumps, and gaps in the wall.
What types of murals require a projector
Projectors can be used for making all sorts of murals. But there is some style of murals that can use them more extensively. Here are some of the examples.
Lineart Painting
If you got a lot of lines and petters in your mural a projector will help you get better results. This style of mural requires a lof of sketching and measuring to get the correct image on the wall. A projector can cut out a lot of unnecessary-time consuming steps. Here is a video to demonstrate that.
Lettering
Lettering is more complicated than it looks. It also takes a little longer than usual and easier to mess up. A projector can be of great help when lettering on walls or incorporating it in your mural.
Learning tool for beginners
Beginners and hobbyists are the ones who can benefit the most from projectors. It helps build up confidence in your painting and overall get better results.
Related –
Projectors for drawing and tracing
AR Projected Murals