Disclosure: As an Amazon Associate EssentialPicks earn from qualifying purchases.
---
If you are looking for a quality pen tablet that has all the necessary drawing features you need while still being very economical, the Wacom One and the Huion Kamvas 13 are the two best choices.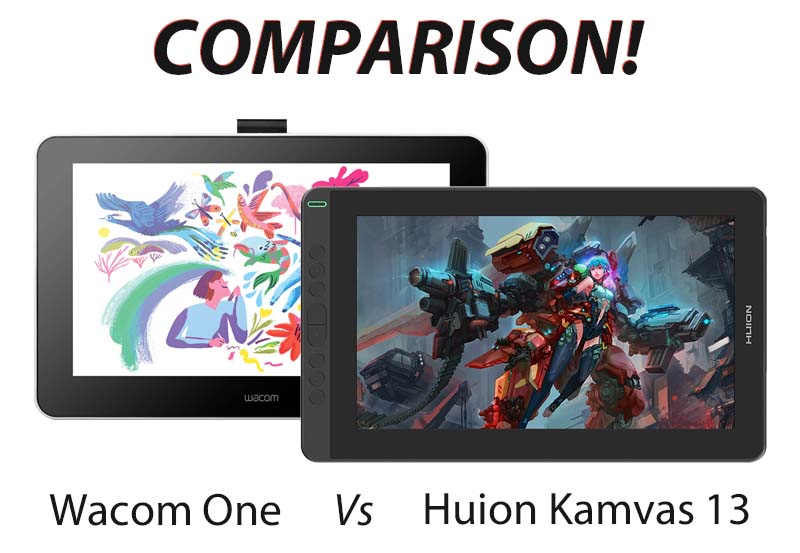 The Wacom One and Kamvas 13 are their cheapest models of display tablets from Wacom and Huion respectively.
These tablets bring a number of features from their premium lineup of tablets and even at this price range, they come with a good display and excellent stylus while still maintaining a premium-ish feel.
For all these reasons these two tablets have been well received by artists and even some full-time artists use them as their portable travel tablet.
So which of the two tablets provides a superior drawing experience? and which tablet will fit your needs better?
In this Wacom One and Huion Kamvas 13 comparison, we will take a deep dive in order to find out which of the two tablets is a better beginner drawing device.
Features comparison
Wacom One
Huion Kamvas 13
Display Size
13.3 Inches
13.3 Inches
Tablet Dimension
14.1 x 8.9 x 0.6 in
(357 x 225 x 14.6 mm)
14.4 x 8.5 x 0.46 in
(366.5 x 217.4 x 11.8mm)
Working Area
11.6 x 6.5 in
11.5 x 6.5 in
293.76 × 165.24mm
Resolution
1920 x 1080 p (16:9)
1920 x 1080 p (16:9)
Color Accuracy
~93% sRGB
~120% sRGB
Brightness
200 cd/m2
220cd/m2
Contrast
1000:1
1000:1
Response Time
26 milliseconds
25 milliseconds
Laminated Display
No
Yes
Top Protective Layer
Anti-glare film
Anti-glare film
Stylus
Battery-free
Battery-free
Pressure Sensitivity
4096 Levels
8192 Levels
Tilt Sensitivity
YES (up to 60 degrees)
YES (up to 60 degrees)
Shortcut Buttons (stylus)
1 button
2 buttons
Shortcut Buttons (tablet)
No
8 buttons
Tablet Stand
Inbuilt Foldable stand
Included in the box
Build Material (tablet)
Plastic
Plastic
Weight
2.2 pound (1 kg)
2.1 pound (980g)
Color Options
White
Cosmo Black
Midnight Green
Violet Purple
Price
Check on Amazon
Check on Amazon
Design and build
Generally, traditional drawing tablets are seen as big and bulky devices that are difficult to carry around. But nowadays, most of the newer drawing tablets comes with a thin and compact design.
The Wacom One and Huion Kamvas 13 also follows the same trend. They are amongst some of the slimmest and most compact drawing tablets in the market which is great for usability. They allow you to easily change from one position to another or even use them on your lap if you want to get real comfortable.
Dimensions and weight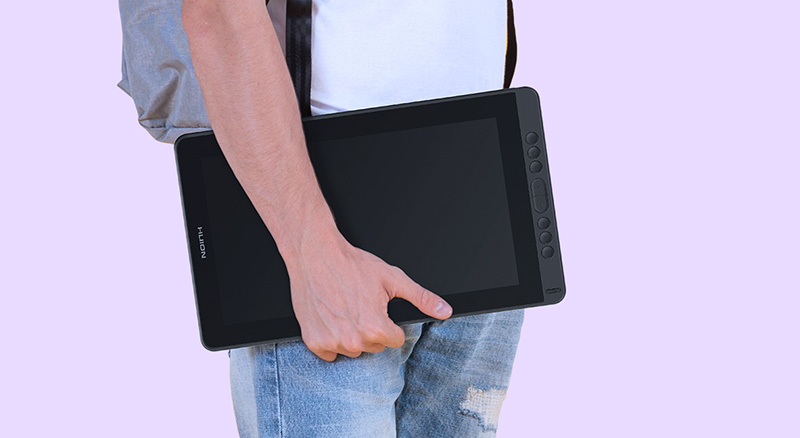 From the comparison tablet you can see that in spite of having the same screen size, the Huion Kamvas 13 has a slightly smaller footprint. This is mainly due to the smaller bezels around the screen.
Now it depends on who you ask but generally – bezels around the tablet are not considered a bad thing when it comes to drawing tablets. The logic being this is, you need to have some extra space around the screen to act as a palm rest when you are drawing near the edges.
The Huion Kamvas 13 is also slightly thinner and measures 11.8mm compared to the 14.6 mm thickness of Wacom One.
Both the tablet are very close to each other in terms of weight and measuring about 2.2 pounds or 1Kg.
Meaning these tablets are not a good option for one-handed usage but still light enough to carry them in your backpack.
Build material and quality
It is often said – "quality comes with a price" but that is not always true.
In spite of being made of plastic – the tablet still manages to feel good when holding it in hand. The quality of the plastic used on these tables is top-notch along with the overall fit and finish.
No matter where you press the tablet, you will not hear any squeaking sound or see any moving parts, giving it a reassuring feel.
Wacom One vs Huion Kamvas 13 (which tablet has a better display?)
For a drawing tablet, the quality of display matters the most. After all, that is where everything happens.
A display tablet is used at a very close distance so it is important for them to produce sharp images and have a high-resolution screen. And since these tablets are made for drawing purposes, it also needs to have good color accuracy.
Both the Wacom One and the Huion Kamvas 13 come with a good display in their own right. But there are some similarities and differences which we will discover one by one.
Size and resolution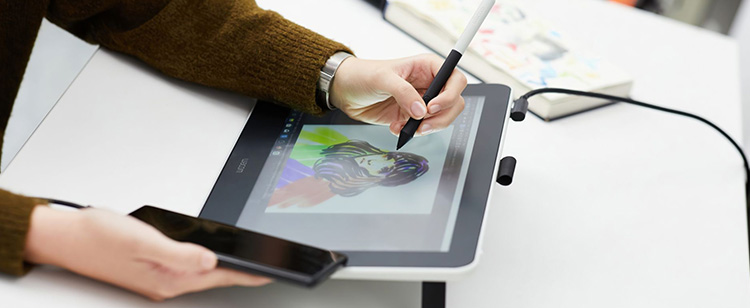 Both Wacom One and Huion Kamvas 13 comes with a 13.3 inches screen with a resolution of 1920 x 1080 p. The aspect ratio of these screens is 16:9.
A FullHD 1080p screen on a 13.3-inch screen is adequate and will display sharp images and provide a good drawing experience.
If we calculate the PPI (pixels per inch) on these displays we get a reading of 164 pixels per inch, which is again good enough for drawing.
Color accuracy and contrast
Color is a very important aspect of digital art and as an artist, you want to have good color accuracy on your display.
A color-accurate screen covers a larger area of the color spectrum and is capable of displaying subtle differences between the color tone which are not distinguishable on generic computer monitors.
The Wacom one has 72% NTSC color coverage which is about ~93-99% sRGB color space. In comparison, the Huion Kamvas 13 has a 120% sRGB color coverage, which is obviously better.
In practical usage, you can see that colors on the Huion look more vibrant. With that said, the Wacom One also looks fine on its own. The difference in color accuracy is only visible when you compare the two tables side by side.
Surface texture and anti-glare

Surface texture is one of the reasons why drawing on paper with a pencil feels so satisfying. The rough surface on the paper interacts with the pencil, creating a pleasing scratchy sensation.
In comparison, drawing on the smooth glass surface of the tablet with a hard plastic tip of the stylus does not feel as good. Also, the smooth surface makes the stylus glide a little too much, making it difficult to have controlled stylus movements while drawing.
To counter this effect, most of the pro-grade drawing tablets come with a textured drawing surface. The textured surface has microscopic irregularities that provide resistance to the stylus, giving you more control over your stylus.
The end result kind of feels closer to drawing on paper than drawing on glass, plus it makes a pleasant scratchy sound, which is a nice addon.
Other than that, the textured surface also helps with reducing glare and reflections of the screen. This improves visibility in a brightly lit room or if you sitting near windows.
Both Wacom One and the Huion Kamvas 13 comes with a plastic textured film. The advantage of using a plastic film over having the texture over the glass itself is – one the texture flattens out you can just replace the film and get the brand new like feel. Plus it also protects the actual glass from scratches from the stylus.
Display type – laminated vs non-laminated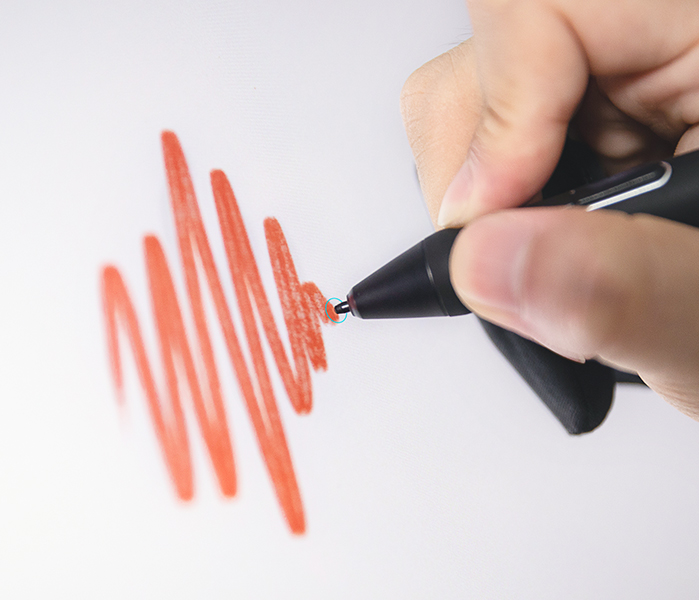 Drawing tablets come with a glass layer on top to protect the delicate screen from getting damaged from the pen or even when you put your hand/ palm over it.
What happens on the tablet, the strokes appear a few millimeters away from the point where you are actually touching the screen.
This is what we call parallax and it happens due to a small gap between the glass layer on the top and the actual display layer.
To counter this effect some of the newer tablets have the display unit and the top glass laminated together so that there is no gap between them. This method does a great job of controlling parallax and overall provides a more immersive drawing experience.
The Huion Kamvas 13 comes with a laminated display whereas the Wacom One does not, and has a more traditional display. So right off the bat, you will be getting a slightly better pen accuracy on the Huion.
With that said, Wacom is also not that far off.
In spite of having a non-laminated display, wacom One still does a great job of minimizing the parallax. And the end result is good enough that we will recommend this tablet in-spite of having a non-laminated display.
Brightness
Wacom has a max brightness rating of 200 cd/m2 whereas the Huion Kamvas 13 has a brightness of 220 cd/m2.
This is a fairly standard brightness when it comes to drawing tablets, and even top of the line drawing tablet has similar brightness rating.
200 or 220-candela luminosity brightness is sufficient for a bright indoor environment, but it can be difficult to see under direct sunlight, but I don't anyone would be using these tablets outdoors.
Stylus – Design and ergonomics

Artists spend a long time, several hours a day working on their projects. So you want your tablet to be as comfortable as it can be.
Holding the stylus for a longer duration of time can be uncomfortable and you may experience fatigue or discomfort.
To counter this, styluses of drawing tablet comes with an ergonomic shape.
These stylus are wider towards the front and narrow at the back and have a distinct shape that fits right in your hands like a glove. Plus they have a good weight distribution which makes them easier to use on longer drawing sessions.
The Huion Kamvas 13 comes with their latest PW 517 stylus whereas Wacom One comes with the Wacom 4K stylus. Both the styluses are made of plastic and have an ergonomic body.
Both the stylus works on EMR, where they take their power from the tablet itself (wirelessly) and hence they do not need to be charged, like never.
Pressure sensitivity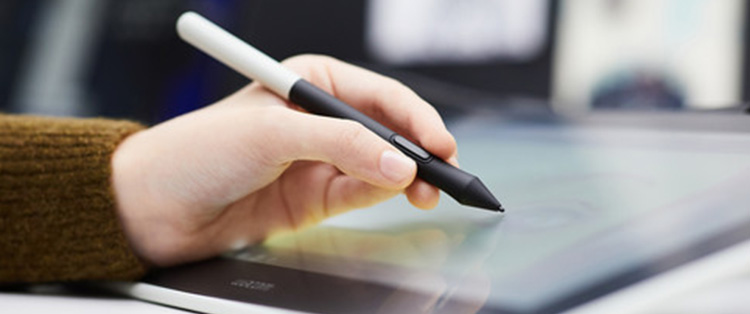 Pressure sensitivity is one of the biggest advantages of digital styluses. It changes the width or/and opacity of the strokes depending on how much pressure you apply on the pen.
This is a very useful feature that is used all the time whether you are sketching, creating illustrations, or blending colors.
Wacom stylus has a total of 4096 levels of pressure sensitivity, whereas the Huion PW 517 stylus has 8192 levels of pressure sensitivity, which is obviously better.
For artists who want more customization – in the tablet settings, you can change the pressure sensitivity and pressure curve of the stylus to your preference.
This changes how the pen reacts to pressure changes and how much pressure you need to apply in order to get thicker lines. Both Wacom and Huion allow you to do this.
Tilt sensitivity
Just like pressure, these styluses can also detect and measure at what angle you have held the stylus.
"On paper, both Wacom One and Huion Kamvas 13 stylus can detect tilt sensitivity up to 60 degrees. But in practical uses, the tilt sensitivity on the Wacom stylus is more stable and works better."
Compared to pressure sensitivity, tilt sensitivity is not that important and most artists rarely use this feature. But in case you make a certain type of artwork or heavily use brushes such as spray bruh then you should go with the Wacom One.
It is also important to note that, unlike pressure sensitivity, tilt sensitivity works with only certain types of brushes that are specially made to work with tilt sensing styluses.
Initial activation force
The initial activation force is how much pressure you need to apply in order for the stylus to detect the touch and start drawing. The lower the initial activation force, the better.
Comparing the two styluses, the Wacom One stylus has a slightly better activation force and it can detect the slightest of touch from the stylus. The new Huion PW 517 stylus is also good in this regard.
Buttons on the stylus
Shortcut buttons on the stylus help you perform quick action, like changing from pen to eraser or vice versa, or perform tasks like selecting colors (eyedropper) or freestyle panning across the canvas (grab tool).
The Wacom One stylus comes with a single button on the stylus with no eraser at the back. On the other hand, Huion Kamvas 13 stylus comes with 2 buttons, and just like Wacom it also does not have a dedicated eraser at the back.
In the pen settings, the buttons on the pen can be programmed to any shortcut or tool of your choice.
Drawing performance
The real-life drawing performance on both the tablets is more or less the same. The higher pen pressure on Huion along with the laminated display gives it a slight edge over the Wacom.
Unlike older drawing tablets, neither Wacom nor Huion has any pen issues like inconsistent strokes, wavy lines (pen wobble), or sudden pressure bumps – which is great.
Response time and latency
How much time it takes for a dot or stroke to appear on the screen is determined by how fast the tablet can communicate with the computer. The lower the latency, the faster is the response time.
The Wacom one has a latency of 26 milliseconds whereas the Huion Kamvas 13 has 25 ms latency. For reference, you have 1000 ms in 1 second. So you can say both these tablets are pretty fast and have equally good response times.
Pen holder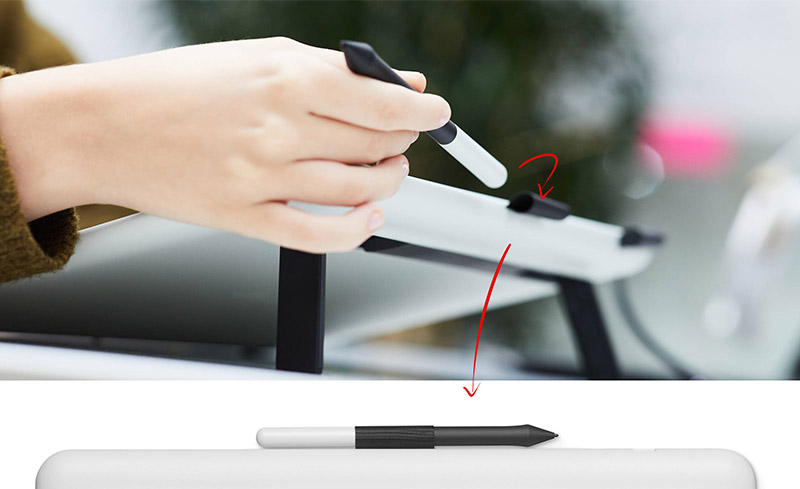 To avoid the stylus rolling off the desk while not in use, the Huion comes with a circular pen holder. It is super convenient and holds the stylus in vertical and horizontal positions.
The pen holder is made of plastic and is bottom-heavy with rubber pads at the base which helps it stay in its place.
Wacom One does things differently and comes with a small fabric loop (image above).
The loop sticks out from the top of the stylus where you can store the stylus by simply sliding it in the loop. It is a simple, functional, and creative solution to having a dedicated pen holder.
Extra pen nibs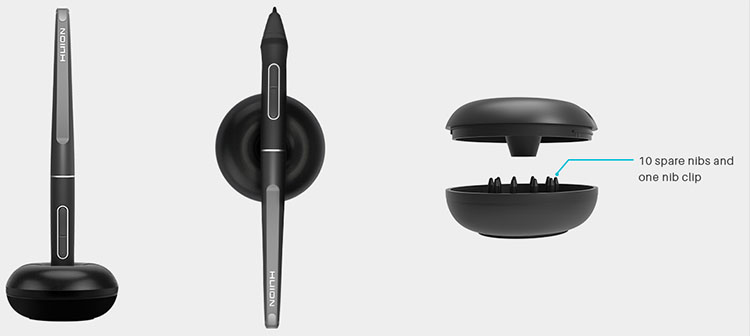 Over time the plastic nibs of the stylus warks out. It is a very slow process but depending on your usage you may need to replace your pen nibs after four to six months.
The good thing is, the nib is super easy to replace and both Wacom and Huion include some extra pen nibs with the tablet.
With Huion you get 10 extra pen nibs that are stored inside the pen holder along with a nib remover tool.
You get three extra pen nibs with Wacom One. The extra nibs are present at the back of the tablet with the nib remover tool.
Shortcut buttons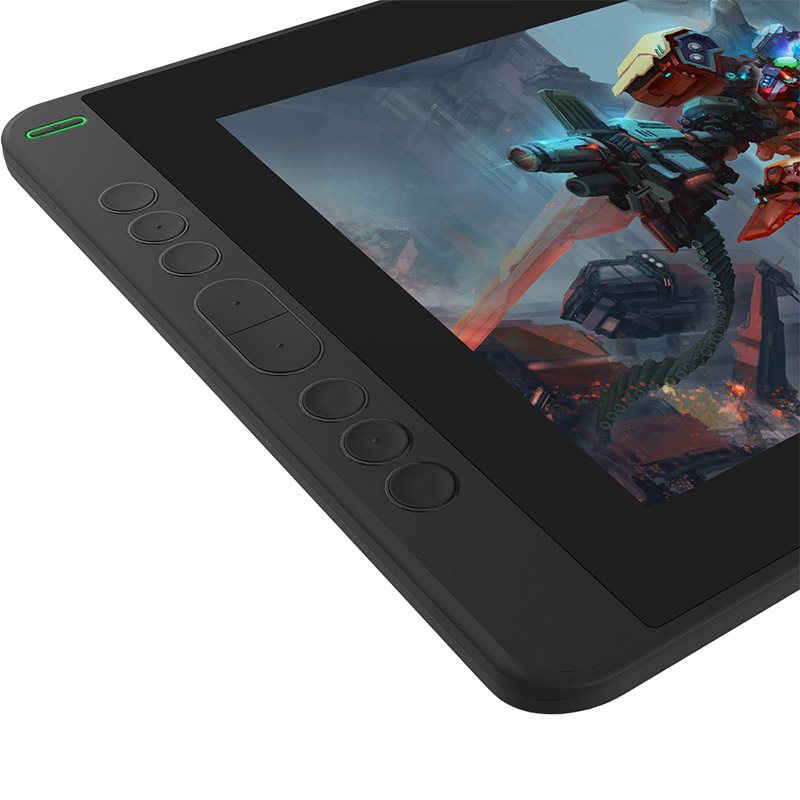 Just like buttons on the pens, many tablets come with programmable buttons on the tablet.
Huion Kamvas 13 comes with 8 shortcut buttons located on the left side of the tablet.
All these buttons can be easily programmed to any shortcut of your choice.
You can even set different shortcuts for different drawing software and the tablet is smart enough to automatically switch shortcuts depending on the software or application you are using.
Wacom on the other hand likes to keep things simple, clean, and minimalistic. For that reason, Wacom One does not have any shortcut buttons whatsoever.
Do you really need shortcut buttons?
Drawing applications usually have hundreds of keyboard combinations and fitting all that within a few buttons of the tablet is not possible. For that reason, most artists prefer using a keyboard for shortcuts.
If you are among those artists who prefer to use a keyboard, the lack of shortcut buttons on the Wacom One is not that big deal. But if you like to have buttons on the table, you can get the Huion Kamvas 13.
Wacom Expresskey remote
For artists who like shortcut buttons and want to have them on their Wacom drawing tablets, they can get the Wacom Expresskey Remote.
There are a total of 17 buttons as well as a touch ring for performing advanced shortcuts like changing the size of the brush and eraser.
The advantage of this Expresskey remote is – since it is wireless, you can place it anywhere you like or even you can hold it in your hands. Plus with 17 buttons, you can actually ditch the keyboard.
On the flip side, no doubt that Wacom Expresskey Remote is a useful accessory but it needs to purchased separately and its cost (Amazon) is on the expensive side.
What about left-handed artists?
Wacom One with its symmetrical design is no doubted a good option for left-handed artists. But as a left-handed artist, you can also consider the Huion Kamvas 13.
Within the tablet settings on Huion driver, you have the option called left-hand mode. Once you switch the tablet to the left-hand mode it recalibrates itself for left-hand users.
At this point you can rotate the tablet 180 degrees > so that the shortcut buttons are on the right side instead of left – and start drawing.
Tablet stand – Inbuilt vs external
Drawing on a display tablet while keeping it flat on the table is not ideal and can be uncomfortable to work on. The Wacom One has a built-in foldable tablet stand at the back of the tablet.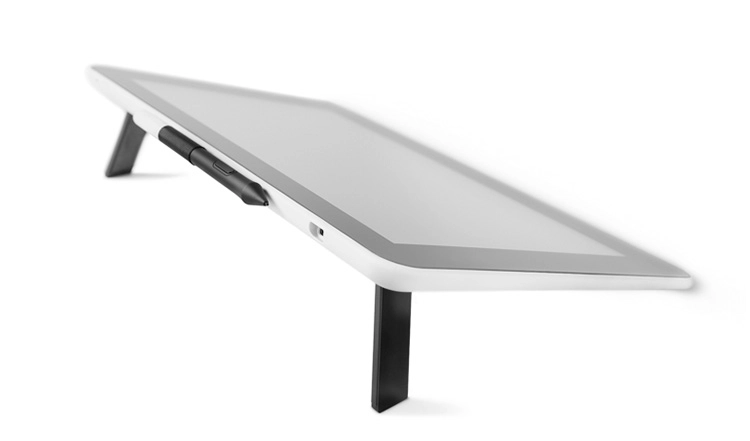 The foldable stand unfolds to raise the tablet to about ~10-20 degrees which is a comfortable drawing angle. The benefit of a stand integrated into the design of the tablet means that you do not have to carry an external stand.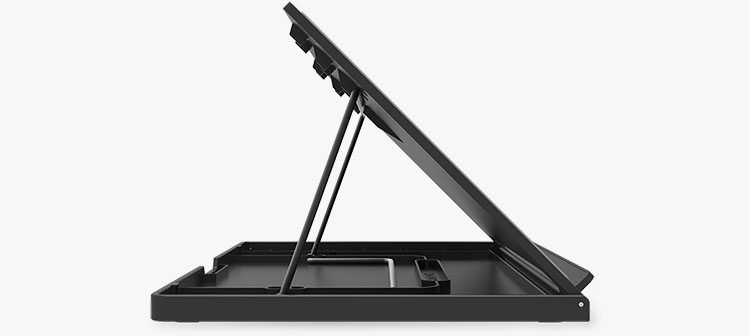 With Huion Kamvas 13, you have the option to choose the official tablet stand for a few bucks extra (check out the variant with stand included on Amazon).
The stand is fairly high quality with metallic parts and has six different height adjustments, compared to one height setting on the Wacom One. Plus the stand folds up into a slim and compact sheet of metal which makes it easy to carry in your backpack.
OS support and drivers
Wacom One as well as the Huion Kamvas 13 works with Windows, Mac as well as selected Android devices.
For Windows and Mac computers, you need to download the respective drivers of Wacom One and Huion Kamvas 13 (which is free). Without downloading the drivers, you will not be able to use the tablets.
The drivers allow you to set different aspects of the table including changing the button on the tablet and stylus.
For Android devices, you don't need to download any driver. You can simply plug in the tablet and start using it. With that said, these tablets are compatible with only selected smartphones, and before you buy this tablet for your mobile phone make sure your smartphone is compatible. Also, Apple iPhones and tablets are not compatible.
Unique feature on Huion Kamvas 13
You can use the Huion Kamvas 13 in two ways. Other than using the tablet as a normal drawing tablet with a display, you can also turn off the screen and use the tablet as a pen tablet. In pen tablet mode, you draw stuff on the tablet while looking at the monitor or laptop.
Connecting the tablet to the computer
Both Wacom and Huion connect to the computer using cables. These tablets use a custom 3-in-1 cable where they have a USB-C connector on the tablet side and HDMI, USB-A connector on the computer side. Last but not the least, you have the power adapter which you plug directly into the wall.
If your computer or laptop has a powered USB Port, you can directly connect the power cable to your computer's USB instead of the power adapter.
The advantage of this setup is, you may have three cables connecting to the computer but on the tablet side, you only have a single USB wire coming out. Reducing cable clutter.
Here is a quick demonstration of How to connect the Wacom One to the computer. The process is very similar for Huion Kamvas 13.
What about wireless connectivity?
Unfortunately, as of now, the wireless connectivity is not fast enough to sustain the high-speed data transfer that is required in these tablets.
For that reason, wireless connectivity is not available on these tablets. In fact, no display drawing tablet has wireless connectivity.
What if your computer/laptop does not have all the required ports?
There are three ports required for connecting the tablet to your computer.
If your own one of those newer laptops which does not have one or both these ports, in that case, you need to get a USB Hub like this one on Amazon.
Can Wacom One and Huion Kamvas 13 work on its own without connecting them to the computer?
No, since these two tablets are not standalone drawing devices, and do not have processors inside them – they need to be connected to an external computer in order to work.
Accessories: What you get in the box?
Here is the list of everything that you get in the box.

Wacom One 
Wacom One tablet
4K Wacom stylus
Fabric pen holder
3 replacement nibs
Nib remover tool
Inbuild stand
3 in 1 cable
AC adapter (10W)
AC plug head
Quick Start Guide
Huion Kamvas 13
Kamvas 13 tablet
Huion PW 517 stylus
Dedicated pen holder
10 replacement nibs
Nib remover tool
Pen stand (optional)
3-in-1 cable
USB extender
AC adapter
Drawing glove
Cleaning cloth
Quick start guide
Huion Kamvas 13 or Wacom One: Which tablet is a better option?

In this comparison, we have seen that Wacom One is a simple drawing tablet that comes with all the basic features you need as a beginner artist. Their simple and clean design and smart design decisions such as foldable stands and inbuilt pen holders make Wacom One a compact drawing tablet.
The Huion on the other hand has tried to go above and beyond and provide you the best possible drawing experience at the given price.
Starting with the overall design and, even though Huion has a button on the tablet, it is still more compact compared to Wacom while having the exact same screen size.
Talking of screen – Wacom One and Huion Kamvas 13 has a similar screen in terms of resolution but the color accuracy on Huion is way better than Wacom.
Next coming to the stylus, even though Wacom has a highly acclaimed Pro-grade stylus (called Wacom Pro pen 2) but they decided to cheap out and have provided an inferior stylus with Wacom One with only 4096 levels of pressure sensitivity.
In comparison, Huion went all out and has included a stylus with 8192 levels of pressure sensitivity. This is the same stylus that comes with their much-expensive premium Huion tablets.
The only place where Wacom deserves some praise is "practicality". Having an inbuilt foldable tablet stand and pen holder is a smart move and we would have loved to see something similar on the Huion.
Now before we declare our winner, let's quickly compare the prices.
Price and Value for money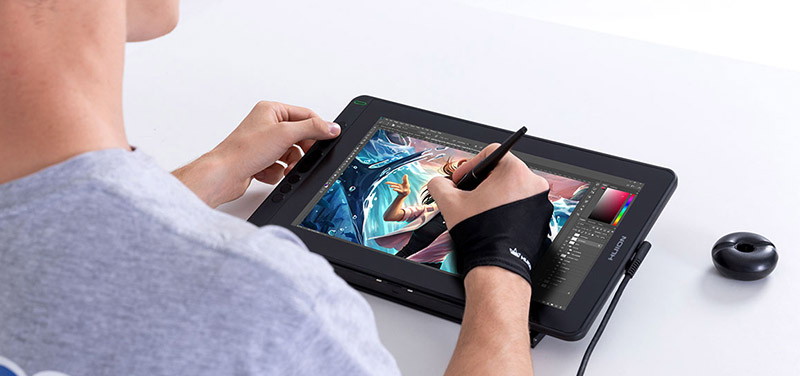 When we first time looked at the price tag what really surprised us was – even though Huion Kamvas 13 has better features still it is significantly cheaper than Wacom.
So if you are looking for the best value-for-money tablet – Huion Kamvas 13 (Amazon) is the right choice.
Final words: From this very long and detailed comparison, it is clear that Huion Kamvas 13 has more features, and it is better value for money compared to Wacom One.
As of comparing it, the Huion Kamvas 13 has been in the market for a long time now and within this time we have only heard good things about this tablet.
So if you are looking for a budget-friendly display drawing tablet, that has all the features that you need – the Huion Kamvas 13 is a superior choice and you will for sure have a great drawing experience using it. Happy Drawing!
Compare Prices on Amazon
Must Read: Huion Kamvas 13 Honest Review