Wacom has  recently launched it's latest generation of Intuos lineup called Wacom intuos small. The Tablet comes with a totally new design and some really great features.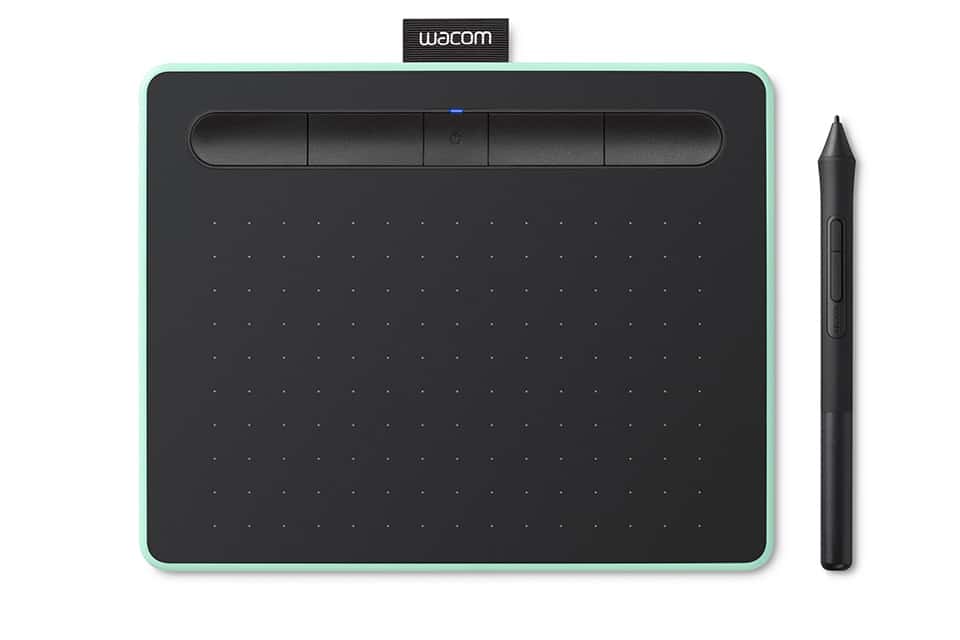 The tablet comes in two models
|   | Wacom Intuos (small) | Wacom Intuos (medium) |
| --- | --- | --- |
| Active Area | 6.0 x 3.7 in | 8.5 x 5.3 in |
| Surface | Textured (Paperlike) | Textured (Paperlike) |
| Pen | Wacom Pen 4K (batteryless) | Wacom Pen 4K (batteryless) |
| Pressure Levels | 4096 | 4096 |
| Pen Reading Height | 7mm | 7mm |
| Expresskeys | Yes (4) | Yes (4) |
| Multi-touch | No | No |
| Wireless Support | Yes / Bluetooth (optional) | Yes / Bluetooth |
| Resolution | 2540 lpi | 2540 lpi |
| Reading Speed (pen) | 133 pps | 133 pps |
| Battery / Standby | Yes (optional) / 15 hrs. | Yes / 15 hrs. |
| Color | Black / Pistachio | Black / Pistachio |
Design

The Wacom Intuos comes with a very smart new design. All the buttons are placed at a more reachable position as compared to other intuos devices. The buttons also works as a pen trey/holder.
The edges are curved and looks elegant and the back has a rubberized grip pads attached.
The pen has been totally re-designed and has an removable back and a nib storage compartment inside.
Material
Choice of material used in this tablet are good. The device has been made with high quality plastic With is highly resistive of scratches.
The buttons are very tactile and have have a sharp and satisfying click to it.
Material used at the surface is scratch resistant and doesn't crack or breaks apart even after years of abuse.
Pen


Wacom has equipped this model with the latest pen which thy call "Wacom Pen 4K" and have some really unique features.
The 4K pen has 4,096 range of pressure sensitivity with a maximum reading height of 7mm. It also comes with +/- 0.25 mm digital tolerance in accuracy
First the pen works on EMR (Electro-Magnetic Resonance) technology which simply means it works without a battery, which is a huge advantage as it does not needs any maintenance or recharging. One more benefit of battery-free pen is, it is more damage resistant due to accidental fall.
One of the unique feature of the pen is that it has a removable back which acts as a storage for extra pentips.
Surface
Wacom tablet are known for the best drawing surface with a very high quality scratch resistant surface.
Almost all drawing tablets comes with textured surface but wacom is the one who have really got the perfect blend of friction and smoothness. The tablet makes a very satisfying sound while drawing and which makes the drawing process more engaging.
The tiny dots on the textured surface looks good and super professional.
Included Softwares


There are three basic software packs which are given out for free….
With Wacom Intuos small (without bluetooth) you get to choose one out of – Painter Essentials 6 (drawing/painting) or Corel AfterShot 3 (photo-editing)
Wacom Intuos small (with bluetooth) gives you option to choose 2 out these three softwares – Corel Painter Essentials 6 (drawing/painting), Corel AfterShot 3 (photo-editing), CLIP STUDIO PAINT PRO 2-yr license (comic/manga)
Wacom intuos medium gives all three softwares – Corel Painter Essentials 6 (drawing/painting), Corel AfterShot 3 (photo-editing), and CLIP STUDIO PAINT PRO 2-yr license (comic/manga)