As an Amazon Associate EssentialPicks earn from qualifying purchases.
If you are looking for a multipurpose tablet for making digital art – Apple's iPad Pro and Samsung galaxy tab s4 are the two prime candidates.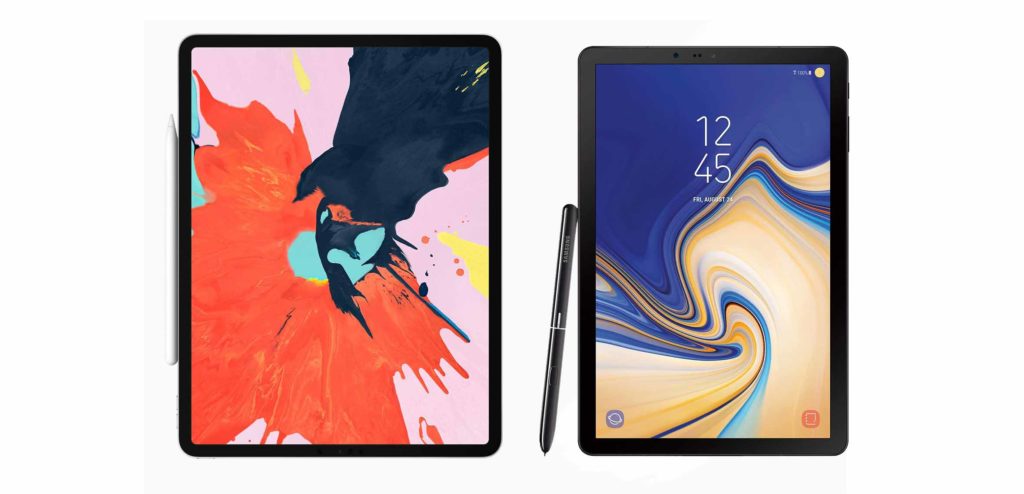 In spite of having so many differences, they are very similar to each other in terms of what they have to offer. Both tablets have unique features specifically made for artists.
Everyone's needs are different. In this iPad pro vs Samsung galaxy tab s4 review and comparison, we would help you figure out which is the best tablet for drawing and sketching and which tablet will suit your needs better?
iPad Pro vs Samsung galaxy tab s4 – Screen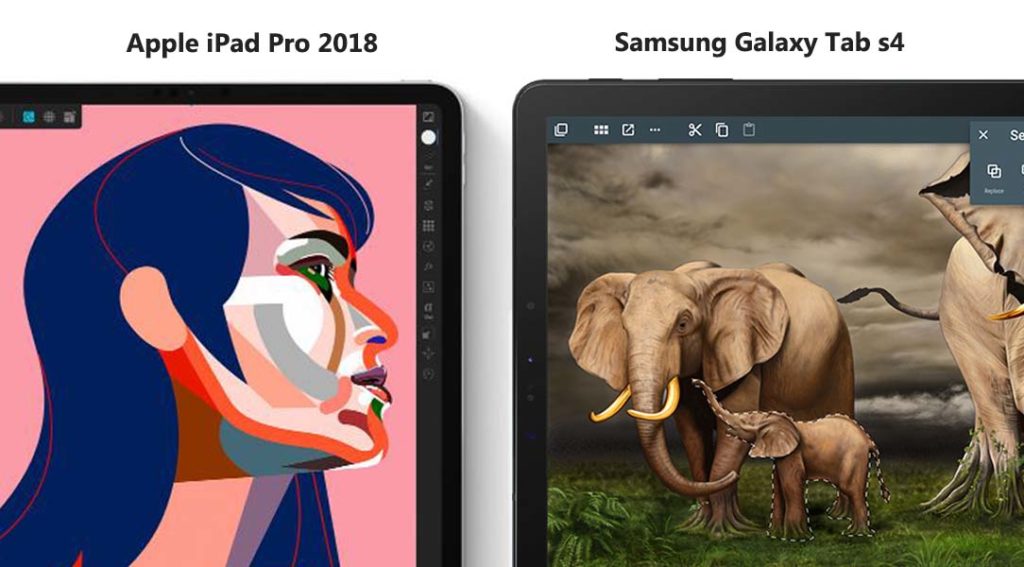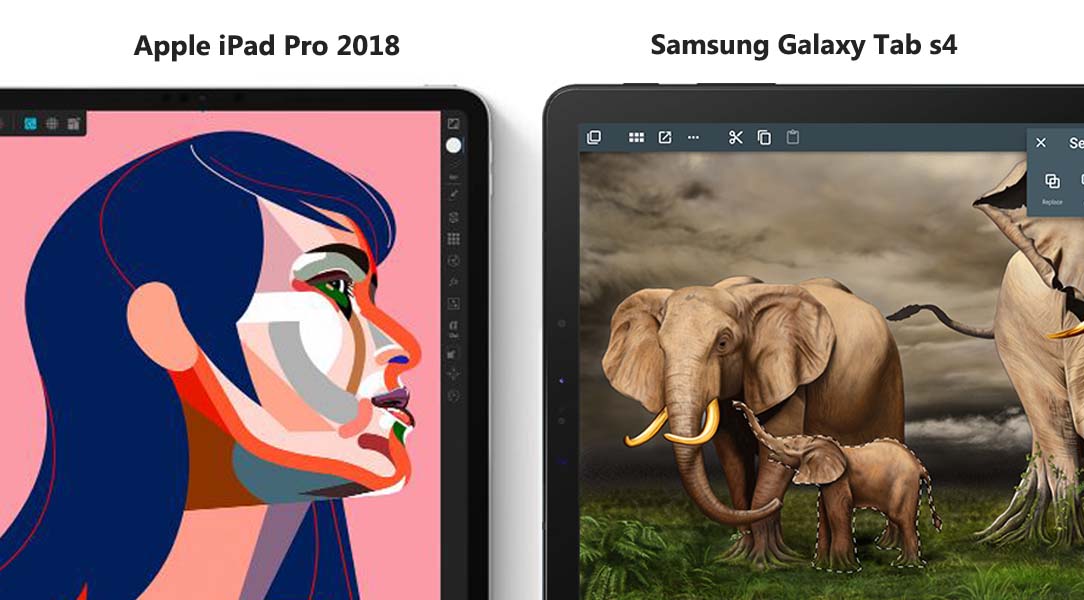 A screen is one of the most important areas you should be looking in a tablet intended for drawing purposes. After all, that is where all the actions take place. Both the tablets are similar in shape and size with minimal bezels around the screen.
iPad comes with an 11 inch LED screen whereas the Galaxy tab s4 has a 10.5 inch AMOLED screen. The AMOLED screen is superior to the LED screen as they have better contrast and color range.
But Apple has been able to perfect the recipe for their Retina Screens. Their LCD panels are very accurate and bright, almost at the level of AMOLED screens. On top of that iPads comes with ProMotion technology with a high refresh rate – which makes the tablet feel extra responsive.

Which tablet has a better stylus

A stylus is the most important tool when it comes to making digital sketches. There is plenty of stylus in the market which is average at best. There is just a handful of stylus which is actually good. Apple Pencil and Samsung S-Pen are amongst them.
iPad and Galaxy tab s4 comes with a very capable stylus. They are very accurate and perfect for making sketches as well as taking notes. Apple pencil and Samsung s-pen are very different from each other in terms of features and technology used.
Starting from what you get in the box – the Samsung galaxy tab s4 comes with the s-pen pre-included in the box. Whereas the Apple pencil (Amazon) has to be purchased separately.
Design and feel of the pen
Apple pencil – as the name suggests looks and feels similar to a generic pencil. It is slightly longer and thinner than a regular pen. On the other hand, s-pen feels like a real pen. It is shorter and slightly wider than the Apple pencil. Both the pencil has a unique feel in hand and comfortable to hold. Some artist does not like how thin the Apple pencil is but you can get used to it over time.
Although both the stylus has plastic construction, the Apple pencil comes with a slight texture which feels better to touch. The s-pen is made of normal shiny plastic and feels like plastic.
Features (pressure sensitivity, tilt recognition and buttons)
Pressure Sensitivity – Apple pencil and S-pen have pressure enabled stylus. This means that the thickness of the strokes depends on how hard you are pressing. The Apple pencil does not have an official pressure range. Whereas Samsung s-pen comes with 4096 levels of pressure sensitivity. In practical uses both the stylus performed equally good.
Tilt Recognition – On top of pressure sensitivity, the Apple Pencil also comes with "tilt recognition". The tilt recognition allows the pen to change the behavior of the strokes depending upon the angle it is tilted.
Tilt recognition allows using the stylus for shading like a real pencil. It is one of the most exciting features of the Apple pencil and many artists really love it. Samsung's S-pen also comes with tilt support but it is only supported in a handful of drawing apps like Artrage, Sketchup, and infinite painter.


Buttons – Both the S-pen and Apple pencil has a single shortcut button on the pen. The S-pen has a physical button that acts as an eraser. Apple pencil comes with a touch-sensitive button that switches between different tools. The touch button can be customized to do other functions as per your needs.

The technology used: how do Apple Pencil and S-pen works?
Both the Apple pencil and Samsung's S-pen do the same task of drawing and write stuff. But how they work is completely different from each other. The Apple pencil uses an active pen, which needs a battery inside of a pen to work. On the other hand, the S-pen uses a passive pen and does not need any batteries.
As a result, the S-pen does not need to be charged ever (you can know more about this Here), whereas the Apple Pencil needs charging. Well, this may not be a big deal breaker as the charging in the Apple pencil is very streamlined. The Apple Pencil charges wirelessly by magnetically sticking on one of the edges of the tablet. On top of that, it can work a long time on a full charge and has features like quick charge in case of emergencies.
Surface Texture
In many tablets made for drawing purposes (like Wacom), the top glass layer have a matte finish. The matt finished glass reduces glare and more comfortable to look at. The texture on the glass provides a little friction to the stylus which is a good thing as it stops the pen from slipping off on the glass surface.
The screens of iPads and Galaxy note s4 has gorilla glass, which is a scratch-resistant glass. The gorilla glass may protect the screen from scratches, but it is a glossy screen with no texture. It feels a bit inconvenient to write with a plastic pen on a smooth glass surface.
Many artists use a matte finish screen protector (Amazon) to further protect the screen from pen scratches as well as give it some texture for a better hold.

Drawing Apps (IOS vs Android)
Drawing apps are the next – important part of the equation when looking for a tablet to draw on. Although both the iPad and Samsung note come with their own default writing app. They are not the best out there and lack key drawing features.
Drawing apps have come a long way from what they use to be a couple of years ago. Nowadays there are plenty of really good apps on Android as well as IOS which are almost as good as desktop-level drawing applications. The new generation faster and more powerful processor also played a key role in their development. As the apps can support more complex features without lag and app freeze issues.
For iPads, you have apps like Procreate, Clip studio paint, Affinity photo. These apps are made specifically for iPads and loaded with features. On the Android side, you have apps such as Sketchbook, Ibis painter x, Infinite Painter which are equally good.
Power and performance – for a fast and lag-free experience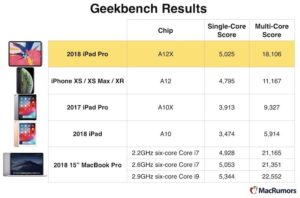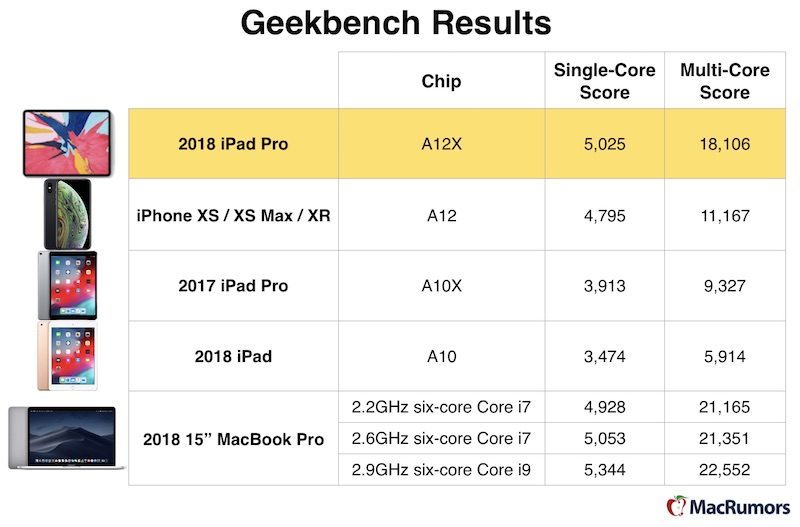 As mentioned before, one of the main reasons for the rapid development of apps for tablet devices was the improvement in processor technology. Now the apps can have pro features baked into them without causing a major dent in the overall performance of the tablets.
Samsung Galaxy tab s4 (Amazon) comes with a Snapdragon 835 processor. Which is powerful enough to plow through heavy – resource-intensive tasks. But the real gamechanger is the Apple iPad Pro (Amazon) which comes with Apple A12X Bionic processor. It is one of the most superior processors in the mobile device and its power and speeds are often compared to powerful laptops such as MacBook Pro.
So if you want something fast on which you can do multitasking or working with hundreds of drawing layers and filters than Apple iPad Pro is the right device for you.

Price and value for money
Last update on 2021-03-18 at 13:26 / Affiliate links / Images from Amazon Product Advertising API
Price plays a major role in making the purchasing decision. Most often than not the device that better suits your needs turns out to be more expensive than what you would expect. From what we have seen so far, it is clearly evident that iPad Pro is a more capable device both in terms of raw power and drawing capabilities.
Apple iPad Pro can be expensive (click here to see the latest price on Amazon). Even the 11-inch version with the lowest storage capacity comes with a hefty price tag. If you are planning to use it for some work-related purposes than small storage will not be sufficient for you.
You will probably go for a higher specked version which can cost two or even three times more than the base price. Along with that, the Apple Pencil (Amazon) has to be purchased separately, and that is not cheap either.
Now Samsung Galaxy tab s4 (Amazon) is cheaper than the iPad and has all the things you need (including s-pen) right in the box. You don't really need to spend anything extra on accessories if you don't want to. In true terms, the Samsung galaxy tab s4 is a better value for money.

Connectivity – USB-Cs is the new norm
Both the iPad as well as Samsung galaxy tab s4 comes with the latest USB type-c port. The port allows you to charge as well as transfer data. Earlier the iPads did not allow plugging in external hard drives but now after the latest software update, you can plug any storage device.
Accessories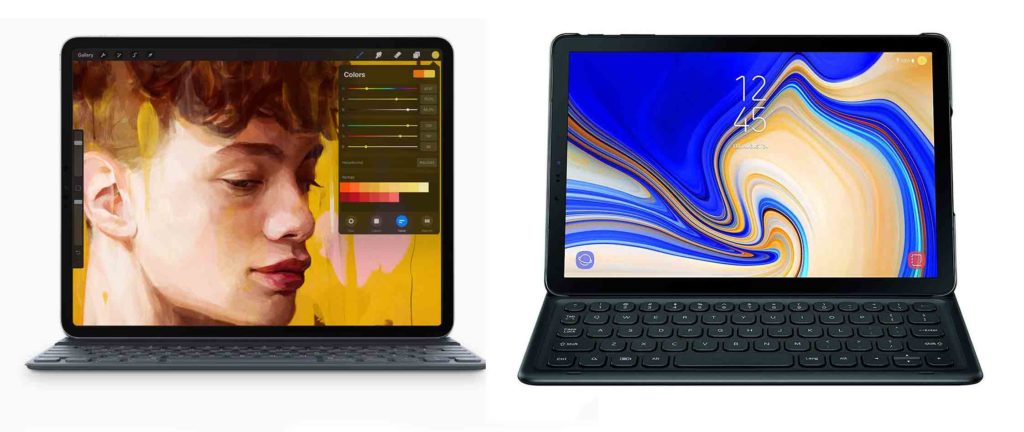 At the bottom of the Samsung Tab and the Apple iPad Pro, you will find a connection pin which snaps to the keyboard accessory. The keyboard accessory is available separately for both the devices. These keyboards magnetically attach to the tablet and can also work as a tablet stand. These keyboards are made for typing-heavy work.
The Samsung Galaxy tab s4 has a feature called Samsung Dex. It allows you to plug your tablet to an external monitor and use the tablet as a desktop. You can also use the Samsung tablet like a traditional drawing pad where you look at the monitor and draw artwork on the tablet.
Other than the keyboard and Samsung Dex the Galaxy tab also supports an external mouse that can be useful during the Samsung Dex mode.
Earlier – mouse was not supported on iPads but now after their latest software update, you can plug wired wireless or Bluetooth mouse.

Summary – Is iPad Pro better than Samsung Galaxy Tab s4
For most of the people looking for the best tablet for drawing. Yes, iPad Pro is better than the Galaxy tab s4 in many ways.
If we neglect all the bells and whistles and only look at raw drawing capabilities then both the tablet has an equally good screen and stylus and can last for a long period on a single charge.
Is iPad worth the price
To be honest, Yes – the iPad is totally worth the price. The performance and drawing experience you get is unmatched by any other tablet. On top of that, the Apple pencil is the real star of the show with the most reliable performance and accuracy.
If you don't really want to make that big of an investment, there are other cheap alternatives to the iPad Pro and Galaxy Tab s4. With those devices, you will not get the same features and that good of drawing experience.
Alternatively, you can check out the older generation of the iPad (Amazon) which are still very capable devices and have almost the same drawing features, which can save you a couple of hundred bucks.
iPad Pro – 11 inches vs 12.9 inches – for drawing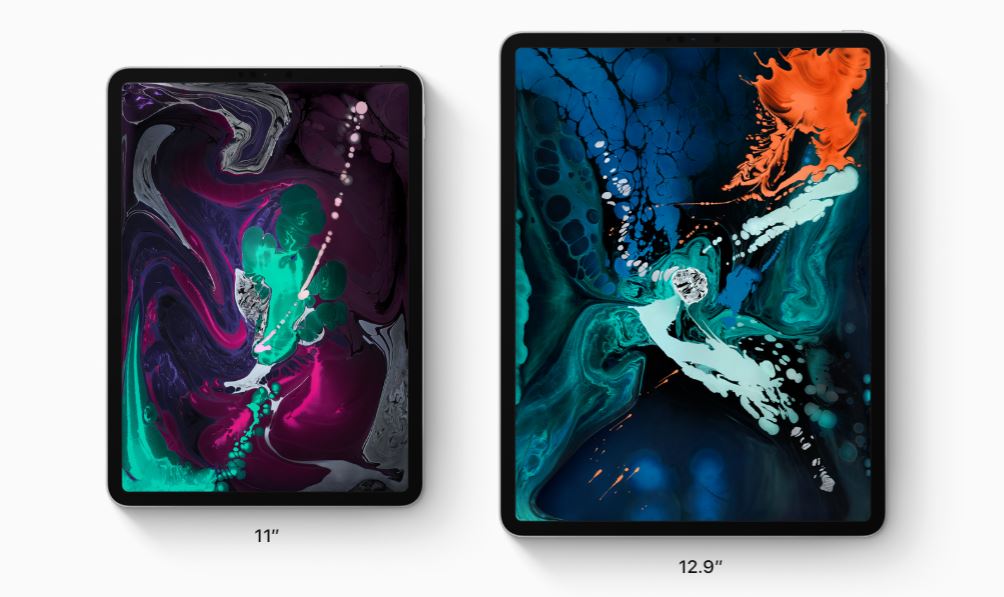 You may be already aware that iPad Pro comes in two main variants – 11 inches and 12.9-inch model. Some artists prefer the smaller version while others go for the 12.9-inch model. Everyone's needs are requirements are different. Here are a couple of things you should consider before pulling in the trigger.
Maximizing working area equals minimizing portability
If you go with the smaller 11-inch model, you get a comfortable device. Which can be used more frequently in places such as public transportation and airplane cabins. If would also be better for day to day uses.
The 12.9 inch model of Apple iPad Pro gives you a massive screen. It looks cool and feels exciting to work with. This is an ideal device for people with a workstation setup. The bigger screen also takes away a few portability points as it can be quite overwhelming to use this big of a tablet in small and hectic places.
Related
Drawing tablets for pro Artists
Top Android tablets for Drawing
Portable Drawing tablet