Disclosure: As an Amazon Associate EssentialPicks earn from qualifying purchases.
---
When you are looking for a larger 24-inch drawing tablet, you have two options. Either you get a tablet with a 1080p Full HD resolution or a tablet with a full-fledged 3840 x 2160 4K display.
The problem with 4k display tablets is, they are way too expensive, on the other hand, a FullHD resolution screen is cheaper but you can definitely see individual pixels when you are up close – drawing on it.
That brings us to the perfect solution we all have been looking for. Xp Pen just introduced its Artist Display 24 Pro drawing tablet that comes with a 1440p QHD (2k) display.
In this Xp Pen Artist 24 Pro review, we will take a deep look at all the features this tablet has to offer and compare it to some of its alternatives to help you figure out whether you should buy it or not.
Xp Pen Artist 24 Pro – Specs
Here is the list of all the features that the Xp Pen Artist 24 Pro has to offer.
| | Xp Pen Artist 24 Pro |
| --- | --- |
| | |
| Display Size (Diagonally) | 23.8 Inches |
| Workspace | 526.85 x 296.35mm |
| Resolution | 2560 x 1440 pixels |
| Color Accuracy | 90% Adobe® RGB |
| Brightness | 250 cd/m2 |
| Laminated Display | No |
| Stylus | Battery-free |
| Pressure and Tilt | 8192 levels of pressure with 60° Tilt |
| Shortcut Buttons | 10+10 |
| Red Dial Wheel | 2, On both sides |
| USB-C Connectivity | Yes, Supported |
| Tablet Stand | Included |
| Price | Check on Amazon |
First Impressions
On the first look, the Xp Pen Artist 24 Pro looks very similar to the Xp Pen Artist 22r Pro in terms of overall design and placement of shortcut buttons.
The main difference is the Artist 24 pro comes with a larger 24-inch display and has a higher 1440p resolution.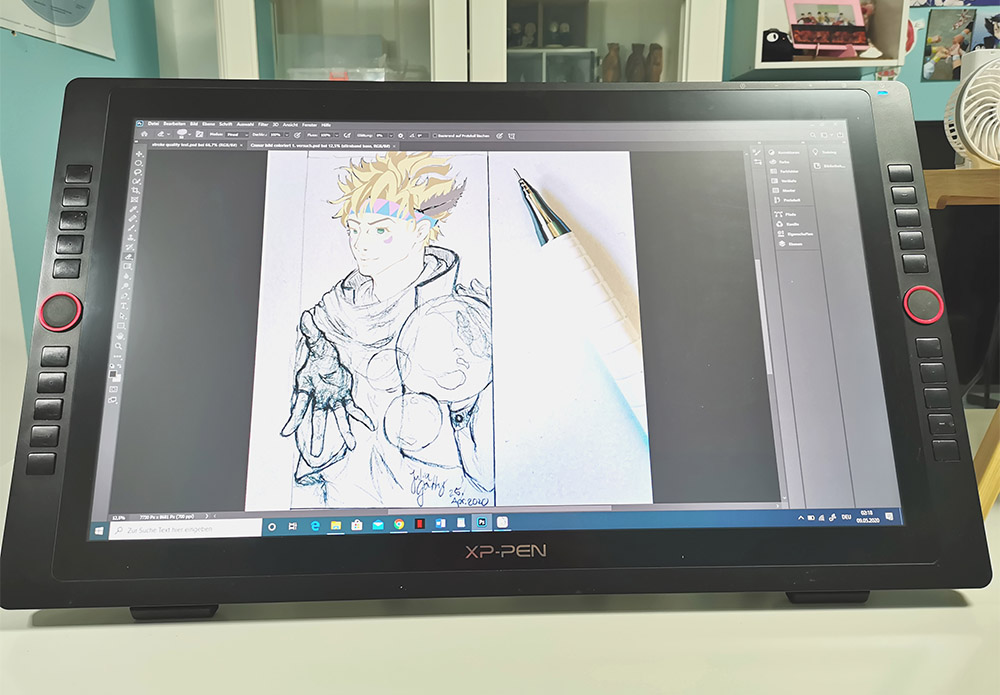 Design and Build Quality
When it comes to build quality, Xp Pen has done a good job of making the tablet feel strong and sturdy. The tablet is made of high-quality plastic that does not squeak or moves when pressed.
The Artist 24 follows a design symmetry with a screen at the center and shortcut buttons on both sides of the screen. The four corners of the tablet are rounded and all the other edges are beveled as well – giving you a smooth and consistent feel all around.
At the base of the tablet you can see two large rubber pads, these protect the base of the tablet from being scratched. They also provide a firm grip on the tablet so that the tablet does not move around while drawing on it.
Display and Drawing Surface – Xp Pen Artist 24 Pro
A display is one of the most important things that you should look for in a drawing tablet. As we mentioned before, Xp Pen has done some major upgrades to their display making them a really good option for an artist who wants a sharper and color accurate drawing tablet.
Let's have a look at the display in detail.
Resolution – 1080p vs 1440p
A display with 1080p resolution is good enough for 13 or 16-inch tablets. But having a 1080p resolution on a 22 or 24-inch device that artists use at a close distance from the screen, you are guaranteed to see some pixels.
To fix this the Xp Pen Artist 24 pro comes with a very sharp screen that has 2560 x 1440p QHD resolution. Meaning you are getting more pixels per unit area, resulting in sharper images.
As per the CalculatorSoup PPI calculator, On a 24-inch 1080p display – you get a 92 PPI (pixels per inch), whereas, on a 24-inch display with 1440p resolution – you are getting a total of 123 PPI (pixels per inch), which is a huge difference.
Color Accuracy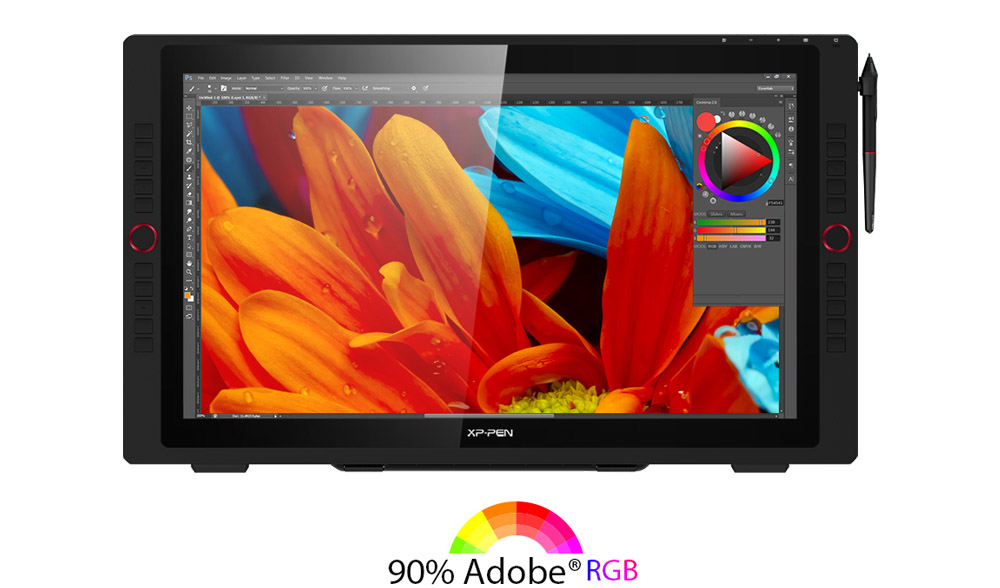 Good color accuracy is another important aspect of a drawing tablet. As an artist, you are always working with colors. Selecting the right colors plays a major role in the final outcome of your artwork. So it is important for your drawing monitor to show accurate colors.
The Xp Pen Artist 24 Pro comes with 90% sRGB color coverage, which comes around 120% sRGB, making this display more color-accurate then any standard monitor in the market.
Viewing Angles
The Artist 24 Pro uses an IPS display panel, which is known for its excellent viewing angles. It comes with a 178° viewing angle which is really good. Combined with a high resolution, good color accuracy, and great viewing angles, you will love drawing on this screen.
Screen Lamination
Xp Pen Artist 24 Pro does not come with a laminated screen but Xp Pen states that they are using a newer display technology that has similar benefits that we get from laminated displays.
Here is a good review by Mark Burnet that you should check out.
Surface Texture
Surface texture is one of those features that may not seem important at first glance, but in real life usage, it makes a huge difference in your drawing experience.
Like many other drawing tablets, the drawing surface of the Artist 24 Pro is textured. The textured surface provides resistance to the stylus which makes it easier to control.
Other than the textured surface – the screen also has scratch-resistance and anti-glare properties.
Brightness
The Peak brightness of Xp Pen Artist 24 Pro is 250 cd/m2 which is on par with what you get with other drawing tablets in the market.
The high display brightness along with the anti-glare display makes the screen comfortable to work in a bright indoor lighting environment.
Stylus – Xp Pen PA2 Battery-Free Stylus
A stylus is hands down the most important part of a drawing tablet, maybe more important than the tablet itself. Your whole drawing experience with the tablet depends on how well the stylus performs. So it becomes essential that the tablet comes with a reliable stylus.
The Artist 24 Pro comes with Xp Pen PA2 stylus which is the best stylus made by Xp Pen. This is a tried and tested stylus that also comes with a number of other tablets made by Xp Pen such as Artist 15.6 Pro and Artist 22r Pro.
The stylus comes with 8192 levels of pressure sensitivity and up to 60° of tilt recognition.
Design and ergonomics
The design of the stylus is fairly simple. It is made of plastic and has a rubbery material at the front for better grips.
The stylus is cylindrical in shape but varies in width from front to back. you get a wider front which slowly tapers towards the back. This varying width is designed so that the stylus fits your hands naturally and feels comfortable on long drawing sessions.
Ther are two buttons on the side with no eraser at the back. The buttons are programmable which can be assigned different shortcuts for different applications.
Performance
The stylus has the response rate of 14ms which is on par with what you get with top of the line drawing tablets. In short, it is really good.
The Xp Pen PA2 stylus is very precise and accurate. It has a balanced pressure sensitivity which can be further optimized as per your taste in the pen settings. The tilt sensitivity also works great.
From what we have learned so far – it is safe to conclude that Xp Pen Artist 24 Pro comes with a reliable stylus which will give you a very satisfying drawing experience.
Pen holder and extra pen nibs
The Stylus comes well protected in a cylindrical pen holder. The pen holder serves different purposes, other the working as pen storage it also works as a pen holder as well as provides safe storage space for tiny accessories such as extra Pen nibs.
The front cap of the pen holder opens up and works as a pen stand where you can keep your stylus pointing down while it is not in use.
The rear cap of the pen holder opens up to reveal extra storage space for extra pen nibs provided with the tablet as well as the nib remover tool.
Plastic pen holder slot

In addition to the cylindrical pen holder, the tablet also comes with a small plastic pen slot that screws into the side of the tablet. The clip can be used to safely hold the stylus once you are done with your work.
Xp pen Artist 24 Pro Shortcut Buttons
One of the distinct features that you would find in most of the drawing tablets is the shortcut button. Some artists like using shortcut buttons on the table others don't use it at all.
If you fall in the first category, you would be happy to know that Xp Pen Artist 24 Pro comes with ample of customizable shortcut buttons. If used correctly these shortcut features can simplify and fasten your workflow.
The tablet comes with two types of shortcut options
Physical shortcut buttons
Mechanical roller wheel
Physical Shortcut buttons
There are a total of 20 shortcut buttons present on the Artist 24 Pro located on both the sides of the screen. These buttons are fully programmable and can be set to any shortcut of your choice.
The best part is, these buttons can be set to different shortcuts for different applications.
Having 20 shortcut buttons on a drawing tablet is kind of an overkill but having more buttons than you need is at least better than having just a few.
Some of these shortcut buttons have raised dots and dashed to help you identify them without actually looking at them, which is so thoughtful of Xp Pen.
Red dial wheel
Next coming to the Red Dial Wheel, this is one of the most amazing features of this tablet. These shortcut buttons work by rotating it like a dial. There are a total of two dial wheels located on either side of the screen.
They can perform tasks such as zoom, scroll, pan, rotate as well as change the size of brush and eraser. These dials are well constructed and their motion feels buttery smooth.
One more thing – while rotating these dials make a click sound every 15 degrees or so, which feels so satisfying.
Redesigned tablet stand
When you are working on a large 24-inch screen, having the tablet positioned at a right angle is so important.
The Xp Pen Artist 24 Pro comes with a new and redesigned tablet stand which is strong and sturdy enough to handle this large display size without shaking. The stand allows you to position your tablet anywhere in the range of 16-90° (degrees).
This is a really high-quality stand that matches perfectly with the overall design of the tablet. Its motion is super smooth and it doesn't get stuck like many other cheap tablet stands.
It comes with a larger release lever at the back which is super easy to access and make it easier to change the tablet from one angle to another.
How to connect Xp Pen Artist 24 Pro to the computer?
These are all the ports that you get with Xp Pen Artist 24 Pro
2 USB Hub
HDMI Port
USB-Type C Port
DC (Power)
There are two ways of connecting the Xp Pen Artist Display 24 to your computer depending on what type of ports you have on your computer.
If your computer or laptop comes with a thunderbolt 3 powered USB-C port then you can connect the Artist 24 Pro using a single USB-C cable and a power cable that that plugs to the tablet.
But in case your PC does not has the USC-C port, no problem, you can still connect the tablet using the HDMI port and USB port. You can even buy a USB hub(Amazon) if you don't have these ports on your laptop.
Do you need to install the driver?
Yes! In order for the tablet to work properly and use all its features which include assigning custom shortcuts changing pressure sensitivity and calibrating the display, you need to install the driver.
The tablet cannot work without you installing the driver.
The good this is the Driver is super easy to install and set up and it is available to download for free.
What's included in the box?
Here is the list of everything that comes in the box.
XP-Pen 23.8" Graphics Display
2 x Battery-Free Stylus
8 Replacement Pen Nibs
USB-C to USB-C Cable
HDMI Cable
Power Adapter
Power Cord
Pen Holder
USB-C to USB Adapter
Quick Guide
Cleaning Cloth
Black Drawing Glove
Summary – Is the Xp Pen Artist 24 Pro the right tablet for you?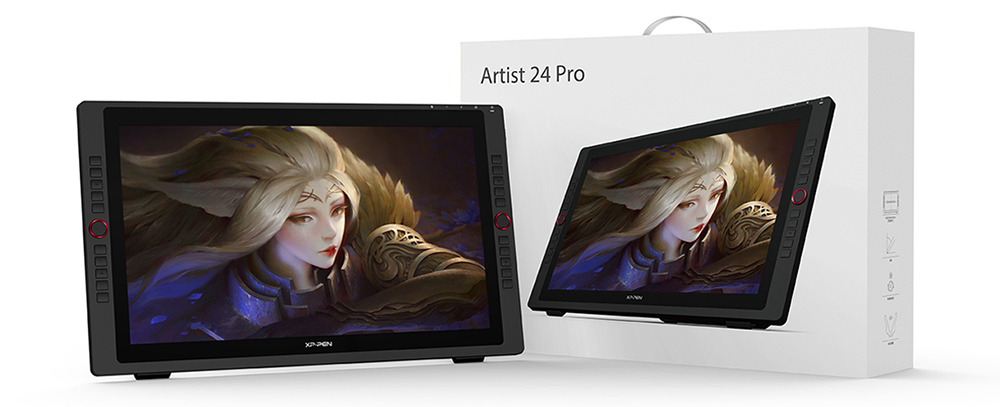 From what we have learned so far, it is safe to conclude that Xp Pen Artist 24 is a very capable drawing tablet and comes with all the necessary features.
Its QHD screen is a huge step up in terms of sharpness of the display, it comes with a very capable stylus and a ton of accessories that altogether gives you an excellent drawing experience.
This is a well-built device and has a nice heft to it, the included tablet stands work great and the support for USB-C is great for people who want minimum cable clutter.
The only slight complaint with the tablet is the shortcut buttons on the side of the tablet wobbles and does not feel that great, which is not really a huge deal breaker.
The tablet is missing some features like fully laminated display and etched glass but you can live without that. The best thing about this tablet is its incredibly low price tag compared to premium tablets in the market.
Overall you are getting a lot of value for what you are paying for and we definitely recommend this tablet for anyone who wants to take their drawing setup to the next level. You will love drawing on this tablet.
PROs – Xp Pen Artist 24 Pro
2560 x 1044 2K display
90% Adobe® RGB color space coverage
Great stylus with 8192 pressure levels and 60° tilt support
20 Shortcut buttons
2 Multifunctional Red dial wheel
Comes with a high-quality tablet stand
Rubber feet at the base of the tablet
CONs – Xp Pen Artist 24 Pro
No eraser at the back of the stylus
The screen is not laminated but gives a similar outcome (according to Xp Pen)
Cannot customize the sensitivity of the Dial wheel
Related topics:
Wacom Cintiq Alternatives
Xp Pen Artist 22r Pro
Huion Kamvas Pro 24 vs Xp Pen Artist 24 Pro comparison
How battery-free digital pens work
What is a laminated screen?